Maria Allwine
From KeyWiki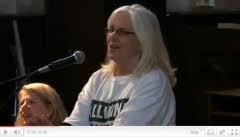 Maria Allwine is a long-time community organizer and peace and justice activist. She has participated and been arrested in many nonviolent direct actions against the invasions of Iraq and Afghanistan, was Co-Chair of the Maryland Green Party and is a member of various Baltimore City activist groups, including the Pledge of Resistance Baltimore, the Southern Christian Leadership Conference-Baltimore and the MD Coalition for BGE Reregulation. She has participated in actions and trials with Witness Against Torture and has also worked on single-payer health care and LGBTQ rights. In 2010 she worked with State Sen. Jamie Raskin to introduce legislation in the Maryland General Assembly to make bullying in the workplace illegal and testified for the bill in committee. In July 2011, Ms. Allwine was a key organizer in the events around the US Mayors Conference and the passage of the anti-war resolution by that body. Ms. Allwine has run for state and local office on the Green Party USA ticket, including Green Party candidate for Governor of Maryland in 2010. She is currently devoting all her time to the October2011 Coalition.[1]
Pressuring Ben Cardin
Members of Baltimore Pledge of Resistance went to the district office of Rep. Ben Cardin (D-Md.) June 17 2005, to demand that he speak out against the Iraq war. The group met for several hours with Cardin's chief administrative aide Chris Lynch.
Cindy Farquhar told Lynch she was "disappointed" that Cardin did not sign on to the Woolsey Amendment, named for Rep. Lynn Woolsey (D-Calif.) requiring President George W. Bush to announce an "exit strategy" to bring U.S. troops home from Iraq.
"We're long past the idea that providing a better helmet is 'supporting the troops,'" she said. "We are also asking him to join in pursuing the investigation of the Downing Street Memo. There are 120 House members who have signed Conyers' letter to Bush on that memo."
Lynch asked, "What does the Conyers' letter do?"
Maria Allwine, a Green Party candidate for the U.S. Senate replied, "It asks Bush to answer the Downing Street Memo's allegation that he 'fixed' intelligence on Iraq. Mr. Bush doesn't feel he needs to answer it." Rep. John Conyers (D-Mich.) is the leading Democrat on the House Judiciary committee.
If Cardin "can't even put his signature on a letter demanding that Bush answer those questions, I can see that Cardin doesn't represent me," Allwine said.
As the meeting proceeded, other POR members began reading aloud and attaching to a mock "memorial wall" the names of the 1,700 U.S. soldiers and thousands of coalition troops and Iraqis who have died. "Presente," they said after each name.
When 5:30 p.m. arrived, another Cardin aide announced that the office was closing. Those who refused to leave would face arrest, she warned. Many departed but Farquhar, Allwine, Baltimore Veterans for Peace leader Ellen Barfield, and peace activist, Max Obuszewski made clear they would not leave until they heard from Cardin.
Finally, Lynch telephoned Cardin. The aide returned about 7 p.m. to tell the POR delegation that the Congressman had agreed to three of the four proposals: He would sign on to Conyers letter, endorse Rep. Nancy Pelosi's (D-Calif.) "timetable" for withdrawal from Iraq; and would call for the closing of the U.S. Detention Center at Guantanamo Bay, Cuba.
Cardin conveyed that he wants to meet with the delegation on the fourth proposal: voting against future funding of the war.
"Everyone believes it was a clear victory," Obuszewski told the People's World. "One reason we went to Cardin's office is that he is running for the U.S. Senate. We want to get the dialogue going right now."
Their success, he added, dramatizes the importance of individual and organized group visits to lawmakers during the upcoming July 4 congressional recess. With public support of the war plummeting, he said, many lawmakers, even those who supported the war, can be convinced to support peace initiatives. [2]
October2011.org
Key organizers of the October2011 movement include;[3]
References