Marcy Winograd
From KeyWiki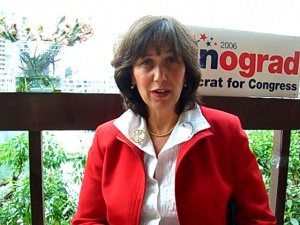 Marcy Winograd is a Los Angeles Democratic Party activist.
Background
A former legal worker with the United Farm Workers and the Pentagon Papers defense team, Marcy Winograd helped organize the Progressive Caucus of the California Democratic Party, crafting anti-war resolutions that swept party conventions across the country. In addition to working for an end to US occupations, Winograd led election protection efforts aimed at ensuring a verifiable voter paper trail and lobbied the FCC to oppose media consolidation. Winograd teaches job at Crenshaw High School in South Los Angeles, where "she inspires her students with debate teams, journalistic endeavors, and poetry slams". [1]
Progressive Caucus
In 2017 Susie Shannon was Secretary of the California Democratic Party Progressive Caucus.
An Elected Delegate from AD 50 (West LA) and a former CDP Executive Board member, Marcy Winograd was a founding member of the CDP Progressive Caucus and a co-convener of the Bernie Sanders DNC delegate election in CD-33. She blogs for Huffington Post and LA Progressive on privatization and militarization, major issues in her 2010 anti-war challenge to Blue Dog Jane Harman in the congressional Democratic primary.
Marcy is a steering committee member of the Coalition for Police Reform, which addresses racial profiling and excessive force. She also organized with the Industrial Workers of the World to unionize Santa Monica beach maintenance workers. She is an active member of Jewish Voice for Peace.
Marcy works as an education consultant to students with learning disabilities and their parents, and previously taught history, English, and communication. Marcy also co-authors a tween novel series featuring dynamic 11-year old activist Lola Zola who knows all about picket lines and social justice.[2]
Caucus meeting
Bill Honigman August 26, 2017 ·
CDP Progressive Caucus meeting rocks!! — feeling motivated with Marlin Medrano, Katrina Bergstrom, Zach Denney, Susie Shannon, Marcy Winograd, Karen Bernal and Ryan Skolnick in Anaheim, California.
Anti Israel
Winograd is co-founder of Los Angeles Jews For Peace and a critic of Israel's Gaza blockade, West Bank settlement expansion, and refusal to grant Palestinians the right of return.[3]
Support from Democratic Socialists of America
In 2006 Marcy Winograd received $250 from the Democratic Socialists of America Political Action Committee for her campaign as Democrats candidate for the California seat in the U.S. Congress primary.[4]
Winograd team
Bill Honigman June 10, 2014:
Teamwork 2006.  :-) — with Carrie Darrow Honigman, Marcy Winograd, Cindy Sheehan, Stephen Shaff, Tim Carpenter, Mimi Kennedy, Jodie Evans and Kevin Spidel at SoCal.
PDA support
Tim Carpenter claimed that Progressive Democrats of America had chalked up several achievements in its short life, successfully promoting initiatives by PDA board members John Conyers and James McGovern.
PDA was the driving force in the passage of resolutions opposing the war in Iraq by eight state Democratic Party meetings. The organization also was instrumental in the passage of resolutions in 10 states calling for the impeachment of President Bush.
PDA is often referred to by Congressional Progressive Caucus Executive Director Bill Goold as the CPC's field operation, because PDA has built relationships with members of Congress by delivering grassroots support for their initiatives – from Rep. John Conyers' investigation of the 2004 Ohio voting fraud to Rep. Jim McGovern's bill to cut off funding for the war in Iraq, a current priority effort.
The organization worked hard for Marcy Winograd against Jane Harman and for other "progressive " Democrats including Donna Edwards, Christine Cegelis, Jerry McNerney, Tony Trupiano, John Hall, Jeff Latas, Gabby Giffords and Herb Paine.[5]
Progressive Alliance endorsement
The Democratic Socialists of America led, 5000 strong, Sacramento Progressive Alliance, endorsed Marcy Winograd in 2010.
Planned Parenthood
McNerney received $7000 in lobbying funds from Planned Parenthood in 2008.
2011 campaign
In 2011, Marcy Winograd was a congressional candidate in the CA-36 May 17th Special Election. Her Jobs, With Peace platform called for a substantial reduction in the military budget to invest in new green jobs. Winograd mobilized 41% of the vote when she challenged Jane Harman in the 36th district congressional race in June, 2010. Daniel Ellsberg, Ron Kovic, and Dolores Huerta backed Winograd's campaign, supporting her call for an end to the US occupations of Iraq and Afghanistan and restoration of constitutional rights[6]
Joint Progressive Caucus & Arab American Caucus Agenda
Joint Progressive Caucus & Arab American Caucus Agenda, California Democratic Party Executive Board Meeting Sat., Nov.18, 2017 (8:15-10:15) The Westin SF Airport 1 Old Bayshore Highway, Millbrae, CA 94030.
Election for Progressive Caucus Communications & Media Officer, PC Secretary Marcy Winograd introduces the candidates.
Update on the impact of Trump's Muslim Ban – Speaker from CAIR-SF.
UPTE-CWA Presentation: The $48 Fix/Reclaim California's Master Plan for Higher Education – Speaker: Jonathan Abboud.
Update on anti-BDS legislation – Speakers: David Mandel and Iyad Afalqa
Autopsy Report: The Democratic Party in Crisis – Speaker: Karen Bernal
Standing for AD 50
In 2019 Marcy Winograd stood from AD 50 for the California Democratic Party Central Committee.
As a co-founder of the Progressive Caucus of the California Democratic Party and as an Executive Board member of the Progressive Caucus, I am committed to fighting for Medicare for All, fee college, environmental stewardship, public banks and publicly operated public schools.
A retired public high school teacher, I worked to elect Tony Thurmond as CA Superintendent of Public Instruction, blogging about his campaign on LA Progressive, raising money in Venice and speaking at Democratic Clubs on behalf of his campaign against the privatization of our public schools.
Rooted in the anti-war movement, I look forward to campaigning for a 2020 Congress & President committed to converting billions we spend on weapons to renewable energy systems, ensuring greater national security through fossil fuel independence.
Inside the party, inspired by the popularity of the Bernie Sanders Presidential campaign, I co-authored the influential resolution that resulted in reduction of the power of super delegates to predetermine our Presidential nominee, a move that greatly empowers the grassroots. Additionally, I amended the party platform to call for vigorous oversight, accountability and transparency for charter schools that threaten to bankrupt our school districts. Currently, I am working on bylaws to further democratize our state party's endorsement process and to ensure due process when rules or decisions are challenged.
Locally, in Santa Monica, I worked with the Industrial Workers of the World to organize beach maintenance workers for union representation. I've also joined with the Coalition for Police Reform to address concerns over racial profiling and to develop a community police academy anchored in the Pico neighborhood.[7]
References