Marcia Keizs
From KeyWiki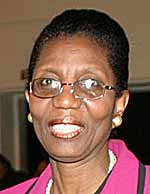 Dr. Marcia V. Keizs is President of York College/City University of New York.
Education/academia
Dr. Marcia V. Keizs, a native of Kingston, Jamaica, attended the University of Manitoba in Winnipeg, Canada (B.A. 1967), and Teachers College, Columbia University (M.A. 1971 and Ed.D. 1984). She holds a certificate in Educational Management from the Harvard Graduate School of Education (1995). Dr. Keizs has over 30 years of experience in the CUNY system as both an administrator and a professor. Before her appointment as president of York College, she was the vice president of academic affairs at Bronx Community College/CUNY for seven years.
Effective February 14, 2005, Dr. Keizs became the sixth president of York College in Jamaica, Queens. York College, a senior college of the City University of New York (CUNY) established in 1966, enrolls over 7000 students in liberal arts, career and professional programs on its modern 50-acre downtown Jamaica campus. In addition to offering baccalaureate degrees in the liberal arts and sciences, business, health, human services and teacher education professional programs, York is the only CUNY senior college offering majors in gerontology, biotechnology, information systems management, and a BS/MS degree in occupational therapy. It is the home of the CUNY Aviation Institute and the Northeastern Regional Laboratory of the U.S. Food and Drug Administration (FDA).
Dr. Keizs was recently nominated to a new State Commission on Higher Education by State Senate Democratic Leader Malcolm A. Smith and was appointed by former Gov. Elliot Spitzer. She has served on the boards of the National Council on Black American Affairs (Northeast), Teachers College Alumni Council, Morris Heights Health Center in the Bronx and the Association of Black Women in Higher Education. Dr. Keizs is the founding editor of the New York Carib News and has published articles in her area of specialty, Afro American literature[1].
East Bloc visit
In 1985, a delegation of 16 Afro-American journalists traveled to the Soviet Union, German Democratic Republic and Czechoslovakia[2].
The delegation consisted of
The trip was organized by International Organization of Journalists executive Don Rojas, the American educated former press secretary to Grenada's late leader Maurice Bishop[4], in conjunction with the Black Press Institute, the National Alliance of Black Journalists and the National Newspaper Publishers Association-the US's largest organization of owners of black newspapers.
According to one of the tours leaders Alice Palmer[5];
The trip was extraordinary because we were able to sit down with our counterparts and with the seats of power in three major capitals-Prague, Berlin and Moscow. We visited with foreign ministers, we talked with the editors of the major newspapers in these three cities...
It was a very unusual trip because we were given access...Every effort was made to give us as much as we asked for...We came back feeling that we could speak very well about the interest of the socialist countries in promoting peace.
This was before the (Soviet nuclear test ban) moratorium, this was before the Reykjavik offers...It was very clear to us in our conversations and interviews with people at that time, that this was already something of concern and, something that would be promoted when the opportunity arose, as we can see that it has been.
References