Marc Morial
From KeyWiki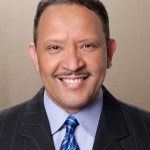 Marc H. Morial is former Mayor of New Orleans and President of the National Urban League. He is the son of radical lawyer Ernest N. Morial.
Anti-Trump event
On August 2 2017, Marc Morial and Barbara Lee hosted a "Community Forum" in Oakland, California called "What Do You Have To Lose? The Impacts of Trump on African Americans."[1]
From the invitation:
"On Wednesday, August 2, 2017, I hope you will join me for a timely discussion on the Trump Administration's policies and their impact on the African American community, both nationally and here in the East Bay.
"President Trump & his Administration are actively undermining progress for the African Americans by elevating white nationalists, crippling civil rights protections and eroding lifelines for families, including health care, child care and nutrition assistance.
"Please join me and Marc Morial, former Mayor of New Orleans and President of the National Urban League, for an important conversation on our community's resistance & resilience."
Lawyers' Committee For Civil Rights Under Law
Morial serves on the Lawyers' Committee For Civil Rights Under Law Board of Trustees, as of March 10, 2010.[2]
Education
Mark Morial is a graduate of University of Pennsylvania with a degree in Economics and African American Studies, he also holds a law degree from the Georgetown University Law Center in Washington, D.C., as well as honorary degrees from Xavier University, Wilberforce University, and the University of South Carolina Upstate.[3]
Business career
As an Entrepreneur, Morial started several successful small businesses — an apparel wholesale company, a special events company, and a janitorial company, his first venture at age 15 with two childhood friends.[4]
Legal career
As a Lawyer, Morial won the Louisiana State Bar Association's Pro Bono Publico Award for his legal service to the poor and disadvantaged. He was also one of the youngest lawyers, at age 26, to argue and win a major case before the Louisiana Supreme Court. As a Professor, Morial served on the adjunct faculty of Xavier University in Louisiana, where he taught Constitutional Law, and Business Law.[5]
Politics
As a Louisiana State Senator, Morial was named Legislative Rookie of the Year, Education Senator of the Year, and Environmental Senator of the Year, while authoring laws on a wide range of important subjects. As Mayor of New Orleans, Morial was a popular chief executive with a broad multi-racial coalition who led New Orleans' 1990's renaissance, and left office with a 70% approval rating.[6]
Conference of Mayors
Elected by his peers as President of the bi-partisan U.S. Conference of Mayors (USCM), he served during the 9/11 Crisis and championed the creation of the Department of Homeland Security, and the Federalization of airport security screeners. The USCM achieved unparalleled visibility and prominence under his leadership.[7]
Urban League
As President of the National Urban League since 2003 Morial has been the primary catalyst for an era of change — a transformation for the nearly 100 year old civil rights organization. His energetic and skilled leadership has expanded the League's work around an Empowerment agenda, which is redefining civil rights in the 21st century with a renewed emphasis on "closing the economic gaps between Whites and Blacks as well as rich and poor Americans. " Under his stewardship the League has had record fundraising success towards a 250MM, five year fundraising goal and he has secured the BBB nonprofit certification, which has established the NUL as a leading national nonprofit.[8]
Service
Morial serves as an Executive Committee member of the Leadership Conference on Civil Rights, the Black Leadership Forum, and Leadership 18, and is a Board Member of the Muhammad Ali Center, and the New Jersey Performing Arts Center. He has been recognized as one of the 100 most influential Black Americans by Ebony Magazine, as well as one of the Top 50 Nonprofit Executives by the Nonprofit Times.[9]
DC CBC Town Hall
The Congressional Black Caucus Foundation held a National Town Hall Meeting at the Walter E. Washington Convention Center, located in Washington, D.C., as part of their 2011 iLead iServe 41st Annual Legislative Conference.
The National Town Hall Meeting, entitled "Economic Opportunity, Jobs!" was held on Thursday, Sept. 22 from 9 a.m. to 11:30 p.m.
The meeting involved a panel discussion, which focused on the high rates of unemployment against Blacks and underprivileged communities.
The panelists included Marc H. Morial, President of the National Urban League; Dr. Julianne Malveaux, President of Bennett College for Women; Robert L. Johnson, Founder of RLJ Companies; Congresswoman Maxine Waters, U.S. Representative for California's 35th Congressional District ; Rep. Emanuel Cleaver II, Congressional Black Caucus Chairman; and Mr. William Lucy, Coalition of Black Trade Unionists.[10]
External links
References