Malcolm X
From KeyWiki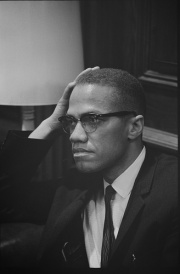 Malcolm X (May 19, 1925 – February 21, 1965) was a radical Black Nationalist who was active in the 1950s and 1960s.
His father, Earl Little, was a Baptist minister and avid supporter of Black Nationalist leader Marcus Garvey. In 1929 their Lansing, Michigan home was burned to the ground and two years later, Malcolm X's father's body was found lying across the town's trolley tracks. Malcolm X's mother was committed to a mental institution several years after the death of her husband.[1]
Malcolm X: Radical Tradition and a Legacy of Struggle was a conference held New York City on November 14 1990 in honor of Malcolm X.
Local 1199
In New York City in 1959, Martin Luther King, Jr. King joined A. Philip Randolph and Malcolm X in supporting the white, black and Puerto Rican hospital workers of NewYork's newly organized Local 1199. Over 3,000 hospital workers—laundry workers, cafeteria workers, janitors and orderlies—struck seven New York private hospitals. At the bottom of the new service economy they were legally barred from collective bargaining; excluded from minimum wage protections and unemployment compensation; and denied the medical insurance that might give them access to the hospitals where they worked. Harlem's black community rallied to their defense. King cheered a struggle that transcended "a fight for union rights" and had become a multiracial "fight for human rights."[2]
RAM
In 1963, young activists led by Max Stanford (Muhammad Ahmad)—a close associate of Malcolm X and Queen Mother Audley Moore —created the Revolutionary Action Movement . A semi-clandestine organization and paramilitary wing of the Organization of Afro-American Unity, the RAM articulated a revolutionary program for African Americans that fused Black nationalism with Marxism-Leninism. Its goal was to develop revolutionary cadre in the northern cities and connect with more militant students in the south involved with the Student Non-violent Coordinating Committee and the Congress of Racial Equality .
RAM supported the movement by SNCC and others for armed self-defense for southern Blacks terrorized by the Ku Klux Klan—the extra-legal army "enforcing the racist Jim Crow segregation system". RAM also provided security for Malcolm X after his break from the Nation of Islam and members of RAM actively participated in the Organization of Afro-American Unity.
RAM had an extremely active branch in Detroit, which had become a center of revolutionary activism. During the 1967 Detroit Rebellion, RAM formed the Black Guards, a youth group that hoped to channel the spontaneous rebellion into coordinated revolutionary action.
Despite their limited success in this regard, RAM was one of the first groups that not only recognized the legitimacy of urban rebellions, but also aimed to formulate a concrete plan of action around those rebellions.
RAM became one of the first casualties of the FBI's Counter-Intelligence Program (COINTELPRO) . Max Stanford and other RAM leaders were charged with plotting to assassinate mainstream political leaders Roy Wilkins and Whitney Young. At this point, Stanford dissolved the formal structure of the organization. As individuals, many RAM members gained influence in groups like the League of Revolutionary Black Workers[3].
Relationship to Joe Walker
During his life, long time Communist Party USA associate Joe Walker enjoyed professional and personal relationships with a number of dignitaries, civil rights activists, and freedom fighters to include Martin Luther King, Jr., Muhammad Ali, Malcolm X, Angela Davis, Adam Clayton Powell, Jr. James Baldwin, Hulan Jack and David Dinkins, the former Mayor of New York City[4].
External links
References