Maher Bitar
Jump to navigation
Jump to search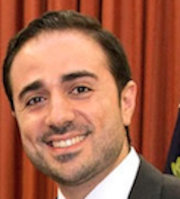 Template:TOCnestleft Maher Bitar was in 2021 picked by President Joe Biden as the Senior Director for Intelligence on the NSC.
In his new position, Bitar will coordinate intelligence between the White House and the intelligence community, receiving material from intelligence agencies, informing the intelligence community of White House policy, and deciding who gets access to secret information. The office also contains some of the most classified information around.
The job of Senior Director for Intelligence at the National Security Council is supposed to go to an intelligence professional.[1]
Students for Justice in Palestine
Palestine Solidarity Movement held its fifth annual conference on campus next month, despite heated criticism from some civil and religious groups that charge that the group promotes extreme anti-Israeli views .
The conference, which will be hosted by Georgetown's Students for Justice in Palestine, will be held from Feb. 17-19 2006 and is expected to draw around 700 participants from as many as 100 universities across the country, said PSM spokesperson Nadeem Muaddi. Details regarding the schedule of speakers and events have yet to be released.
"The university administration has been extremely helpful and supportive in ensuring we are able to run an effective and safe conference," SJP said in a statement released by its executive board.
But since the announcement of the impending conference, several religious and political groups have objected to what they say are PSM's extreme views. PSM, among other things, fails to condemn terrorism and denies Israel's right to statehood, the groups alleged in letters sent to University President John J. DeGioia and some members of the university community
Maher Bitar (SFS '06) and Bayann Hamid (SFS '07), who sit on SJP's executive board, denied charges that PSM has supported Palestinian terrorist organizations like Hamas and Islamic Jihad.
"We support democratic and nonviolent means," Hamid said.
Muaddi also said that PSM does not support violence in the iddle East and does not challenge Israel's right to exist. However, he did say that PSM is critical of certain Israeli policies, including its establishment of settlements in the Gaza Strip and its construction of the West Bank barrier.
"What Israel is doing is, one, immoral, and, two, in violation of international laws," Muaddi said.
Another issue that has provoked criticism is PSM's advocacy of university divestment from Israel, which Muaddi defined as encouraging schools with a "business or military relationship with the state of Israel" to withdraw their investments.
Maher and Hamid said they are mindful of security concerns and are in contact with university safety officials. They said that they do not expect any counter-programming.
The announcement of the conference came a little more than a month after administrators at the Georgetown's Marriott Conference Center rejected a bid to hold an anti-terrorism conference by the pro-Israel group America's Truth Forum, formerly the We the People's Truth Forum, after officials cited financial concerns over potential protests that the conference might have caused.
Smulson said that the rejection of the conference was not inconsistent with the Speech and Expression Policy. "The decision regarding the We the People's Truth Forum was made by Marriott, as it runs the hotel and conference center, not by Georgetown University."
Bitar dismissed criticisms voiced by some of the critics that the PSM conference was part of a larger bias against Israel by Georgetown. Some have suggested that the approval of the PSM conference, in concert with other recent events such as the $20-million donation to Georgetown by Saudi Prince Alwaleed Bin Talal, has suggested such a bias.[2]
References