Lynn R. Williams
Jump to navigation
Jump to search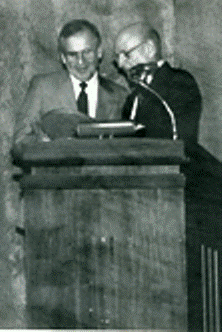 Lynn R. Williams
Socialist Debs award
Every year since the mid 1960s the Indiana based Eugene V. Debs Foundation holds Eugene Debs Award Banquet in Terre Haute, to honor an approved social or labor activist. The 1990 honoree, was Lynn R. Williams.[1]
WDL award
In 1990, the Workers Defense League, Inc. presented its David Clendenin award at a dinner honoring Lynn R. Williams, President of the United Steel Workers of America.
Speakers included Leon Lynch, WDL President and Vice President of the Steelworkers, and Harry Fleischman, WDL Chairman.[2]
References
Template:Reflist Template:Eugene V. Debs Award recipients
↑

DEMOCRATIC LEFT MARCH- APRIL 1990, page 13