Lydia Pelot-Hobbs
From KeyWiki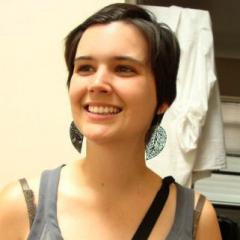 Lydia Pelot-Hobbs was radicalized through the Unitarian Universalist youth movement as a teenager, Lydia's politics are grounded in the revolutionary possibilities of transformative love and compassion. Currently splitting her time between Brooklyn and New Orleans, Lydia has organized in various movements for social and economic justice including supporting community-based struggles for affordable housing and prison reform/abolition. She is deeply committed to strengthening solidarity economies and served on the Board of the NASCO Institute from 2007-2012.
Additionally, Lydia has brought her leadership towards the anti-racist/anti-oppressive transformation of several organizations including the Young Religious Unitarian Universalists (YRUU), the Oberlin College Student Cooperative Association (OSCA), Common Ground Relief, and NASCO. Most recently she is energized about interrogating and disrupting institutionalized patriarchy within organizations as crucial for collective liberation.
In addition, she dreams of building a radical left intellectualism grounded in and relevant to social movements. To that end, she is actively researching and writing untold stories of Southern antiprison organizing and white anti-racist activism through her doctoral work in Geography and American Studies.
She has facilitated workshops for a range of conferences and organizations including the Allied Media Conference, White Privilege Conference, the National Worker Cooperative Conference, the Liberal Religious Educators Association, Better Future Project, and Madison Community Co-op. Lydia's writing has appeared in Left Turn Magazine, The Indypendent, and Monthly Review.[1]
For May Day and Beyond
For May Day and Beyond: White People Stepping Up for Immigrant Rights! was a letter circulated in May 2006, among people mostly affiliated with the Freedom Road Socialist Organization.
Open Letter to White Communities
In the past month, five million people, mostly immigrants of color, have mobilized for justice and are making history, flooding the streets in unprecedented numbers. Meanwhile, the most visible participation by white people is coming from the racist and right wing leaders who are defining and dominating the debate in the Federal government and in the news, radio and opinion pages. Where are the voices of anti-racist white people in this crucial moment, when the worst anti-immigrant legislation in decades is still poised to drop?
Signatories included Lydia Pelot-Hobbs, Oberlin, OH. [2]
"Towards Collective Liberation" editorial crew
Chris Crass', 2013 book " was "Towards Collective Liberation: Anti-Racist Organizing, Feminist Praxis, and Movement Building Strategy..." was edited by a team consisting of Chris and Molly, Rahula Janowski Lydia Pelot-Hobbs, Nisha Anand, Sasha Vodnik, Cile Beatty, Danni Marilyn West, Amie Fishman, Jeff Giaquinto , Sharon Martinas, Gabriel Sayegh, Clare Bayard, Z. Lula Haukeness, Cindy Breunig, Jardana Peacock, Betty-Jeane Ruters-Ward, Betita Martinez, Roxanne Dunbar-Ortiz, Paul Kivel, Ingrid Chapman, Dan Berger, Josh Warren-White, Rachel Luft, Kerry Levenberg, Johnna Bossuot, Leah Jo Carnine, Berkley Carnine, Leah Close, Vivian Sanati, Dara Silverman, Helen Luu, Pauline Hwang Nrinder, N.K. Nann, Marc Mascarenhas-Swan, Max Elbaum, Keith McHenry, James Tracy, Alice Nuccio, Laura McNeill, Azedeh Ghafari, J.C. Callender, Nilou Mostoufi, April Sullivan-FitzHugh, Michelle O'Brien, Joe Tolbert, Tufara Waller Muhammad, Karly Safar, Jayanni Webster, Joshua Kahn Russell, prof. Laura Head, Andrew Cornell, Harjir Singh Gill, Emily Thuma, Rami Elamine, Chanelle Gallant, Charlie Frederick, Amar Shah, Alicia Garza, Elandria Williams, Carla Wallace, Ernesto Aguilar, Lisa Albrecht.[3]
"Towards Collective Liberation" followers
Melanie Cervantes, follow · March 11, 2013;
From author Chris Crass: " When I first imagined a poster promoting my new book, Towards Collective Liberation: anti-racist organizing, feminist praxis,and movement building strategy, the images that came to mind were the people in Melanie Cervantes' "We are the 99%" posters, coming together to build the multiracial, feminist, working class-based movement for collective liberation that we need. M... See More — with Carla F. Wallace, Mari Mujica, Steve Williams, Leah Lakshmi Piepzna-Samarasinha, Ingrid Chapman, Dawn Haney, James Haslam, Cindy Wiesner, Marquez Rhyne, Jayanni Elizabeth, Malachi Garza, Miguel CarItu, Chris Crass, Carl Patrick, Abbey Lolcano, Maria Poblet, Kate Cardona, Z. Lula Haukeness, Lydia Pelot-Hobbs, Elandria Williams, Harsha Walia, Marc Mascarenhas-Swan, Jason Lydon, Jardana Peacock, Chris Dixon, Gabriel Haaland, Betty-Jeanne Ruters-Ward, Mel Baiser, Nisha Anand, Mimi Thi Nguyen, Becki Winchel, T. Gonzales, Rahula S. Janowski, Dani Burlison, Harjit Singh Gill, Leah Jo Carnine, Karly Safar, Emily Han Zimmerman, Alicia Garza, Sistufara W. Muhammad, Pamela Jean McMichael, Caitlin Elly Breedlove, Kate Kanelstein, Mei-ying Williams, James Tracy, Ash-Lee Woodard Henderson, Shannon Garth-Rhodes and Cindy Jeanne.
AORTA
AORTA coop members in 2015 were:
References
↑

Towards Collective Liberation Acknowledgents XV]