Luz Schreiber
From KeyWiki
Luz Schreiber Lopez is a queer Latina mother, food designer, translator, dancer and writer. She co-founded Atl Tlachinolli, an Aztec community dance circle based in Queens, and Ollin Imagination, a Latino parent art collective. Luz was the national civic engagement coordinator at Right to the City and the youth and immigrant rights organizer for Sistas and Brothas United. Luz, a member of SLAM!, spearheaded the Defend Hunter Childcare campaign at Hunter College.
SLAM
Luz Schreiber worked on Student Liberation Action Movement's open admissions campaign and other projects between 1998 and 2000. Co-founder of Ollin Imagination (a cultural circle of resistance of parents, artists, students, and educators of color), Luz is a creative writing major and Hunter Student Union organizer.
Luz: The village in Oaxaca where I'm from has a great spirit of resistance, dating back to the Mexican revolution in 1910. I came to New York in 1998, four years into the Zapatista rebellion against neoliberalism's economic policies. People in Chiapas and elsewhere are displaced by these policies. The struggle in CUNY to keep admissions open was also about stopping students being displaced from the university. I was surprised that people in SLAM knew about the Zapatistas. From that, I knew that this was a group of people that cared about what was going on in the world and were eager to learn how indigenous people resisted. [1]
"For a movement that unites us"
Activists organizing against cuts and tuition hikes at New York City's Hunter College issue an open letter calling for respect and freedom of expression. March 9, 2010
Hunter College students march to the citywide rally for the March 4 Day of Action (SW)Hunter College students march to the citywide rally for the March 4 Day of Action (SW)
With Love and Respect,
Maria Arettines, Hunter Student
Freddy Bastone, Hunter Student
Monica Carr, Hunter Student
Casey Detrow, Hunter Student
Owen Hill, Hunter Student, Hunter International Socialist Organization
Tami Gold, PSC CUNY Hunter Chapter Chair, Filmmaker & Professor
Danny Katch, Hunter Alum
Natalia Lopez, Hunter Student
Jackelyn Mariano, Hunter Student
Angela Molfetas, Hunter student, Hunter Parent Union, president
Claudia O'Brien, Hunter student
Nathan Schrader, Hunter Alum '10
Luz Schreiber, Hunter Alum '10, Defend Hunter Childcare
Leanne Tory-Murphy, Hunter Student[2]
Left Forum 2010
The Art & Politics of Spectacle – Creating Ethical Spectacles:
Left Forum 2013
Fighting Racism in a Post-Racial World Sponsored by: Rosa Luxemburg Stiftung - New York Office Participants:
Right to the City connection
Right to the City Alliance January 25, 2013 ·
The city never sleeps. — with Marvin Mitchell, Jessica Klonsky, Ilana Berger, Sofia Quintero, Monse Santana, Max Uhlenbeck, Carmen Pineiro, Luz Schreiber, Carlos J. Serrano, Stuart Ewen, Priscilla Grim, Kelly Anderson, Anna Ortega-Williams, Sonny Singh Brooklynwala, Doyle Canning, Laurie Davidson, Kassia Ringell, Janvieve Williams Comrie, Sasa Garcia, Hank Williams, Rachel LaForest, Yasmeen Perez, Amaka Okechukwu, Christopher Gunderson, Valery Jean, Alexandra Lopez Reitzes, Doug Cunningham, Imani Henry, Kazembe Balagun, Irini Neofotistos, Evan Siegel, Mark Swier, Karen Oh, Heidi Easton Chua Schwa, Lisa Asedillo Pratt, Gilda Haas, Chepe Nangara, Maribel Cordero-Garcia, Crecensio Morales, Taleigh Bicicleta, Jatnna Ramirez, Orlando Morales, Ismael Nunez, Tania Romero, Vicente Alba-Panama and Fanshen Wong.
RTC 2012 staff
Right to the City Alliance September 14, 2012
RTC Staff and Professor David Harvey with his mandatory branding at the La Congress. — with Yasmeen Perez, Lisa Adler, Rachel LaForest, Mark Swier, Lenina Nadal, Luz Schreiber, Lisette Le and David Harvey.
Rent Freeze Now!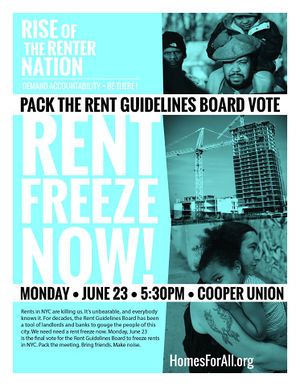 Lenina Nadal June 17, 2014;
Let's do this. Please share. — with George Ciccariello-Maher, Kate Cavanagh, Claudia Copeland, Maria Elena Perez, Maribel Cordero-Garcia, En Bey, Estevan Lee Roman, Beka Economopoulos, Ejima Baker-Morales, Crecensio Morales, Eulan Atkinson, Heidi Schwa, Stuart Ewen, Teresa Basilio, Jed Brandt, Eric Odell, Brian Hernandez, Christopher Gunderson, Janvieve Williams Comrie, Laurie Davidson, Mark Swier, Ramiro Campos, El Lopex, Jesse Ehrensaft-Hawley, Elisha Miranda, Prof. Antonio Nadal, Digna Sanchez, Elizabeth Walsh, Blandon Casenave, Kazembe Balagun, Dasha Munoz, Caridad De La Luz, Yasmeen Perez, Yvonne Enid Rodriguez-MacDonald, Lilo Carr Rivera, Esther Wang, Stomp Box, Dee PoeticalGenius, Esperanza Martell, Eddy Nelson Rivera, Tamara Czyzyk, Jessica Klonsky, Luz Schreiber, Carlos J. Serrano and Roger Bonair-Agard.
References