Lucy Marx
From KeyWiki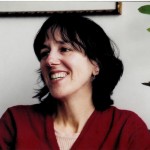 Lucy Marx received a B.A. in English from Harvard College and an M.A. in Creative Writing from Boston University. She has taught writing at MIT since 1986, and has also taught at UMass Boston, Boston University, and in the Teachers as Scholars Program. She recently finished a novel, Speak, Wood; Stone Whisper, based in the Biblical narratives of Genesis. She is co-editor of Angles, the online magazine dedicated to exemplary writing from the introductory writing courses at MIT.
Forward Motion
In 1993 Lucy Marx was a member of the editorial collective of Forward Motion, the journal of Freedom Road Socialist Organization.
MIT
In 1995 Lucy Marx was teaching writing at MIT and Boston University and contributing to Forward Motion.
References