Los Angeles Workers' Center
Jump to navigation
Jump to search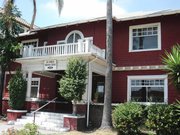 Template:TOCnestleft The Los Angeles Workers' Center, also known as The Red house, or the Casa de Trabajadores, is a non-profit educational corporation, run by the Los Angeles Workers' Educational Society, Inc., which in turn is run by members of the Los Angeles Communist Party USA. It is run from 1251 South Saint Andrews Place, Los Angeles. Los Angeles.[1]
Background
The Los Angeles Workers' Educational Society "continues a long tradition of workers struggles for a better life in America". The original organization , the American-Hungarian Cultural Society was founded by immigrants from Hungary who called the Los Angeles Workers' Center The Hungarian Workman's Home. Several "struggles for workers' rights called this site home over the years", including the Committee for the Protection of the Foreign Born, the Committee for the Defense of the Bill of Rights, the Frente Democratico Revolucionario (El Salvador) , the Los Angeles Council of Unemployed and Homeless, and Trade Unionists for Action and Democracy (TUAD), to name a few.[2]
We have a proud history of involvement in working class struggles.
Personnel
As of 2010;[3]
Organizational ties to the community
As of 2010;[4]
Progressive bookshop
The Los Angeles Workers' Center also houses a "progressive bookshop", Esther & Philip's Marxist Library, which sells classic marxist and Russian literature. The proprietor is life long Communist Party USA member Esther F. Cicconi.Much of the material comes from International Publishers and Progress Publishers.[6]
Sao Paolo Forum
On February 17, 2002 Armando Ramirez gave a report at the Los Angeles Workers' Center, under the auspices of the California District Communist Party USA - Southern Region, on the recent Sao Paolo Forum in Cuba.[7]
References