Los Angeles Alliance for a New Economy
Jump to navigation
Jump to search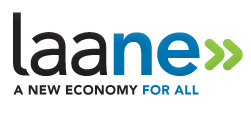 The Los Angeles Alliance for a New Economy received grant funds from the McKay Foundation in 2006.
Background
The L.A. Alliance for a New Economy, founded in 1993 by the hotel workers union, initially was viewed as a way to build community support for the hotel workers' struggle. Since then "we've been really able to branch out beyond that to a broader mission of building labor-community alliances. We work with a number of different unions. Many of them are Change to Win unions, including SEIU, UNITE and the Food and Commercial Workers Union. And we work on a number of different policies, community organizing campaigns, worker support campaigns, all designed to look for that nexus where we can build coalitions that maximize the community organization power and the power of progressive labor unions in Los Angeles."
DSA connection
Alliance lead organizer , Roxana Tynan, wrote an article on the Alliance for Democratic Socialists of America's Democratic Left, Winter 2006.[1]
Anti Wal-Mart campaign
According to Roxana Tynan, writing in 2006, in terms of Wal-Mart, "we'd been organizing together with the United Food and Commercial Workers Union around this issue when it became clear that Wal-Mart had set its sights on an incredibly juicy development site in Inglewood, 60 acres and perfect for them. And because Inglewood is a workingclass town—mostly a black and brown town—Wal-Mart assumed that they were going to be welcomed with open arms."[2]
Initially Wal-Mart made an effort to simply get their plans approved through the City Council. But when it became clear to them that they did not have support there, and that the Council was going to look for any means possible to deny them a permit to build, they decided to go around the Council directly to the voters by putting a measure on the ballot that would allow them to build whatever they chose—essentially a blank check: We're not going to take any input from you on how we build or what we build or how big it is or how many cars come through, and once we've built it, it's going to take a two-thirds vote of the population to make any changes to our project.
They acted with enormous arrogance, supremely confident that they were going to win. Frankly, we were supremely confident that they were going to win, too. We had done polling, and Wal-Mart is very popular in a lot of places, because it's cheaper, with 20% lower prices than a lot of other stores.
We looked at all the issues that we thought might resonate with folks. We were doing a lot of community organizing. We were listening to what people were talking about, and the issue that began to emerge was this basic, fundamental notion of a community's right to control its development. I think that's on a much larger scale what ACORN is going to deal with in trying to take back community control of the rebuilding in New Orleans. And that fundamental right really resonated with people. As the campaign developed, voters in Inglewood be gan to see this attempt by Wal-Mart to bulldoze over, bulldoze into their neighborhood as fundamentally a question of respect—Wal-Mart did not respect their community enough to go through the folks they'd elected, to hold hearings, to get input on how to build or what to build. They lacked enough respect for Inglewood to go through the regular process.
And as they deluged folks with about a quarter million dollars of direct mail and untold millions of dollars in advertising that just happened to focus during those months on what a great place Wal-Mart was to work, randomly, people began to say to us, as we were doing our door-to-door organizing, "How stupid do they think we are? We may like their lowprices, but none of us are under any illusion that it's a good place to work. We're getting three pieces of mail a day from these people, and every time I turn on the TV there's another Wal-Mart ad with a shiny, happy person saying how great it is to work here. This is obviously not true—and why don't they want to just go through our process? Why don't they want to hold public hearings? Why don't they want to hear what we have to say?" And these were not folks who were convinced that because Wal-Mart doesn't pay a living wage, because it discriminates, it shouldn't be allowed to build. These were people who, when we did our initial polling, were saying, "Yeah, Wal-Mart, sure; we could use a Wal-Mart"—who weren't coming from an already critical perspective. Frankly, Wal-Mart did our organizing for us. They organized people into our arms, because their disrespect was so blatant. Our original polling had us losing by 20 points; we wound up winning by 20 points, 60 to 40.
We worked with a coalition of folks. ACORN was very involved in our fight. Many of the churches were involved. We had a lot of support from the Nation of Islam, who actually helped us organize. We got a lot of press coverage. And we were able to beat them back.
"Living Wage"
September 28, 2006 more than 2,000 people marched down Century Boulevard near Los Angeles International Airport, and more than 300 people, including two LA City Council members and other elected officials, clergy, union leaders and students, were arrested as part of a well-orchestrated civil disobedience sit-in--to protest the mistreatment of low-wage hotel workers by thirteen hotels in the airport area.
The grassroots campaign culminated four months later, on January 31, when the LA City Council voted to extend the city's living-wage law to the 3,500 employees at the LAX hotels. Their pay ed bump up to $10.64 an hour on July 1, and they would get ten days of paid vacation, a significant improvement for most of the workers, primarily immigrants from Mexico and Central America.
The City Council initially approved the living-wage extension in November, over the objections of the business community and a Los Angeles Times editorial. But then the LA Chamber of Commerce and the hotel industry collected enough signatures to put the measure on the May ballot, pledging to raise more than $5 million for a media campaign to persuade voters to rescind the law. The hotel workers' union (UNITE HERE), the LA County Federation of Labor and the Los Angeles Alliance for a New Economy (LAANE)--the key backers of the law--were prepared to defend the law with a grassroots campaign of their own, which they expected would cost $1.5 million.
The strong City Council support for the law was due in large part to what LAANE organizer Vivian Rothstein called the members' "personal engagement" with the plight of the hotel workers. Council members Ed Reyes and Jose Huizar, who were arrested in the September civil disobedience, "put their bodies on the line," Rothstein said.
In addition, at the request of UNITE HERE, more than half of the fifteen City Council members visited hotel workers at their jobs and homes. Many were horrified by the workers' living and working conditions but also moved by their resolve to win improvements from their employers. Councilmember Janice Hahn, the living-wage law's chief sponsor, experienced an altercation with a hotel security guard when she insisted on talking with a hotel manager, an incident that strengthened her commitment to the workers' cause.[3]
Speakers, Honorees, Entertainers
Personnel
Board of Directors As of May 2013;[5]
External links
References