Lonnie Nelson
From KeyWiki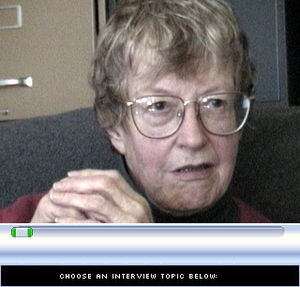 Lonnie Nelson , a fighter for union rights, equality, peace and socialism died in her sleep at Swedish Hospital here Feb. 12.
She was 83 years old and was active in the people's movements and in her Communist Party club until stricken by a stroke a few days earlier.
Frailty did not keep her from attending the Martin Luther King Jr. celebration at Garfield High School this past Jan. 20 along with other members of her Seattle party club.
Nelson's family and fellow activists gathered at her bedside just hours before she passed away. Joyce Wheeler held her hand and began singing union songs. Others joined in. When they sang "Solidarity Forever," Nelson, apparently unconscious squeezed Wheeler's hand.
On watch were Nelson's four children and one of her six grandchildren. Also present were the Rev. Harriett Walden, founder of Seattle Mothers for Police Accountability, and Jonathan Rosenblum, an organizer for the Service Employees International Union assigned to the SeaTac $15 minimum wage approved by voters last November. Lonnie had been a member of SEIU Local 6 since 1985.
"I met Lonnie 32 years ago at Seattle Central Community College where we were both students," Rev. Walden wrote on her Facebook page. "I worked as liaison with the Black Student Union. Lonnie came to my office and wanted BSU to sponsor a program to honor the life and work of Paul Robeson. This was the beginning of a lifetime of working with Lonnie."
MFPA has for 16 years sponsored an annual event honoring activists for their efforts in support of human rights in memory of Robeson.[1]
Background
Lonnie Nelson was born in Seattle in 1932. Her father was a union longshoreman and a member of the Communist Party USA. During the 1930s he organized unemployed workers through the CP's Unemployed Councils, participated in the 1934 West Coast maritime strike, and helped organize striking longshoremen in New Orleans. Nelson was witness to these and other struggles and credits that experience with inspiring her own activism on behalf of working peoples in later years. As a high school student in the late 1940s Nelson joined the Young Progressives and campaigned for Henry Wallace. In 1951, she too joined the Communist Party and has remained a dedicated communist throughout her life.[2]
Originally named named Madelon Sue by her parents Alma Nelson and Burt Nelson. Her father was a founding member of the International Longshore and Warehouse Union and a leader of the Communist Party of Washington State.
In high school in 1948 she organized Young Progressives and was active in the Progressive Party campaign of Henry Wallace. She was a poet from her earliest years and four volumes of her verse were published: "What Keeps Us Going On?" "Roots and Circumstances," "A Special Collection" and "Our Hidden Monument."
She gathered signatures on the Stockholm Peace Appeal in the 1950s when Cold War elements were itching for war against the Soviet Union or China. That commitment to world peace continued in the years of solidarity with Cuba and Vietnam when she helped mobilize peace protests.
She was especially proud of a trip she took to Spain where veterans of the Abraham Lincoln Brigade, including her uncle, were honored as fighters against Franco fascism.
Nelson served as chairperson of a petition campaign against the McCarthy-era loyalty oath, which in 1972 presented 10,000 signatures to the state attorney general in Olympia. Later, she served on a committee defending the Black Panther Party.
She was arrested three times for civil disobedience: during the Indian fishing rights struggle, against South African apartheid, and in the mid-1990s against Republican Newt Gingrich's "Contract on America" Medicare cuts.
Over the course of her professional life, Nelson has been a staunch advocate of unionization and the rights of workers. She worked in the food packing industry in the 1950s and 1960s and was an organizer for the Teamsters and the United Food and Commercial Workers. Later in her career, Nelson worked in the infant care center at Providence Hospital and was a member of the Service Employees International Union. She is also active in the national Coalition of Labor Union Women, founded in 1974. Retired since 1993, Nelson continues her activism through such organizations as Mothers for Police Accountability, Jobs with Justice, and the Communist Party. [3]
Indian activism
An admirer of the Native American Indian people, she joined in the campaign to win restoration of the tribes' fishing rights. She befriended many of the Native American Indians in that struggle, working closely with Maiselle Bridges, a leader of the Nisqually tribe. Victory was won when Judge George Boldt handed down his landmark ruling 40 years ago that the tribes were entitled to half the salmon catch.
Her love of the Indian peoples and their struggles led her to join the "Trail of Broken Treaties" to Washington, D.C., in 1972, when the American Indian Movement occupied the Bureau of Indian Affairs headquarters. She helped raise funds for the legal defense of the occupiers. She knew Hank Adams and other Native American Indian leaders personally and interviewed them for articles in the Daily World during that sit-in.
Working as a news correspondent for the Communist Party's People's World and the Daily Worker, she participated in the 1972 takeover of the Bureau of Indian Affairs building in Washington, D.C. and in the occupation of Wounded Knee the following year. In addition, she was a member of the CP's Commission on Indian Liberation and was active at the local level in the Nisqually's campaign to protect its treaty fishing rights in the late 1960s and early 1970s.[4]
Labor movement
Lonnie Nelson's first love was always the labor movement. During her working years, she was employed at a day care center at Providence Hospital for nearly six years. She worked to organize the workers into SEIU Local 6. She helped establish the Seattle branch of the Coalition of Labor Union Women , heading up the CLUW Public Works Jobs Committee.[5]
Civil rights activism
Nelson also became involved in civil rights activism in the late 1940s and early 1950s, protesting segregated housing, employment, and education. In 1966 she moved her family into Seattle's predominantly African American Central District in order to expose her children to interracial schooling and promote desegregation. While living in the Central District, Nelson organized community support for the Black Panther Party. [6]
Communist Party Labor Day call
The Communist Party USA paper People's Weekly World issued a statement to mark Labor Day 1995, entitled "We honor the dead and fight like hell for the living."
Of the more than 100 endorsers listed, almost all were identified members of the Communist Party USA.
Lonnie Nelson, Seattle, was on the list.[7]
Washington State CP
In May 1995 The Communist Party USA newspaper Peoples Weekly World published a May Day supplement. Included was a page of greetings to Will Parry, sending "warmest greetings" for his 75th Birthday. Almost all of the more than 100 endorsers listed, were identified members or supporters of the Washington State Communist Party USA.
The list included Lonnie Nelson[8].
Ethel Beach Memorial
In 1995 the Communist Party USA paper People's Weekly World published a Labor Day supplement. Included was a memorial to Ethel Beach.
In loving memory of Ethel Beach who sold the Peoples World in Seattle during the worst Cold War years and was "an outpost for freedom of the Press."
Several supporters of the Washington State Communist Party USA endorsed the memorial including Lonnie Nelson[9]
References