Lisa P. Jackson
From KeyWiki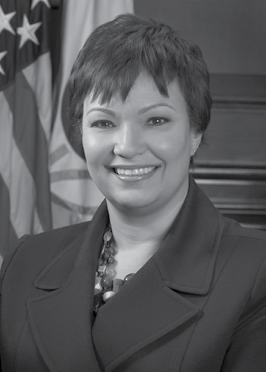 Lisa Jackson is a chemical engineer and current EPA Administrator. Before becoming the EPA Administrator, Jackson served as Chief of Staff to New Jersey Governor Jon Corzine and Commissioner of the state's Department of Environmental Protection (DEP). She worked for 16 years as an employee of the U.S. EPA before joining the DEP.
Obama appointment
In January 2009 Lisa Jackson was nominated[1]by the Obama administration for the position of Administrator in the EPA and confirmed in January 2009.
Blue Green Alliance
The Blue Green Alliance sponsors the annual Good Jobs, Green Jobs Conference. The 2009 conference was held from Feb. 4-6, 2009.
Conference speakers included:[2]
Lisa P. Jackson, Administrator, U.S. Environmental Protection Agency
U.S. Senator Sherrod Brown, Ohio
U.S. Senator Amy Klobuchar, Minnesota
U.S. Senator Debbie Stabenow, Michigan
Governor Martin O'Malley, Maryland
Governor Kathleen Sebelius, Kansas
Congressman Keith Ellison, Fifth District, Minnesota
Achim Steiner, UNEP Executive Director, United Nations Under-Secretary General
Richard Trumka, Secretary-Treasurer, AFL-CIO
Leo W. Gerard, International President, United Steelworkers
Larry Cohen, President, Communications Workers of America
Van Jones, Founding President, Green For All
External links
References