Linnea Capps
From KeyWiki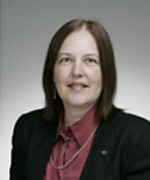 Linnea Capps is Associate Clinical Professor of Epidemiology and: Associate Clinical Professor of Medicine, College of Physicians and Surgeons (home dept.) Associate Director, Department of Medicine, Harlem Hospital Center, Columbia University, Mailman School of Public Health.
Dr. Linnea Capps' principal work is in the Department of Medicine at Harlem Hospital where she is associate director of the Department and director of the residency program. She spends a part of each year working in a community health project in Mexico.[1]
Education
MPH, Columbia University, 1985
MD, University of Missouri-Columbia, 1977[2]
El Salvador
In 1985-87, Democratic Socialists of America member Linnea Capps, worked in a rural health project in El Salvador .[3]
Health care pamphlet
In 1990, Democratic Socialists of America produced a pamphlet "Health Care for People Not Profit, the Need for a National Health Care System". Quotes were included from Barbara Ehrenreich, Ron Dellums, Gerry Hudson, Linnea Capps MD (Chair of APHA Socialist Caucus and Ron Sable.[4]
DSA school
In 1991, the NYC Democratic Socialists of America's School for Democratic Socialism "explored the health care crisis and socialist alternatives" with Oliver Fein, Ronda Kotelchuk, Sid Socolar and Linnea Capps.[5]
DSA member
In 1992 Linnea Capps was a member of the New York Democratic Socialists of America and was chief of the Division of General Medicine at Harlem Hospital.[6]
NYC DSA Steering Committee
In 1993 Linnea Capps was Health Task Force chair of the New York Democratic Socialists of America Steering Committee.[7]
References