Lillian Roberts
From KeyWiki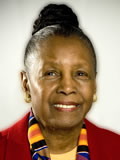 Lillian Roberts was, January 26, 2010, overwhelmingly re-elected for a fourth term as Executive Director of District Council 37, AFSCME, New York City's largest public employee union. District Council 37 represents 125,000 public workers in New York City and state, 50,000 retirees, 1,000 job titles and 55 locals. She is also a Vice President of the New York State AFL-CIO, a Vice President of the NYC Central Labor Council, and Co-Chair of the Municipal Labor Committee. She was named one of the 25 most influential black women in business by the Network Journal in 2010.
Ms. Roberts was first elected DC 37 Executive Director on Feb. 26, 2002. She was the union's first female Executive Director. She was re-elected to a three-year term on Jan. 27, 2004, and again on Jan. 23, 2007.
Fighting waste
Ms. Roberts has always opposed costly government waste and privatization of public services. DC 37 issued four initial white papers under her guidance identifying up to $3 billion that could be saved by eliminating private consultants and letting city employees do the work. City agencies phased in some of DC 37's cost-saving proposals, maintaining services while saving millions in taxpayer dollars — productivity gains that led to an additional 1% raise for DC 37 members in 2005.
However, when funding for the city's contract budget increased rapidly after 2005, climbing to a record cost of $9.2 billion for more than 18,000 contracts, DC 37 issued a fifth white paper in 2009 under her leadership titled "Massive Waste in a Time of Need." The union continues to push the city to cut wasteful spending through a campaign featuring award-winning subway ads, TV and radio spots, testimony and lobbying.
With housing costs rising, Ms. Roberts approached the Mayor with a proposal to give DC 37 members and municipal workers an affordable way to meet the city's then requirement that they live in the five boroughs. The result, launched in 2005, is the innovative DC 37 Municipal Employees Housing Program. The program allows DC 37 members and city workers preference for 5% of units in city-sponsored lotteries for affordable homes and apartments; down payment grants through the NYC Dept. of Housing Preservation and Development; and homebuyer training and education through Neighborhood Housing Services.[1]
Background
Lillian Roberts "has a long, proud history as a unionist". She grew up in the tenements of Chicago's South Side and became a nurse's aide. In 1959, she joined the hospital local of AFSCME's District Council 34 becoming a shop steward and officer. She was hired as a staff rep by AFSCME District Council 19 in Chicago, spearheaded the creation of five locals, and led an organizing drive in four Chicago mental hospitals. In 1965, Ms. Roberts moved to New York from Chicago to build up DC 37's Hospitals Division. She led the union's campaign to organize thousands of city hospital workers in 1966.
Ms. Roberts was Associate Director of DC 37 from 1967 to 1981 under Victor Gotbaum. She played a major role in organizing new members and establishing an array of benefits, including the largest union-based adult education program in the U.S. In the late 1970s and early 1980s, Ms. Roberts brought thousands of workers in federally funded jobs into the union. During her 17-year tenure with DC 37, the union's ranks skyrocketed from 30,000 to 120,000.[2]
Honors
Roberts is a former NYS Commissioner of Labor, who Essence Magazine called "probably the most powerful black person in American labor" and the New York Post named as one of the 30 Most Influential Black New Yorkers in 2007. On February 24, 2006, the United Negro College Fund presented Ms. Roberts with a Distinguished Leadership Award. She was appointed to the NYS September 11th Workers Protection Task Force on March 17, 2006.
In 2010 she received the Triumph Award for Advocacy from the National Coalition of 100 Black Women, Inc., as well as the Clara Lemlich Public Service Award from Triangle Shirtwaist Factory Fire Memorial leaders for her efforts to reform workers' compensation and improve occupational safety in New York State.
She also holds a Doctor of Human Letters from the College of New Rochelle. She has received the NAACP Roy Wilkins Award, the First Lady of Labor Award from the Episcopal Churchwomen, and the Freedom Fighter Award from the Coalition of Black Trade Unionists, among numerous other awards.[3]
CBTU
The original 1972 leaders of Coalition of Black Trade Unionists included Lillian Roberts, AFSCME[4].
Cablegram to Portugese Socialists and the M.F.A.
In 1974, after a pro-communist military coup in Portugal;
More than eighty Americans, all identified with opposition to the Vietnamese war and with various radical and liberal causes, sent on August 9 a cablegram to to the Portugese Armed Forces Movement, to Portugese president francisco da Costa Gomes and to portugese socialist leader Mario soares expressing the hope that "democratic freedoms"...will continue to grow in Portugal".
Michael Harrington, the national chairman of the Democratic Socialist Organizing Committee, organized the effort with help from 5 "Initiators" - Lawrence Birns (writer), Sissy Farenthold (past president National Women's Political Caucus), Congressman Michael J. Harrington, Martin Peretz (chairman, editorial board New Republic), Cleveland Robinson (vice president, Distributive Workers of America), Leonard Woodcock (president United Auto Workers, Jerry Wurf (president AFSME).
Lillian Roberts signed the cablegram.[5]
DSA member
In 1982, Lillian Roberts, New York Commissioner of Industrial Relations (former associate director AFSCME, District Council 37, was a member of Democratic Socialists of America.[6]
AFCSME 37 endorsemes John Liu
Saying New York City Comptroller John Liu "would end the favoritism towards the wealthy 1%" and return the Big Apple's government to its people, AFSCME District Council 37 delegates unanimously endorsed his mayoral candidacy.
The May 28, 2013 endorsement by the 300 delegates, representing 121,000 workers and their families and 50,000 retirees, gives Liu - an ally of DC 37 in rooting out no-bid sweetheart city contracts to private firms - a boost in the crowded mayoral race.
The AFSCME endorsement includes "a pledge to put our powerful, sophisticated field operations" to work for him, DC 37 President Lillian Roberts said on May 29.
"DC 37 members and all New Yorkers face a critical mayoral election this November, which could bring a truly great mayor who will end the current favoritism toward the wealthy 1% and restore government 'for the people'-the poor and working-class people of New York City, a mayor who makes New York City's neglected communities and the public workers that serve them a priority," she added. Roberts called Liu "the candidate best qualified to be that mayor."
The union picked Liu after its screening committee and convention delegates evaluated Democratic hopefuls and after it hosted a May 16 mayoral forum.
"We evaluated Liu's answers to tough questions-both at our mayoral forum and from the screening committee-regarding issues of importance to District Council 37 and the communities our union members serve," said Roberts. "We also looked at his consistent track record of actions to curtail contracting out, overspending and waste of taxpayer dollars throughout his tenure. DC 37 members have been able to count on Liu's support during our fight to protect vital services and our jobs.
"This union has a proven record of successfully supporting our endorsed candidates. We look forward to putting DC 37's mighty army of volunteers into the field to help elect Liu as...a mayor who truly believes in government for the people." [7] May 31 2013
References