Lian Hurst Mann
From KeyWiki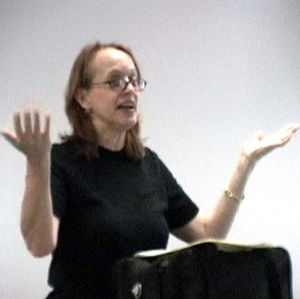 Lian Hurst Mann is associated with the Freedom Road Socialist Organization. She is the wife of Eric Mann.
Radical background
Lian Hurst Mann is editor of the AhoraNow document series published by the Labor/Community Strategy Center. She is a founding member of the Strategy Center where she writes, edits, and produces publications, teaches theory, and works to advance the production of oppositional culture. As a member of the Strategy Center Program Group, she is co-author of Towards a Program of Resistance: We Make These Demands Against the Institutions of U.S. Imperialism. She was a founding member of the Berkeley/Oakland Women's Union and member of the Berkeley Radical Psychiatry Collective in the early 1970s. She spent ten years as a shop-floor organizer against racism and for union democracy—in the Molders' Union, the Boilermakers' Union, and the United Auto Workers—while working with the August 29th Movement and the League of Revolutionary Struggle (ML). An architect and culture critic by education, she is co-editor of Reconstructing Architecture: Critical Strategies and Social Practices 1996 with Thomas A. Dutton, and author of Structures for Knowledge for Change: Architecture as Social Practice.[1]
Communist "Manifestivity"
On October 30 and 31, 1998 the Brecht Forum presented the "Communist Manifestivity -150th Anniversary of the Communist Manifesto" at at Cooper Union's Great Hall, New York.
One of the many workshops at the Manifestivity was;
Trade Unions: New Times, New Struggles; with Hector Figueroa, Lian Hurst Mann, Priscilla Murolo and Brenda Stokely. Moderator Maureen La Mar
"Strategies For Revolutionary Change"
Los Angeles, March 9, 2004? "Strategies For Revolutionary Change:An Inter-Generational Dialogue and Debate with Six Revolutionary Activists and Thinkers"
Max Elbaum: Given New Conditions, What Should We Carry Over from the Past, and What Has To Be Left Behind?
Warren Mar: One Struggle, Many Fronts : Linking the Anti-War Movement with Our Struggles at Home: Why the Global South Leads the Way!
Bill Gallegos: Why a Chicano Revolutionary Became a Communist, Why We Still Need Revolutionary Organization: What It Could Look Like
Lian Hurst Mann: "Women Hold Up Half The Sky": In the Workplace, in Communities, & at Home: What We Want to Teach Our Daughters about Imperialism
Manuel Criollo: In Search of an Anti-Racist/Anti-Imperialist Left in a Right Wing Era; The Challenges and Strategies for a New Generation!
Simmi Gandhi: Building for a Future of Grassroots Democracy as We Organize Our Fights Today; Models, Reflections and Necessary Questions for Today.[2]
USSF
At the 2010 United States Social Forum in Detroit , a forum was held "Presente! Left Movement Veterans Discuss the Path to Power and the Role of the Left in the US" June 24th from 3:00pm to 5:00pm at Cobo Hall.
Description: Long-time activists Bill Gallegos, Lian Hurst Mann, Chokwe Lumumba, Jane Slaughter, Linda Burnham, and Pam Tau Lee join other Leftists that have plied their trade for over 30 years in an urgent discussion on the role of the left in today's social movements. [3]
It was sponsored by the Freedom Road Socialist Organization/OSCL.[4]
Left Forum 2010
Union Strategies, Poor People's Movements and Crisis:
Left Forum 2013
Fight for the Soul of the Cities: An International Vision for Urban Organizing Sponsored by: AhoraNow Participants:
Ear to the Ground Project
We would like to express our deep respect and appreciation for everyone who took the time to talk with us, and the organizations that generously hosted us during our travels. Interviews were confidential, but the following people have agreed to have their names listed for this publication:
Most of those listed were connected to Freedom Road Socialist Organization.
Lian Hurst Mann was among those on the list. [5]
References