Leslie Cunningham
From KeyWiki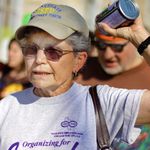 Leslie (Lincoln) Cunningham is a San Antonio Texas activist, and a member of the Freedom Road Socialist Organization.
She is a socialist, and is retired from a twenty-year career with the Texas Workforce Commission. Currently, she is a co-facilitator with the retiree committee of the Texas State Employees Union. She has been a volunteer with Austin Tan Cerca de La Frontera since 2008..
Youthful activism
Leslie Lincoln was a white kid graduating from high school in 1963 and already involved in civil rights, seeing Dr. King at the Washington Monument highlighted a momentous year.
She joined a group called "High School Students for Better Education."
Public schools in Washington, D.C., were de jure integrated by then, but still de facto segregated. Many high schools were all black; one (mine) was virtually all white.
We toured high schools, looking at the conditions of the buildings, the ventilation systems, the food in the cafeterias, the furniture, the textbooks. I remember staring at a heating outlet with the date "1888" on the metal fixture. Big surprise — the all-white and racially mixed schools were in better shape than the all-black schools. We looked up statistics and found that the per-pupil expenditure was lowest for the all-black schools.
We had to register as lobbyists with the federal government in order to present our case to Congress. "Home Rule" had not come to D.C. — there was no democratically elected local government. This was a civil rights issue in and of itself. The Constitution gives Congress total jurisdiction over the District, and when I was in high school the District of Columbia Committees of the Senate and the House served as city council and school board. We believed that Congress was not allowing D.C. to govern itself because the population of D.C. was majority African-American.
So a number of us spoke earnestly at committee hearings, met by inattention, impatience, and boredom from old white men. It seemed to us as if they were mostly segregationist southern Democrats. We got a few figurative pats on the heads and thanks for being so civic minded — and were sent on our way. The only concrete outcome I remember was Senator Hubert Humphrey waving a tattered textbook on the floor of the U.S. Senate, leading to a small increase in appropriations so that the black schools could get some new books and not rely on hand-me-downs from schools like mine.
After graduating from Woodrow Wilson High in June 1963, I heard the exciting news that all these people were coming to D.C. for a civil rights rally, and Martin Luther King was going to be there, and some of my favorite folk singers. There was no way I was going to miss it. My mother tried to dissuade me, citing the heat and my recent wisdom tooth surgery (she didn't say she was afraid of riots, and nothing like that had even occurred to me). But my parents had approved of what I had been doing, and I was with a group of friends, so they did not forbid me from going.
On August 28 it was an easy outing — we just took the D-3 bus to Federal Triangle, walked a few steps, and there we were, emerging into an amazing sea of people on the Washington Mall. It was the first time I had ever been to a large march or rally for any kind of "cause.[1]
PLP member
Leslie Cunningham was active in the Progressive Labor Party, until her departure in 1977.
Open Letter to Obama on Iran
In 2008 Leslie Cunningham of Texas Labor Against the War, Austin, TX signed an online petition "A Open Letter to Barack Obama on Iran".[2]
Austin Beloved Community memories
The list of people who contributed memories and experience to the Austin Beloved Community website included Leslie Cunningham, TSEU, Central Labor Council.
Austin Beloved Community site launch
Thursday May 1, 2014 marked the InternationalWorker's Day.
Many grassroots organizations and activists gathered at Resistencia Bookstore to celebrate and to recognize the official web launch for Austin Beloved Community.
Austin has a rich history of social justice organizations, artists and activists who have worked hard to fix longstanding problems in neighborhoods and communities.
Attendees included Anne Lewis, Jacob Branson (MC), Leslie Cunningham, Dave Cortez.
Leslie Cunningham wore a Freedom Road Socialist Organization, and signed the visitors page as an Freedom Road Socialist Organization/OSCL member.
Texas State Employees Union (CWA Local 6186)
Texas State Employees Union staff October 17, 2016 ·
With Myko Gedutis, Cisco Jav San, Paula Everett, Barbara Fetonte, Nicole Banks, Matthew James Comeau, Elias Cantu, Leslie Cunningham, Nufi Sammuel Almaguer, Seth Hutchinson, Joanne Day, Taylor Jones, Joe Montemayor, Anne Lewis, Arthur Valdez, Joe Angulo, Mary Clayton, Anitra Patterson and Edna Wiley.
Fight For Fifteen rally
Leslie Cunningham May 15, 2014:
At the terrific Fight For Fifteen ($15 and a Union) rolling rally in May, 2014, in East Austin. — with Amy Mashberg, Anne Lewis, Gregorio Casar, Susana Almanza, Monica A. Guzman and Juanita Spears.
DSA
In April 2017 Leslie Cunningham was a member of San Antonio Democratic Socialists of America's closed Facebook group.
Texas DSA - Red State Rising
On March 16, 2017 Leslie Cunningham was a member of the Texas DSA - Red State Rising closed Facebook group.[3]
References