Leonard Weinglass
Jump to navigation
Jump to search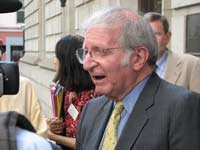 Template:TOCnestleft Leonard Weinglass died in March 2011. As a Lawyer he represented many notorious figures during his career. His four-decades long track record defending Mumia Abu-Jamal, The Cuban Five, Angela Davis, The Chicago Seven, Kathy Boudin of the Weather Underground, and Julian Assange. Also participated in the Pentago Papers case[1]
Tribute to Frank Pestana & Leonard Weinglass
Frank Pestana & Leonard Weinglass Saturday, May 7th 2011 - 7:00 to 10:00 PM
Echo Park United Methodist Church 1226 N. Alvarado Boulevard, Los Angeles 90026
With deep privilege of knowing these 2 extraordinary, militant attorneys who set an example for all of us by their dedication and commitment to uphold the dignity of all human beings.
PROGRAM
Musical Opening: West African Drumming with Lyn Pestana and Ayo Adeyemi
Welcome: Union of Progressive Iranians
Honoring Leonard Weinglass:
Honoring Frank Pestana:
Spoken Word by:
Dedication to:
Lucius Walker, of Pastors for Peace, Who led 21 relief trips to Cuba, in defiance of the US embargo.
Film:
Open Microphone and Closing Comments
Any Questions Contact Reza Pour at: cabriolet011@yahoo.com[2]
Miami 5 British tour
The Miami Fives' lead attorney Leonard Weinglass has captivated audiences at a string of events across the UK.
The veteran campaigner's 10-day tour - organised by the Cuba Solidarity Campaign - included a packed meeting at the House of Commons, where he first addressed MPs and then spoke at a public meeting about the Cubans' unjust imprisonment.
He addressed lawyers, delegates at the Latin America 2007 Conference, and public meetings in Manchester, Derby and Ireland.
Rob Miller, CSC's Director, said: "Mr Weinglass was truly inspirational. To hear him calmly spell out the horrifying catalogue of miscarriages of justice involved in the cases of the Miami Five has reinforced our commitment to fight for their release.
"We must pull out all the stops in the campaign to free the five heroes, who remain unbowed even after years in US prisons."
Mr Weinglass's first public meeting was at the House of Commons, in an event chaired by Labour MP Ian Gibson, on Thursday, November 29. It included a speech by Father Geoff Bottoms, chair of CSC's Miami Five Campaign, who has visited two of the Cubans in jail.
The celebrated civil rights lawyer then made a keynote speech at the Latin America 2007 Conference, held in London, which was attended by more than 600 delegates, and gave a talk at the College of Law in central London. The meeting included Michael Seifert, of the UK Lawyers' Network in support of the Five, and John Hendy QC.
Steve Cottingham, of O.H. Parsons, chaired the meeting, and said: "It was a packed event of more than a hundred people including lawyers and law students, and we all listened with rapt attention as Mr Weinglass and other speakers explained about the case.[3]
National Lawyers Guild
Weinglass was also a well-known supporter and advocate for international Marxist movements, having been the co-chair of the International committee of the National Lawyers Guild for many years.
Guardian
In March 1979, the New York radical magazine the Guardian issued an emergency appeal to funds in an effort to save the publication.
Over fifty supporters endorsed the appeal including Leonard Weinglass[4]
NASSCO 3
In 1981 Mark Loo, a Chinese-American member of the Communist Workers Party[5] , his party comrade Rodney Johnson, and unionist David Boyd were charged with the attempted bombing of the National Shipbuilding Company in San Diego, California. The trio were represented by lawyer Leonard Weinglass.
Defending the NASSCO 3, soon became a major cause for the Communist Workers Party.[6]
Mission to Philippines with Ramsey Clark
Having been a vocal opponent to the martial law of the Marcos dictatorship, Weinglass also participated in a fact-finding mission in 1987 with fellow attorney Ramsey Clark to investigate death squads under the first Aquino administration.
Not In Our Name
In August 2004 Leonard Weinglass an attorney endorsed an anti "Bush Team" Protest at the Republican National Convention in New York, organized by Not In Our Name, an organization closely associated with the Revolutionary Communist Party[7].
Bayan USA Involvment
Shortly after the founding of Bayan USA in 2005, Weinglass was among the US signatories endorsing the Second International Solidarity Mission (ISM) to the Philippines to investigate the administration of Gloria Macapagal-Arroyo. Weinglass also continuously opened the door to his New York City office to meet with activists, and lawyers, from the Philippines. In 2009, Weinglass joined the core group of the US-based Never Again to Martial Law (NAML) movement that was formed in response to the Arroyo government's declaration of a state of martial law in Maguindanao following the Ampatuan Massacre in November 2009.
Weinglass' most recent support was co-counsel and adviser to Filipina-American, and BAYAN USA member, Melissa Roxas. [8]
MDS Board member
On February 17, 2007, the Movement for a Democratic Society held a well attended conference[9]at New York City's New School University.
The business portion of the meeting followed with each board nominee introducing themselves to the conference. The board, a very diverse group, was voted in by acclamation... Board nominees where were not able to attend the conference were included in the appointment by acclamation. The list included Elliott Adams, Panama Vicente Alba, Tariq Ali, Stanley Aronowitz, David Barsamian, Rosalyn Baxandall, John Bracey, Jr., John Brittain, Robb Burlage, Noam Chomsky, Jayne Cortez, Carl Davidson, Angela Davis, Bernardine Dohrn, Barbara Epstein, Gustavo Esteva, Lawrence Ferlinghetti, Stephen Fleischman, Bill Fletcher Jr, Tom Hayden, Gerald Horne, Florence Howe, Mike James, Robin D G Kelley, Alice Kessler Harris, Rashid Khalidi, Mike Klonsky, Betita Martinez, Ethelbert Miller, Roxanne Dunbar-Ortiz, Barbara Ransby, Patricia Rose, Michael Rossman, Studs Terkel, Charlene Teters, Jerry Tucker, Immanuel Wallerstein, Cornel West, Leonard Weinglass and Howard Zinn.
Committee to Celebrate the Life of Luis Miranda Rivas
In 2009 Leonard Weinglass was a member of the Committee to Celebrate the Life of Luis Miranda Rivas.[10]
Vietnam Agent Orange Relief & Responsibility Campaign
In 2012 Leonard Weinglass served on the Board of the Vietnam Agent Orange Relief & Responsibility Campaign.[11]
References