Leon Despres
Jump to navigation
Jump to search
Template:TOCnestleft Honorable Leon Mathis Despres (1908-2009) was a controversial Chicago Alderman and prominent socialist activist. He was married to Marian Despres.
Leon Despres was a lawyer. He represented clients in the labor movement and clients facing issues of civil rights and civil liberties. (From 1979, he was in partnership[1]with Tom Geoghegan.) He was, for many years, very much a movement lawyer.
Despres was a Chicago alderman, representing the 5th ward in Hyde Park. He was for many years the lone alderman in opposition to Daley the Elder and the Democratic machine in the Chicago City Council.
He was a sometime advisor to Barack Obama.[2]
Early life
Born in 1908 Leon Despres moved as an infant to Chicago's Hyde Park area and lived there almost his entire life. Despres studied law at the University of Chicago, gaining his degree in 1929.
Hooking up with Alinsky
In the late 1920s Despres became friendly with the future father of "community organizing" Saul Alinsky- a sociologist and sometime associate of Chicago's Capone gang.
According to the Chicago Tribune centenarian Despres gave a speech on Alinsky at their old Alma Mater in January 2009, which revealed much about both men[3].
But palling around with street toughs convinced Alinsky that social problems had to be tackled head-on, not by gathering statistics, said Leon Despres, a former 5th Ward alderman, and a classmate of Alinsky's at U. of C.
He and Alinsky went to a shooting range to prepare for the revolution that seemed inevitable as the Great Depression appeared to be the end of capitalism.
But socialism and the revolution never came, and Alinsky afterward became intolerant of ideology...
Socialist Party
After a brief fling with the Democrats, Despres joined the Hyde Park branch of the Socialist Party USA in 1933-remaining a member until 1937[4].
Mixing with communists and spies
Despres was a union lawyer by 1937 and became heavily involved in supporting strikers at Republic Steel in Chicago through the Lawyers Constitutional Rights Committee. The strike ended in tragedy when 14 strikers were killed and many wounded in a hail of police bullets.
According to the Illinois Labor History Society[5].
Len (Leon) was among the lawyers who took depositions from the many witnesses to the carnage inflicted by the Chicago police at the 1937 Memorial Day Massacre at Republic Steel. Later, Len helped the La Follette Congressional Investigating Committee to gather information used in its scathing criticism of the police conduct on the field that day.
The Communist Party USA orchestrated the ill-fated strike, working through the party dominated Congress of Industrial Organizations (CIO). Lee Pressman, the CIO lawyer played a major role. It was later revealed that Pressman was a secret communist and Soviet spy-part of the Ware Group, founded in the U.S. Department of Agriculture.
Despres's colleague on the Lawyers Constitutional Rights Committee, John Abt was also a secret communist and Ware Group member.
From 1931 to 1935 Despres also worked with another Communist Party USA front, the Chicago Civil Liberties Committee, but left because of the "Stalinism" of its leaders Tom McKenna and Ira Latimer[6].
Herbert March endorsement
Trotsky tryst
In 1937, a fellow lawyer asked Leon Despres to deliver a suitcase of clothing to Leon Trotsky, the exiled Bolshevik living in Mexico. The Despreses traveled south and met not only Trotsky but his ally, artist Diego Rivera. Marian Despres sat for a portrait with Rivera while her husband escorted Rivera's wife, the artist Frida Kahlo, to a movie[7].
Coalition building
In Hyde Park in the 1950s and 1960s, Leon Despres was active building the coalition of communists, socialists, leftist Democrats, unionists and black radicals that would go on to elect Harold Washington, Carol Moseley Braun and eventually Barack Obama.
In 1955 Despres was elected Chicago City Council as an independent Alderman from Hyde Park. Despres, who served until 1975 was a left wing maverick, usually the sole dissenter against Mayor Daley's invincible "machine".
Selma march
In 1965 Despres worked with Timuel Black to organize a group of Chicagoans who flew to Alabama, where they joined the historic march with Dr. Martin Luther King, Jr. from Selma to Montgomery[8].
Hyde Park-Kenwood Voices
In January 1969, the Chicago radical newspaper, Hyde Park-Kenwood Voices, listed those who had helped produce its first 16 monthly issues as "writers, researchers, photographers, artists and clerical workers".
The list included Leon Despres.[9]
Debs Dinners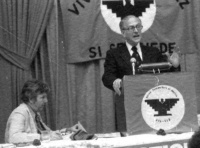 According to Chicago Democratic Socialists of America leader[10]Bob Roman Leon Despres was never a member of DSA or the New American Movement or the Democratic Socialist Organizing Committee... But he did have a long and intimate relationship with the Debs - Thomas - Harrington Dinner.
Most typically Leon Despres served as the Master of Ceremonies, also referred to as "Toastmaster" in earlier years. Despres was good at this role. He was funny, organized, articulate, and he very much presided over the event. The last year he presided over the Dinner was in 1998. I recall that he was delighted to be asked. It was obvious that he knew very well what he was doing; his professionalism was thrilling. But it also seemed apparent that he was no longer performing up to his old standards. And his standards were high. Despres served as the Master of Ceremonies in 1968, 1974, 1976, 1985, 1987, and 1998.
In 1962, prior to the Dinner being an awards event, Leon Despres was a featured speaker at the Dinner, sharing the event with author Harry Golden.
Despres was the honoree at the 1975 Norman Thomas - Eugene V. Debs Dinner. The speaker that evening was Joseph Rauh, a noted civil rights and labor attorney on the national scene, and a founder of the Americans for Democratic Action.
Leon Despres also MC'd the 1976 dinner-pictured above right with Democratic Socialist Organizing Committee founder Michael Harrington.
Fighting the "Red Squad'
Leon Despres and Don Rose were long time friends and colleagues. In the mid 1960s, Rose, a veteran of several communist controlled organizations, set up a newspaper, the Hyde Park-Kenwood Voices. Rose's business partner was David Canter, a long time Communist Party USA member, raised partially in the Soviet Union.
"Voices" featured a weekly column from local Alderman Despres and articles by and about Hyde Park radicals, socialists, peace activists, Students for a Democratic Society rioters, Cuba sugar cane cutters and communists.
It campaigned strongly against the Chicago Police's "Red Squad" the section dedicated to gathering intelligence on communists and radicals.
Despres was also very active against the "Red Squad"-and was one of their targets.
According to the Illinois ACLU (of which Despres was a leading member)[11];
Unlawful surveillance of political and religious organizations and community groups by the FBI and Chicago police was rampant in Chicago for many decades up through the mid-1970s, when federal lawsuits by the ACLU of Illinois and other organizations resulted in court supervision over these intelligence-gathering activities. Groups like the League of Women Voters, Operation PUSH and the Independent Voters of Illinois as well as individuals including former Chicago City Council member Leon Despres, Jesse Jackson Jr., Studs Terkel, Dick Simpson and Dr. Quentin Young were subjected to unlawful surveillance and the disruption of lawful political activities
The late Studs Terkel, (who attended Despres's 100th birthday celebration) was a long time secret Communist Party USA member, Jesse Jackson, Jr. was supported by communists and Dick Simpson was involved with the Debs Dinner socialists.
Quentin Young was a former member of the Young Communist League USA and is heavily involved in Democratic Socialists of America.
Supporting Timuel Black
In the late 1970s Despres served on a "Citizen's Committee" supporting Timuel Black's unsuccessful campaign for State Representative in the 22nd District.
The "Citizen's Committee" was chaired by Communist Party USA member Harold Rogers. Also serving with Despres were former "former" communist Charles Hayes, radical journalist Don Rose, future Democratic Socialists of America members members Saul Mendelson (a former Trotskyist), Danny Davis and Milt Cohen (another former communist).
Salute to Harold Washington
On April 6, 1983, the Hyde Park Herald published an endorsement from the Hyde Park/Kenwood Citizens Committee of Democratic Party Chicago mayoral candidate Harold Washington. Signatories to the endorsement included Leon Despres and Marian Despres.[12]
Serving under Washington
During the 1983-87 tenure of Chicago Mayor Harold Washington, Leon Despres served on the new Mayor's Chicago Plan Commission and as City Council Parliamentarian until Washington's death in 1987.
Paul Robeson 100th Birthday Committee
In 1998 Leon Despres was listed as a volunteer and intern of Paul Robeson 100th Birthday Committee.[13]
Despres/Obama relationship
Though not widely known outside Illinois, Leon Despres created a political movement, begun in Chicago's affluent Hyde Park enclave, that eventually propelled Barack Obama to the U.S. presidency.
From leftist blog, Daily Kos[14].
Barack Obama recognized this trailblazer whose contributions to Hyde Park's politics set the stage for our president's own ascent.
In a statement Wednesday, President Obama said, "Through two decades on the Chicago City Council and a long lifetime of activism, Leon Despres was an indomitable champion for justice and reform. With an incisive mind, rapier wit and unstinting courage, he waged legendary battles against the corruption and discrimination that blighted our city, and he lived every one of his 101 years with purpose and meaning. I have been blessed by his wise counsel and inspired by his example."
According to the Chicago Tribune[15];
Despres and his South Side neighborhood, which he represented in the City Council from 1955 to 1975, were long the city's liberal conscience, and both were part of President Barack Obama's original political base.
"Michelle and I were saddened by the passing of our dear friend and a towering giant in Chicago history, Leon M. Despres," Obama said in a statement. "With an incisive mind, rapier wit and unstinting courage, he waged legendary battles against the corruption and discrimination that blighted our city."
StoneCipher Report put it another way[16];
He (Despres) strongly supported Obama, seeing him bringing "a breadth of integrity not in that office in a long time." He also said, "[Obama] is a good man, highly intelligent, but not an elitist. And I see him staying that way."
And a key for the former Alderman was watching the rise of this young community organizer, then state Senator in the same neighborhood that Despres once represented and still knew so well – with Obama being supported and then elected by the same core mixed group of progressives who had emerged in the '50s (and solidified through the '60s and '70s) supporting his independent Democratic candidacy.
Endorsed US. House Candidate Barack Obama
On March 5, 2000, Obama was endorsed by former congressman and White House counsel Abner Mikva; former Chicago Alderman Leon Despres; Dr. Quentin Young, an advocate for universal health care; Michael Shakman, an attorney who led the legal fight to eliminate patronage positions in city government, and Eugene Ford, a former aide to late Mayor Harold Washington, in his bid to unseat incumbent U.S. Rep. Bobby Rush.[17]
Chicago Area Friends of SNCC
In 2005 Chicago Area Friends of SNCC organized the "Tell the Story: The Chicago SNCC History Project, 1960-1965" Chicago Area Friends of the Student Nonviolent Coordinating Committee and the Chicago Civil Rights Movement, c. 1960-1965. The event was held October 21-22, 2005 Roosevelt University, Chicago, Illinois.
Members of the advisory committee included Leon Despres.[18]
Supporting Geoghehan
Leon Despres' last major political act was in early 2009, when Illinois Congressman Rahm Emmanuel gave up his seat to serve as Obama's Chief of Staff. A bye-election was called in Illinois's 5th District.
Leon Despres's law partner Tom Geoghegan threw his hat in the ring. He was endorsed by Leon Despres, Quentin Young and Don Rose, but lost the Democratic primary race.
Business and Professional People for the Public Interest
In February, 2010, Leon Despres was a former Staff member of the Chicago based Business and Professional People for the Public Interest.[19]
References