Leo Panitch
From KeyWiki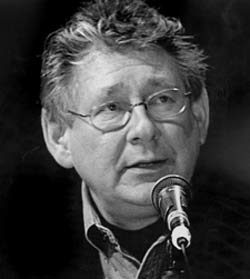 Leo Panitch is a leading member of Democratic Socialists of America.
Left Forum Advisory Board
In 2009 the Left Forum Advisory Board included Gilbert Achcar, Tariq Ali, Ashanti Alston, Anthony Arnove, Robin Blackburn, Barbara Bowen, Jack Bratich, Rose Brewer, Renate Bridenthal, Michael Brie, Stephen Brier, Stephen Eric Bronner, Paul Buhle, Joseph Buttigieg, Luciana Castellina, Angela Dillard, Stephen Duncombe, Hester Eisenstein, Barbara Epstein, Deepa Fernandes, Hector Figueroa, Harriet Fraad, Josh Freeman, Barbara Garson, Heather Gautney, Marvin Gettleman, Arun Gupta, Jack Hammond, David Harvey, Gerald Horne, Boris Kagarlitsky, Robin D. G. Kelley, Christine A. Kelly, Peter Kwong, Joanne Landy, Jesse Lemisch, Michael Lowy, Nivedita Majumdar, Manning Marable, Randy Martin, Liz Mestres, Susan O'Malley, Cathy Mulder, Leo Panitch, Christian Parenti, Thomas Ponniah, Barbara Ransby, Michael Ratner, Jan Rehmann, Gerardo Renique, Rainer Rilling, Colin Robinson, Nan Rubin, Roger Salerno, Stephen R. Shalom, Neil Smith, Richard Smith, Meredith Tax, Eleni Varikas, Victor Wallis, Joseph Wilson.[1]
Towards a new strategy for the Left
The Party of the European Left in the Left Forum 2018 in New York – Towards a new strategy for the Left
At least thousand of people took part in the Left Forum 2018, which took place from Friday June 1st to Sunday June 3rd, offering one plenary per day covering on Friday the political sphere, on Saturday the academic approach and on Sunday the grassroots activists perspective on this year's general topic.
The European Left presented 2 panels : "Connecting the European and North American Left: Identifying Spheres of Cooperation" and " Party of the European Left - a Success Story of Radical Left Alliances? An Analysis from US and European Perspective".
The EL participants (Paolo Ferrero, Waltraud Fritz Klackl and Piera Muccigrosso), were accompanied by Haris Golemis (Transform Europe), Andreas Gunter( future director of the Rosa Luxemburg Stiftung, New York), Leo Panitch (York University, Socialist Register), Ethan Earle (Rosa Luxemburg Stiftung) and Ethan Young (journalist and editor).
Both events were attended quite well and stimulated lively debates. Many Americans, some of European origin, were very interested in the current situation of the different European countries and parties, e.g. the latest events in Italy and Spain, and how the left forces in Europe have been reacting to the Syriza experience in government. Even an individual member of the EL with Turkish roots was present to express his wish to have more information and being more actively involved into the EL politics.
The presence of the EL proved to be useful in more than one way, giving us the chance for information, discussion and debates. More contacts with representatives of the transatlantic left arose and lead us to a better understanding what kind of political and organization challenges a still quite fragmented radical left in the United States is facing in the Trump era.[2]
Socialist Scholars Conference
Paul Sweezy, Monthly Review, Daniel Singer, European Correspondent for the Nation, Samir Amin, Senegal and Leo Panitch, York University, Toronto were speakers on the Globalization and Delinking panel sponsored by Monthly Review and Socialist Register at the Tenth Annual Socialist Scholars Conference. The conference was held April 24-26, 1992 at the Borough of Manhattan Community College, New York City[3]
Socialist Scholars 1997
The Democratic Socialists of America sponsored 1997 Socialist Scholars Conference was held March 28- 30 at the Borough of Manhattan Community College in New York[4].
Speakers included: Mimi Abramovitz, Daniel Singer, Harry Magdoff, Istvan Meszaros, Barbara Epstein, Ruth Sidel, Carlos Vilas, Rep. Jerrold Nadler, L. A. Kauffman, Leo Panitch, Hector Figueroa, David Abdulah, Louise Merriweather, Ngugi wa Thiongo, Amiri Baraka, Sonia Sanchez, Alexandr Buzgalin, Leith Mullings, Axel Queval, Pap Ndale, Jean-Pierre Page, and "dozens more..."
Communist "Manifestivity"
On October 30 and 31, 1998 the Brecht Forum presented the "Communist Manifestivity to celebrate the 150th Anniversary of the Communist Manifesto" at Cooper Union's Great Hall, New York.
Individual endorsers of the event included Leo Panitch.[5]
The Manifesto Commemoration Committee included Eric Canepa, coordinator; Sam Anderson, Sylvia Aron, Steve Brier, Mary Boger , Kira Brunner, Andrew Comer, Peggy Crane, Steve Duncombe, Peter Filardo, Rosa Garcia, Dan Georgakas, Joan Greenbaum, Ron Hayduk, Bill Henning, Diane Greene Lent, Danny Luce, Bill Koehnlein, Biju Mathew, Eli Messinger , Liz Mestres, Yusuf Nuruddin, Adele Oltman, Ed Ott, Leo Panitch, Renee Pendergrass, Merle Ratner, Colin Robinson, Rosina Rodriguez, Frank Rosengarten, Rob Saute, S Shankar, Sean Sweeney, Kit Wainer, Paul Washington, Juanita Webster, Ethan Young.
One of the many workshops at the Manifestivity was;
What Are Revolutionary Politics Today? with Nancy Holmstrom, Peter Kwong, Anthony Monteiro, Leo Panitch, Daniel Singer, Brenda Stokely and Carmen Vazquez. Moderator: Sam Anderson
How Class Works
At the How Class Works - 2002 Conference
0.0 Opening plenary session
"September 11 and its Aftermath Through the Lens of Class"
Leo Panitch York University (Toronto) – Political Science Provost Lecture Series[6]
Mapping Socialist Strategies
Mapping Socialist Strategies was convened from August 1-4 in Briarcliff Manor, NY, by the Rosa Luxemburg Stiftung—New York Office. It brang together 100 influential progressives and leftists from across the United States, Canada, and Europe for an "un-conference" on socialist strategies.
Attendees included Leo Panitch.
Left Forum 2015
Labor and the Left in the U.S.: Socialist Register 2015 Transforming Classes
References