Lennox Hinds
From KeyWiki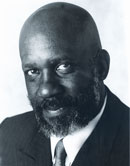 Lennox Hinds is founder of the National Conference of Black Lawyers and former counsel for the Government of South Africa and the African National Congress, teaches in the Criminal Justice Program at Rutgers University[1].
National Alliance Against Racist and Political Repression
The 10th Anniversary Conference in 1983 Chicago, May 13-15, 1983 held at McCormick Inn - Featured speakers including Lennox Hinds[2]
World Peace Council
In the late 1970s, the Information Centre of the Soviet front World Peace Council, Helsinki Finland, published a booklet naming members of the organization, worldwide.[3]
We publish in this booklet a list of members of the World Peace Council elected at the Council's Session in Warsaw in 1977.
U.S. members listed, included; Lennox Hinds, Director, National Conference of Black Lawyers; US Representative, International Association of Democratic Lawyers.
CoC National Conference endorser
In 1992 Lennox Hinds, chair emeritus National Coalition of Black Lawyers, New York, endorsed the Committees of Correspondence national conference Conference on Perspectives for Democracy and Socialism in the 90s held at Berkeley California July 17-19.[4]
Black Radical Congress
In March 1998 "Endorsers of the Call" to found a Black Radical Congress included Lennox Hinds, International Association of Democratic Lawyers, North American Chair[5].
Free Mumia Abu-Jamal
In 2008 Lennox Hinds, Professor and Lawyer, New York signed a statement circulated by the Partisan Defense Committee calling for the release of convicted "cop-killer" Mumia Abu-Jamal.[6]
Critical Resistance event
Critical Resistance and Brecht Forum presented Angela Y. Davis/Ruthie Gilmore/Vijay Prashad/ Laura Flanders...
Friday, May, 20, 2011 Riverside Church, South Hall Admission: $50-$250. (includes admission to main event -"The World We Want is the World We Need". Riverside Church, Nave 490 Riverside Drive. Admission: $20-$30
Host Committee: Rashidah Ismaili AbuBakr, Malaika Adero, Seth Adler, Shana Agid, Sam Anderson, Kai Barrow, Andrea Bible, Jean Carey Bond, Dorothy Burnham, Melanie Bush, Rod Bush, Angela Cali, Susie Day, Jesse Ehrensaft-Hawley, Joan Gibbs, Elspeth Gilmore, Farah Jasmine Griffin, Lennox Hinds, Esther Cooper Jackson, Peter Marcuse, Jerry Meyer, Charlene Mitchell, Mary Morgan, Mary Lou Patterson, Beth E. Richie, Shreya Shah, Alvin Starks, Farrah Tanis, Laura Whitehorn.[7]
International Association of Democratic Lawyers
Lennox Hinds serves on the board of the old Soviet front organization, the International Association of Democratic Lawyers.[8].
References