Lenina Nadal
From KeyWiki
Lenina Nadal has been working with Right to the City for 3 years and has led many of the narrative and story based strategy training, spokes training and press strategy for the Alliance. Before this, she worked as the Development and Communications Manager of the Northwest Bronx Community and Clergy Coalition. She received an MFA in Integrated Media Arts at Hunter College and studied historical documentary filmmaking in George Washington University. She has also been a writer and producer for Democracy Now!, PBS American Experience and the History Channel and presented in the Tribeca Film Festival with a film produced in Marrakech, Morocco about local gentrification. She has led media, strategic planning and leadership trainings in nonprofit organizations for the last 15 years. She is also a Boricua/Nuyorican poet, a student of playwrighting, spectacles and flash mobs, a new mami, and is on the community action council of the FOUNDRY Theater.[1]
Student Liberation Action Movement
Lenina Nadal was a founding member of the CUNY Coalition Against the Cuts and Student Liberation Action Movement. Having graduated in 1997, she returned in 2000 to help create SLAM's organizer training institute. She is a filmmaker, playwright, and poet, and works for the Northwest Bronx Community and Clergy Coalition.
Lenina: People learned about who they were. A lot of people came out of the closet and started to engage in queer political theory by bringing that analysis into the organization to challenge people. We had a Cambodian member who was taken out of Cambodia during a very repressive time and brought to the US. She was discovering what the repression in Cambodia had to do with US foreign policy. Another member taught us how Mao used pop culture to create cultural resistance. He was saying, "how can we have our cultural resistance?" That's what helped feed Mao's revolution, and that was going to help feed our revolution. The Puerto Rican students and Black students had access to institutions created in the '60s and '70s by young revolutionaries like ourselves. Together, this created a very sensual space: it wasn't a clash of cultures so much as a joint discovery.[2]
SLAM in Philly
On June 5th 2009 in Philadelphia, Student Liberation Action Movement activists Kazembe Balagun, Lenina Nadal, Jed Brandt, John Kim, and Sasa Ynoa spoke about SLAM's innovative approach to organizing and why we were fighting for free university education.
This was a combined event called "How do we build radical movements?" with Dan Berger, who (along with Chris Dixon) interviewed people in four revolutionary study groups – Another Politics is Possible (NY), the Activist Study Circles (SF), the LA Crew, and the New York Study Group – talking about leadership, organization, and politics.[3]
"The Van Jones Effect: Right Wing Frenzy, Inside/Out Strategies and Red Scare"
"The Van Jones Effect: Right Wing Frenzy, Inside/Out Strategies and Red Scare" Wednesday, 16 September 2009, 19:30 The Brecht Forum.
Jed Brandt, Rosa Clemente, Harmony Goldberg, Arun Gupta, Randy Jackson, Jee Kim, Terry Marshall, Lenina Nadal.
The anti-communist screed launched by Glenn Beck forced forced Van Jones to resign as advisor to President Obama. While Beck's media maelstrom is reminiscent of the 1950s "Red Scare," it also reveals the deep fissures in American society. The country is facing off in terms of race and class, with Obama playing the Janus head to both the progressive forces that put him in office and a reinvigorated right.
In the background is the very real possibly (and dare say, hope) of a rising radical force that can push Obama to the left and reshape domestic and foreign policy.
Tonight's activist panel looks at the ways in which the Van Jones effect opens up crucial questions to radical left forces How do radical left forces interact and relate to this administration? How do we push on critical issues like health care? How did the right wing capture momentum? How does the left get its groove back?[4]
Left Forum 2010
The Art & Politics of Spectacle – Creating Ethical Spectacles:
What Does it Mean to be a Revolutionary in Our Times?:
Left Forum 2012
Stories of the 99%
Sponsored by: Occupy Comix
WE ONLY WANT THE WORLD
The Occupied Wall Street Journal, June 2, 2013 ·
WE ONLY WANT THE WORLD.
"All the powers of old Europe have entered into a holy alliance to exorcise this spectre: Pope and Tsar, Metternich and Guizot, French Radicals and German police-spies. Where is the party in opposition that has not been decried as communistic by its opponents in power? Where is the opposition that has not hurled back the branding reproach of communism, against the more adv... See More — with Sopo Sofia, Amin Husain, Jenna Pope, Christopher Gunderson, Kazembe Balagun, Jed Brandt, Liam Wright, Mint AltoMints, Doug Greene, Lenina Nadal, Bikkil Sthapit, Brandon Jourdan, Priscilla Grim, Rachel LaForest, Eric Ribellarsi, Justine Ní Thonnaigh, Joe Ramsey, Kali Akuno and Callisto Pishtova.
Rent Freeze Now!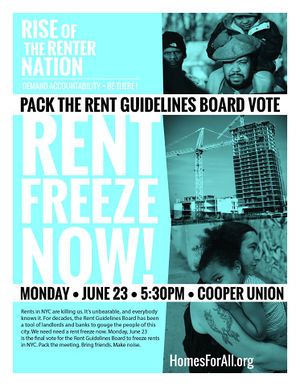 Lenina Nadal June 17, 2014;
Let's do this. Please share. — with George Ciccariello-Maher, Kate Cavanagh, Claudia Copeland, Maria Elena Perez, Maribel Cordero-Garcia, En Bey, Estevan Lee Roman, Beka Economopoulos, Ejima Baker-Morales, Crecensio Morales, Eulan Atkinson, Heidi Schwa, Stuart Ewen, Teresa Basilio, Jed Brandt, Eric Odell, Brian Hernandez, Christopher Gunderson, Janvieve Williams Comrie, Laurie Davidson, Mark Swier, Ramiro Campos, El Lopex, Jesse Ehrensaft-Hawley, Elisha Miranda, Prof. Antonio Nadal, Digna Sanchez, Elizabeth Walsh, Blandon Casenave, Kazembe Balagun, Dasha Munoz, Caridad De La Luz, Yasmeen Perez, Yvonne Enid Rodriguez-MacDonald, Lilo Carr Rivera, Esther Wang, Stomp Box, Dee PoeticalGenius, Esperanza Martell, Eddy Nelson Rivera, Tamara Czyzyk, Jessica Klonsky, Luz Schreiber, Carlos J. Serrano and Roger Bonair-Agard.
RTC 2012 staff
Right to the City Alliance September 14, 2012
RTC Staff and Professor David Harvey with his mandatory branding at the La Congress. — with Yasmeen Perez, Lisa Adler, Rachel LaForest, Mark Swier, Lenina Nadal, Luz Schreiber, Lisette Le and David Harvey.
Right to the City
Right to the City is associated with the Freedom Road Socialist Organization.
As of 2015;[5]
URTHChoir
In 2012, the URTHAChoir consisted of Lenina Nadal, Mark Swier, Rishi Awatramani, Lilo Carr Rivera.[6]
Student Organizing Across Generations
Hosted by NYSR Saturday, October 19, 2013 Professional Staff Congress/CUNY. 61 Broadway, New York, New York 10006
New York State has a long history of student organizing and mobilization. On October 19th, come hear from some of those organizers who were apart of past student movements, as well as those organizing now. Panelists will talk about their organizing experiences and also give analysis on the current student movement.
Speakers include:
Revolutionary on the Daily
Revolutionary on the Daily: Visions for New Societies, Revolutionaries Organizing Ourselves Friday, June 25 2012, Detroit.
Most of us are struggling by day for small victories to help our people organize and survive, and dreaming by night about a better world. This workshop is a space to gather with other non-sectarian revolutionaries to explore our visions in creative ways. Through play and discussion this session will provide a space to reflect on the challenges facing left organizers who are committed to bringing about revolutionary transformation. Let's think deeply through the following questions together: What is our revolutionary vision for a new society (as distinct from a reformist vision)? What is the role of revolutionary orgs/collectives/individuals/political communities to get us to that new society? How does being a revolutionary affect or inform our daily practice? We'll have a gameshow featuring amazing organizers from around the country, play a spectrum game so participants can pitch in their thoughts, build virtual neighborhoods from cardboard and paint that weave together our visions of a new society, and have small and large group discussions.
Featuring: Lenina Nadal from the New York Study Group, Joanna Misnik from Solidarity, Tony Zaragoza from League of Revolutionaries for a New America, Eric Odell from Freedom Road Socialist Organization/OSCL, Shiu-Ming Cheer and Luz Elena Henao from LA COiL, and speakers from Labor Community Strategy Center, Malcolm X Grassroots Movement, and Bring the Ruckus.[8]
Smartmeme advanced training
Doyle Canning April 16, 2012:
2012 smartmeme advanced training underway! — with Emma Mulvaney-Stanak, Sujin Lee, Marjorie Childress, Trina Jackson, Lenina Nadal, Danielle Coates-Connor, Randy Jackson, Cindy Wiesner, Rishi Awatramani, Gopal Dayaneni and Kiara Nagel.
References