Len Gale
Jump to navigation
Jump to search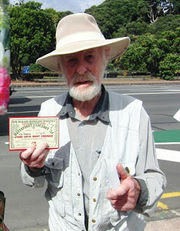 Len Gale is a life long Marxist and member of the Socialist Party of Aotearoa.[1]
He lives in Kelston, Auckland.
He is author of "Maori Women and the Vote."
Between 1890 and 1910, Maori women from iwi throughout New Zealand formed links to work on common problems, and began to use political institutions to voice their opinions. Rei documents the suffrage activities of Maori women and outlines their attempts to achieve political representation.
Len Gale has many years experience working with greenstone, and many museums around the world have commissioned replicas of original Maori pounamu pieces from him.
You can buy these books by Len Gale: "Greenstone Carving".
"1951"
1951 Waterfront Strike Veteran.
Anti-Vietnam War
1967, Len Gale signed an appeal along with other prominent New Zealanders: "We urge: Cessation of the bombing of North Vietnam. Withdrawal of N.Z. troops from Vietnam." An artist.
SUP
1972 - wrote article in Sept. Tribune, "Marxism and Alienation".
1973 May Article in Tribune on Copernicus.
1974 Nov 18, Tribune recorded results of local body elections: Len got 1647 votes for Socialist Unity Party.
1975 March 24 Sent in Polynesian motif to Tribune in competition for a new SUP emblem.
1977-88 member SUP.
1977 - involved in doing layout for SUP's Tribune.
1979, Dec. 4, wrote with wife Grace Gale article in Tribune about their recent trip to the German Democratic Republic.
SPA
Nov. 0200 letter in Red Flag.
2003 - regular contributor to Socialist Party of Aotearoa's Red Flag.[2]
2004 - letter in Red Flag Feb. on colonial power.
In 2006 the SPA presented the CPA with a gift of a framed lino-cut.
"It was created in the mid to late '50s to produce banners and the like", said Comrade Warren Brewer. "It is of a Pakeha and Maori hand and for our purpose it symbolises the new CPA-SPA relationship."
The lino-cut was created by artist Len Gale, a life long Marxist and member of the SPA. Len was involved in the 1951 NZ waterfront lockout as part of the underground media group. He is known in Australia for the art work he produced for the 100th anniversary of Eureka — recently reprinted by the CPA for the 150th anniversary.[3]
References
↑

RF Mar 03

↑

[ Guardian 12.4.06]