LeftRoots
From KeyWiki
LeftRoots is associated with the Freedom Road Socialist Organization/Liberation Road. It launched as a formal organization in 2014 with our first local branch in the San Francisco Bay Area. We are now working with comrades around the United States to start branches in a number of other cities. It came out of Steve Williams and N'Tanya Lee's Ear to the Ground Project.
In 2018 LeftRoots "is a national organization of 250 frontline organizers and activists, committed to politically developing their members to lead social movements across the U.S."[1]
The LeftRoots publication is Out to Win!.
Election 2020
LeftRoots, a social­ist orga­ni­za­tion, doesn't nor­mal­ly get involved in cam­paigns.
This year is dif­fer­ent. In the wake of a cat­a­stroph­ic Trump pres­i­den­cy, LeftRoots took a step back to review the whole pic­ture. Sev­er­al times a week the orga­ni­za­tion mobi­lizes its mem­bers and net­works to can­vass, phone bank and text bank for Biden through Seed the Vote, a vol­un­teer-based coali­tion work­ing with already-exist­ing groups pro­vid­ing grass­roots efforts to get out the vote.
"In this moment, defeat­ing not just Trump, but also the forces that he rep­re­sents, is our num­ber one task," says Milena Velis, LeftRoots' train­ing direc­tor. ​"That's because of the real dan­ger this white suprema­cist author­i­tar­i­an minor­i­ty that's vying to take con­trol of the coun­try right now pos­es for our com­mu­ni­ties and for our orga­niz­ing going forward."
Cam­paign­ing for Biden has not been an easy deci­sion. The estab­lish­ment Demo­c­rat, who vot­ed for the 2003 inva­sion of Iraq and rejects key left demands like Medicare for All, doesn't reflect the social­ist val­ues that LeftRoots holds. ​"Biden is not a left-wing can­di­date," Velis explains. ​"It requires us to both be hon­est and to not lose sight of our vision. We have to be talk­ing about much big­ger change than Biden's plat­form policy."
In its recent­ly released sit­u­a­tion­al objec­tive doc­u­ment, Left­Roots says that left forces work­ing to oust Trump should not ​"hide our pol­i­tics," nor become sub­sumed with­in the Democratic Party. Rather, the group says it ​"sees the defeat of Trump not as an end­ing, but as the launch­ing point for new strug­gle." The orga­ni­za­tion argues that ​"when­ev­er pos­si­ble we should be open social­ists against Trump, vot­ing for Biden, defend­ing democracy."
So far, the call to action appears to be work­ing. The enthu­si­asm from the LeftRoots com­mu­ni­ty around get­ting out the vote has been strong, despite the many oth­er issues staff and vol­un­teers jug­gle. ​"Many folks who are on the front­lines of com­mu­ni­ty orga­ni­za­tions, who are real­ly engaged in fights against evic­tions, or try­ing to fight for labor pro­tec­tions for work­ers, at the end of the long day are get­ting on the phones for two hours to call some­one in a swing state," Velis says.[2]
Taking over the Democrats?
One evening in late May 2019, upward of 50 grassroots organizers from different groups around the country gathered at a union hall in Dorchester, Mass. They were grappling with some of the Left's age-old questions: In a future where the Left wins political power, what would we like to see happen? And more pragmatically: What would it take to get there?
A local community organizer sets the scene: "It's 2019. Burning issues are facing our communities." She lists off galloping inequality, a trigger-happy white nationalist movement, looming environmental disaster. It's urgent, she says, to do "more cross-fertilization work" to harness progressive forces (like the striking teachers around the country) to build solidarity across issues.
In that union hall near Boston (which LeftRoots requested not be named, out of "an abundance of caution" about redbaiting), close to 100 area organizers also participated, representing groups like City Life/Vida Urbana, Dominican Development Center, New England United for Justice, Boston Liberation Health and Right to the City Boston, groups fighting for everything from racial, economic and environmental justice to land, labor and housing rights.
The discussion closed with long-term questions: Should the Left prepare to launch a third party or commit to a takeover of the Democratic Party? And speaking of takeovers, how cool would it be if workers in weapons factories just took the damn things over and retrofit them for green purposes?
After decades in the political wilderness, the American Left is aware of the obstacles to a more egalitarian world. But in rooms like this, where political imagination and analytic rigor walk hand in hand, you can see possibilities unfold, a tapestry of radical hopes and ideas. In an increasingly desperate moment, it's a refreshing revival: an old socialist tradition being built upon and refined and expanded to ensure meaningful participation for all, particularly working-class communities—of color, especially.[3]
National conference
LeftRoots to Brazil
Support LeftRoots comrades to attend the international school of Transnational Decolonial Black Feminism in the Americas to be held in Cachoeira, Bahia, Brazil from July 29 to August 2, 2019.
With some support from LeftRoots, 7 cadres will be traveling to Bahia, Brazil to learn and engage with Black Feminists from across the Americas and the globe to deepen our feminist socialist praxis. We are raising $10,000 by April 19 to go toward airfare and other travel costs in order to attend the program.
Black women are a driving force in the movement for social and economic justice in Brazil, even as far-right president Bolsonaro pushes a racist and homophobic agenda centered on militarization and privatization. We continue to mourn the brutal assassination of activist and politician Marielle Franco and honor her legacy and call to resist. We see the Decolonial Black Feminism school as an opportunity to practice internationalism and learn from Black feminists across the diaspora.[4]
Delegates included Vanessa Moses, Brianna Gibson, Jayanni Webster, Lisa Husniyyah Owens, Sian Miranda Singh OFaolain IV, Paige Amanda Kumm.
Promising future
According to Carl Davidson, North Star 8/11/14.
"Leftroots has a promising future because, one, it has 21st century socialism as its aim, and two, because it is very multinational and largely young, those in and around the Millennial cohort, and three, because they are well-embedded in a vast net of progressive mass organizations, including unions and NGOs. They are neither dogmatists nor pure-and-simple anarchists, and they are seeking ways to contend in elections, among many other tactics. They have only formed a cadre organization that one can apply to join in the Bay Area, so far anyway. But they have a rather large national network that gathers online in 'hangouts', and a three-year plan to develop core organization in key cities across the country. Most socialist groups are too old, too white or too doctrinaire. They are a refreshing break from all three of those limitations. That's why I'm behind them. I don't see them in opposition to Philly Socialists--although if and when they set up in Philly, we'll see. It depends on how you guys want to relate to them. It's very important that the critical mass at their core are people of color, although whites are involved too. With that problem in hand, stronger alliances are possible at the base. I suggest you join some of their monthly on-line 'hangouts.'
"They have between 50 to 100 people in the Bay Area cadre group. They just decided to for the 'cadre' group out of the 'network' a few months ago, so you're not going to find any long group history. You can find the articles by Steve Williams and N'Tanya Lee, especially the one where they interviewed 100 or so organizers around the country. In the wider network they may have around 1000 people, but fairly atomized, save for the conference calls. In the records of the calls, you many find long threads of discussion around certain topics (I did one for them on strategy) or reports from the various mass groups they lead. [5]
Black Lives Matter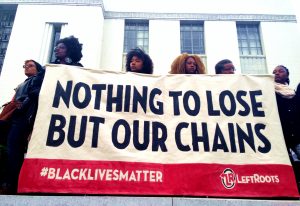 "Topple capitalism"
N'Tanya Lee and Steve Williams on their vision for LeftRoots.[6]
Chilean political scientist Marta Harnecker offers a useful definition of the Left as those "forces that oppose the capitalist system and its profit motive and which are fighting for an alternative humanist, solidarity-filled society, a socialist society, the building blocks of which are the interests of the working classes. This society would be 'free from material poverty and the spiritual wretchedness engendered by capitalism.'" Based on this definition, we begin from the standpoint that the objective of any left strategy must be to topple capitalism in order to make way for an economic system that allows for all people around the world to develop their capacities to the greatest extent possible in harmony with the planet.
LeftRoots leaders
In 2014, N'Tanya Lee, Cinthya Munoz, Maria Poblet, Josh Warren-White, and Steve Williams were members of the LeftRoots Coordinating Committee. [7]
The LeftRoots Coordinating Committee, August 2014;[8]
Subject: Celebrate LeftRoots 1st Anniversary! Become a LeftRoots Compa! /Celebrar el Primer Aniversario de LeftRoots!
Alicia Garza, Maria Poblet, Timmy Lu, Josh Warren-White, Alex Tom, Cinthya Munoz, Steve Williams, N'Tanya Lee.
First anniversary 2015
LeftRoots is a national formation of social movement organizers and activists who want to connect grassroots struggles to a strategy to win liberation for all people and the planet.
Dear Friends and Comrades,
Remarkably, it's already been a year since we launched LeftRoots. Starting a new kind of national Left project is, it turns out, not a small undertaking! Emerging from the intensity of this first year of organization-building, it's time to celebrate, and it's time to grow.
You can help grow new Branches, contribute to our political and financial independence, and build towards a National Congress in 2018 to discuss and debate proposed Strategies for National Liberation. Together we can develop a "next Left" that's vibrant, skilled, rooted in working class struggles, and truly preparing to win.
CELEBRATE! JOIN THE FIRST ANNIVERSARY PARTY FESTIVITIES!
Friday, September 5th, 6-9pm * Bayanihan Center, 1010 Mission St, San Francisco
We launched the first LeftRoots Branch, with 50 cadre members in the Bay Area. Members are building a new type of vibrant, Left political vehicle whose points of unity, program and plans reflect lessons from 20th Century socialist experiments and our many generations of grassroots movement-building struggles.
Over 400 movement activists participated in one or more of LeftRoots' 15 national online HangOuts and local Community Conversations. The vast majority are people of color, engaged directly in movement-building on the ground.
We committed to build towards a national congress in 2018, before which we will develop grounded strategies for national liberation. LeftRoots members and families are developing a new kind of Left culture that reflects our values around participatory democracy, self-and-social transformation, protagonism, support & accountability, and grassroots feminism!
We began building with some of the globe's most inspiring, new Left formations, like SYRIZA in Greece, Venezuela's Bolivarian Revolution, and South Africa's powerful, socialist workers union, NUMSA.
Next, we will be launching new Branches in 2015! If you and a few activists are interested in participating in a local Assessment Process to help us identity where the soil is fertile for a LeftRoots cadre Branch - or for us to deepen relationships with organizers and activists in your community - please email us at left...@leftroots.net.
BECOME A LEFTROOTS COMPA!
As we celebrate this Anniversary, we're pushing for 100 LeftRoots supporters like you to become Compa Members in the next month. Signing up is easy.
LeftRoots Compa are committed supporters of LeftRoots who 1) agree with the LeftRoots Points of Unity, and 2) make a monthly financial contribution to help ensure the success of this liberatory political project. Compa are part of the LeftRoots membership community, receiving special invitations to LeftRoots programs, including our national LeftRoots HangOuts and local Branch events.
Your Compa contribution matters. Outside of the nonprofit structure, we are building a new kind of Left political organization funded more than 90% by Compa and Cadre membership dues and contributions. Cadre are now contributing between 1 to 5% of their annual income; and Compas have already contributed thousands of dollars. It is not a slogan to say that our capacity to grow nationally is entirely dependent upon you.
The LeftRoots Points of Unity - which you can read in full here - are uniting radicals, revolutionaries and social movement leftists across the country around a set of ideas that build upon lessons from grassroots people's struggles here in the US and internationally, and from the 20th Century socialist experiments:
SOCIALISM IS THE FUTURE! LET'S BUILD IT NOW! "Capitalism must go if humanity is to survive and if liberation is to be achieved…" END ALL OPPRESSION FOR LASTING HUMAN SOLIDARITY. "White supremacy, patriarchy, homophobia and other forms of oppression are deeply embedded in modern capitalism…" VICTORY WILL REQUIRE BOTH POPULAR MOVEMENTS AND AN ORGANIZED LEFT. "Liberation will only be achieved as a result of the power of the people…" STEWARDSHIP, NOT OWNERSHIP. INTERDEPENDENCE, NOT EXPLOITATION. "The planet is not a commodity to be possessed, owned and exploited by humanity for our own purposes. …" LIBERATION MUST CROSS ALL BORDERS. "All peoples around the globe have equal claim to justice and liberation… " TRANSFORM SOCIETY, TRANSFORM OURSELVES. "The current order alienates us all from our ourselves, from our labor, from others and from the planet…" STRATEGY, NOT DOGMA, MUST BE OUR GUIDE. "Revolutionary movements must reflect the unique conditions of the nations in which they operate, which means that all effective movements must innovate…" Are you ready? We hope so! Because nobody from ruling class, nor any of their foundations, is chipping in to build a new Left organization led by organizers of color, committing to winning a society led for and by oppressed people and the working class. (And, we're not asking). It's up to all of us!
Always towards liberation.
in solidarity,
The LeftRoots Coordinating Committee
Alicia Garza, Maria Poblet, Timmy Lu, Josh Warren-White, Alex Tom, Cinthya Munoz, Steve Williams, N'Tanya Lee.[9]
Strategy team
LeftRoots strategy team, October 2017.
Vietnam connection
In December, 2017, three LeftRoots cadres—Merle Ratner, N'Tanya Lee, and Rose Brewer—got to spend a few weeks on women's delegation to Vietnam, one of the few surviving 20th century socialist experiments. On April 19, 2018, the three of them, along with LeftRoots compas and fellow delegates Cathy Dang and Juliet Ucelli, hosted a national LeftRoots hangOut to talk about their experience.[10]
The delegation included US-based movement leaders from the labor movement, Black Lives Matter and national women's organizations. It was hosted by the Vietnam Women's Union.[11]
Vietnam Women's Union President H.E. Nguyen Thi Thu Ha and the American Women's delegation
LeftRoots HangOuts
LeftRoots HangOuts are national, online political education spaces for social movement leftists - revolutionaries and radicals engaged in frontline mass organizing, movement building, people's struggles - to have dialogue about critical left ideas and inspiring movement work collectively. Past HangOuts have featured Alicia Garza on Black Lives Matter, Marta Harnecker on 21st Century Socialism, George Ciccariello-Maher on Venezuela, comrades from MXGM & FRSO on Jackson Rising, and Sandra Moran on Grassroots Internationalist Feminisms, M. Adams, a Black Queer Wimmin, dad, political theorist, movement scientist and community organizer. She is the co-executive director of Freedom Inc. and co-founder of Young Gifted and Black Coalition in Madison, WI. Biju Mathew is Secretary of the National Taxi Workers Alliance and is active in developing transnational strategy to combat the religious right. [12]
LeftRoots HangOut with Willie Baptist
Please join LeftRoots Friday August 15th (2014) for our next HangOut with Willie Baptist about the importance of leadership, leadership development and understanding who the ruling class is and what their strategies are.
On May 1, 1990, the National Union of the Homeless (NUH) launched a nationally coordinated campaign taking over federally-owned houses in eight cities across the country. Willie Baptist, our guest on the next LeftRoots HangOut, was one of the organizers of the NUH.
Founded in 1985 by formerly homeless people, the Union was on the move in the late 1980s. At its height, the Homeless Union counted on 25 chapters with as many as 15,000 members. Then, through a combination of drugs, prison-sentencing and co-optation, the ruling class mounted a concerted effort to break the Union. The organization dissolved by 1993.
Willie Baptist is one of the best examples of a movement intellectual. Willie is a formerly homeless father who came out of the Watts Uprisings, the Black Student Movement and has been an organizer with the United Steelworkers as well as the National Union of the Homeless and the Kensington Welfare Rights Union. Today, Willie is the Scholar-in-Residence with the Poverty Initiative.
The LeftRoots CC: Alex Tom, Alicia Garza, Cinthya Munoz, Josh Warren-White, Maria Poblet, N'Tanya Lee, Steve Williams and Timmy Lu.[14]
Ferguson report back HangOut
Resistance in Ferguson, led primarily by young Black people, has continued for more than two months, with direct action, organizing, base-building and other forms of resistance. To date, hundreds have been arrested seeking justice—organizers want to make sure there is not only not one more Mike Brown, but also not one more Darren Wilson.
LeftRoots sent a delegation to St. Louis to lend our support to the leaders from organizations like Millennial Activists United, Hands Up United, Organization for Black Struggle, and Missourians Organizing for Reform and Empowerment. We know that to turn this from a moment into a movement, we will need to connect our seemingly isolated fights around gentrification, workers rights, police violence, education justice and more into a strong, resilient and connected movement that can transform our communities, our country and our world.
The program will include reflections from Alicia Garza, Neva Walker, Christine Cordero, Lucia Lin and Steve Williams as well as others who participated in the Weekend of Resistance.[15]
Book talk with Jamala Rogers
518 Valencia St, San Francisco Sunday 7 February 2016, organized by Michelle Foy "Book talk with Jamala Rogers, founder of the St. Louis based Organization for Black Struggle & author of Ferguson is America: Roots of Rebel".
Jamala will explore the roots of the Ferguson Rebellion and the practical lessons for organizing.
"There is no algorithm, no theory that can predict when human rage reaches its boiling point. I wanted to expose to some and to remind others that there is another side of Ferguson, St. Louis County, USA that exists...if we work together in a respectful & disciplined way, a new Ferguson, St. Louis, & USA, is possible." —Jamala Rogers
Those signalling their intention to attend on Wherevent included Georgia Faye Hirsty, Melanie McCrea, Joe Navarro, Michelle Foy, Cynthia Fong, Gerald Lenoir, Fernando Marti, Lucia Aguilar-Navarro, Joyce Nakamura, Jeremy Gong, Jason Wallach, Andrew Rogge, Lucy Clarke, Colleen FitzSimons, Saima Hashimi, Rachel Rye Butler, Pam Tau Lee, Afomeia Tesfai, Roxanne Dunbar-Ortiz, Kari Riesgo Banuelos, Eva Martinez, Justin Tombolesi, Josh Warren-White, Kate Sorensen, Malkia Cyril, Lelia Gomez, Mark Prudowsky, N'Tanya Lee, Marcy Rein, Finley Coyl, Shina Riane, Ken Yamada, Dyan Ruiz, Nancy Wan, Sarah Jarmon, Mark McBeth, Leon Sun, Sabrina Cascos Peterson, Mary Sweeters, Eric See, Dani Gonzalez, Mashael Majid, Susan Weiss, Juan Gamboa, Jr., Amy Sonnie, Felicia Gustin, Mickey Ellinger, Betty Pazmino, Charlie Fredrick, Aimee Molina Cuellar, Becki Ming-Yoke Hom.
Sponsored by: Freedom Road Socialist Organization/Organización Socialista del Camino para la Libertad and LeftRoots.[16]
"Education for Liberation"
Education for Liberation
Public · Hosted by LeftRoots and the Center for Political Education
Wednesday, November 15 at 7 PM - 9 PM PST
The Greenlining Institute, 360 14th St, Oakland, California 94612
Education for Liberation: The Role of Political Education in the PAIGC's Struggle for Independence and the Lessons for Today.
Center for Political Education and LeftRoots are proud to host a conversation with thinker and activist Sonia Vaz Borges. Sónia, who is of Cape Verdean descent, is a leading scholar on the education programs at the core of Amilcar Cabral's national liberation struggle in Cape Verde and Guinea Bissau during the 1960s and 70s. Sónia will help us develop a useful understanding of what militant education is, how it worked in the international struggle against colonialism in Africa, and its lessons for movement building today.
Steve Williams of LeftRoots and Rachel Herzing of the Center for Political Education will join Sónia to highlight some of the challenges and opportunities for theory, strategy, and unity facing our movements in the Bay Area and beyond.[17]
Invited on Facebook
Interested
Went
LeftRoots 1 year anniversary!
Chelsea Boilard November 7, 2014 ·
LeftRoots 1 year anniversary!
Likes Beatriz Vargas-Zenteno, Catherine Marroquin, Lorraine Hanks, Ligia Montano, N'Tanya Lee, Tami Bryant, Mahnani Clay,Nicole Plata, Nato Green, Alex Tom, Ayoka Turner, Kimberly Dorthea, Natalia Vigil, Chery Mena, Pam Tau Lee, Belinda Bellinger, Ken Wang, Chris Longenecker, Maria Ixchel Zamudio.[18]
References