Lee Saunders
Jump to navigation
Jump to search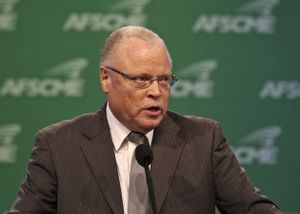 Template:TOCnestleft Lee A. Saunders is the Secretary-Treasurer of the American Federation of State, County, and Municipal Employees, AFL-CIO, which represents 1.6 million workers. He was elected at the union's 39th International Convention in July 2010.
Prior to his election, Saunders served as Executive Assistant to AFSCME Pres. Gerald McEntee and has been responsible for managing what is acknowledged to be the most effective political and legislative operations in the history of the American labor movement. AFSCME's clout in fundraising and member mobilization, and its lobbying expertise are unmatched in the ranks of the AFL-CIO and beyond.
Background/education
Saunders grew up in a union household in Cleveland, Ohio. This inspired him to join the Ohio Civil Service Employees Association (OCSEA) when he began working for the Ohio Department of Employment Services in 1974. His father was a bus driver and a member of the Amalgamated Transit Union. After raising two sons, his mother returned to college and became a community college professor and a member of the American Association of University Professors.
He received a Master of Arts degree from Ohio State University in 1974, a year after earning his Bachelor of Arts degree from Ohio University. In 2002, the College of New Rochelle awarded him an honorary doctorate degree in Humane Letters.[1]
AFSCME activism
Building on ideas generated by local unions, Saunders has championed AFSCME's Next Wave initiative to encourage and develop the next generation of union leadership. He has also developed and supported programs that foster diversity and promote increased member participation within the union.
Saunders has served as administrator of a number of AFSCME councils and large local unions across the country. For nearly four years, he served as administrator of AFSCME District Council 37, New York City's largest public employee union, representing 125,000 members. In that capacity, he was successful in restoring the fiscal health, integrity and good name of the council and its 56 affiliated local unions.
Saunders serves as a vice president of theAFL-CIO Executive Council, which guides the daily work of the labor federation. He is an at-large member of the Democratic National Committee, treasurer of the Leadership Conference on Civil and Human Rights and a member of the Executive Committee of the Congressional Black Caucus Institute's 21st Century Committee. In addition, Saunders serves on the board of the Progressive States Network, which supports progressive state legislators with research, policy, communication and strategic resources.[2]
Progressive States Network
In 2010, Lee Saunders served on the Board of Directors for the Progressive States Network, an organization which seeks to "transform the political landscape by sparking progressive actions at the state level".[3]
Asian Pacific American Labor Alliance
In Oakland, California, hundreds of workers, youth, and activists rose to their feet to welcome Secretary of Labor Hilda Solis who opened the Asian Pacific American Labor Alliance's 3-day 11th biennial convention on July 22, 2011. Solis spoke of the employment crisis and the recovery of back wages for victims of wage theft, and was met with a standing ovation for her strong support for the DREAM Act. The convention's lineup of speakers also included AFL-CIO Secretary-Treasurer Liz Shuler, AFSCME Secretary-Treasurer Lee Saunders, and SEIU President Mary Kay Henry.
In accordance with the theme, "Generations United: Our Jobs, Our Rights, Our Future!" the convention successfully outreached to 200 young leaders. Fiery testimonials were given by student activists and DREAMers Ju Hong and David Cho, as well as Pulitzer-winning journalist Jose Antonio Vargas, who all shared their experience as undocumented immigrants and highlighted immigration as a key issue in the APA labor movement.
APALA honored labor and community leaders during the sold-out gala dinner, and the grand ballroom was at-capacity with over twenty APA elected officials including Congressman Mike Honda, Mayor Jean Quan and State Controller John Chiang joining convention goers for a reception and dinner Saturday evening.[4]
Fred Ross award campaign
In early 2013, mainly Democratic Socialists of America aligned activists, together with many elected officials across the United States came together to urge President Barack Obama to award posthumously the Presidential Medal of Freedom to the legendary organizer, Fred Ross, Sr.. The Saul Alinsky trained radical was the first to organize people through house meetings, a mentor to both Cesar Chavez and DSAer Dolores Huerta, and a pioneer in Latino voter outreach since 1949 when he helped elect Communist Party USA affiliate Ed Roybal as Los Angeles's first Latino council member, "Ross' influence on social change movements remains strong two decades after his death in 1992".
Endorsers of the proposal included Lee Saunders.[5]
"Economic justice"
April 3, 2013, at Mason Temple Church Of God In Christ (Headquarters) Memphis, Tennessee. Martin Luther King III, Lee Saunders, Al Sharpton, Valerie Jarrett, Van Jones and more joined a panel discussion on economic justice.
This year marks the 45th anniversary of Dr. King's final act of solidarity. In commemoration of his life and his solidarity, union members, civil rights leaders and community activists are again gathering in Memphis for a series of historic events.
On April 3, the community will gather from 7-10 p.m. in the historic Mason Temple at 930 Mason St., Memphis, Tenn. Highlights include entertainment, a panel discussion on economic and racial justice and special remarks from civil rights leaders.
This event is part of a series of events April 3-4 to commemorate the 45th Anniversary of Dr. Martin Luther King's work. [6]
Midwest Academy 2014 Awards
Midwest Academy Awards, December 2014, went to;[7]
"Progressive Agenda"
Signers of New York City Mayor Bill de Blasio's May 12, 2015 launched The Progressive Agenda to Combat Income Inequality included Lee Saunders, AFSCME.[8]
References