Leandro Della Piana
From KeyWiki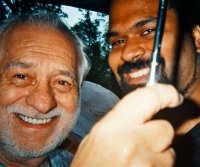 Leandro Della Piana is the father of Libero Della Piana. Lives in Providence, Rhode Island.
National Party Building Conference
National Party Building Conference Hosted by Communist Party USA and People's World.
Saturday, November 11, 2017 at 12 PM – 6 PM EST
Join Communist Party activists and members in a national conference. You can register here https://tinyurl.com/ycdouk3y
The conference will take place November 11th to 12th to plan our work in the fight against the Trump Administration and its white supremacist ruling class backers. Find information here about how to participate. http://www.cpusa.org/2017-national-party-building-conference-resist-organize-vote-grow/
The conference will be streamed from Chicago to regional meetings in New Haven, Los Angeles, and Orlando. Whether you're on the East Coast, West Coast, in the MIdwest or the South, you'll be able to participate.[1]
Those invited on Facebook included Leandro Della Piana.
Communist Party Labor Day call
The Communist Party USA paper People's Weekly World issued a statement to mark Labor Day 1995, entitled "We honor the dead and fight like hell for the living."
Of the more than 100 endorsers listed, almost all were identified members of the Communist Party USA.
Leandro Della Piana, Salt Lake City Utah, was on the list.[2]
Communist Party USA
In September 2006 the Peoples Weekly World[3]listed several members or supporters of the Massachussetts Communist Party USA.
Gary Dotterman, Jack Martis, Leandro Della Piana, Maja Weisl Johnson, Nick Burlak, Wadih Halabi.
Latinos for Peace
On October 31 2009, Latinos For Peace issued a statement calling for "no escalation of the war in Afghanistan and for expedited withdrawal of U.S. troops from Iraq and Afghanistan as well as an end to the coup government in Honduras".
More than 100 activists endorsed the call, including Leandro Della Piana, Providence RI.[4]
References