Leah Daughtry
Jump to navigation
Jump to search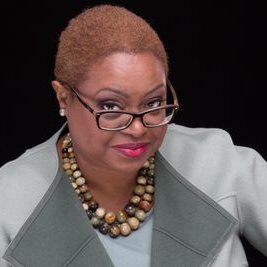 The Rev. Leah D. Daughtry was the Chief Executive Officer of the 2016 Democratic National Convention. She is the daughter of Rev. Dr. Herbert Daughtry, of the House of the Lord Church in Brooklyn.
"Clearing a path" for Hillary"
The Democratic National Committee is 'clearing a path' for Hillary Clinton to be its presidential nominee because its upper power echelons are populated with women, according to a female committee member who was in Las Vegas for October 2015's primary debate.
Speaking on the condition that she isn't identified, she told Daily Mail Online that the party is in the tank for Clinton, and the women who run the organization decided it 'early on.'
The committeewoman is supporting one of Hillary's rivals for the Democratic nomination, and said she spoke freely because she believes the former Secretary of State is benefiting from unfair favoritism inside the party.
Clinton aims to be the first female to occupy the Oval Office, and 'the party's female leaders really want to make a woman the next president,' the committeewoman said, rattling off a list of the women who she said are the 'real power' in the organization.
She rattled off a list of women at the top of the party hierarchy and said two vice chairs helped craft a decision this summer to favor Clinton
'I have nothing against women in politics,' she underscored. 'But it's not healthy for the party if we get behind a woman because she's a woman, and risk having her implode after she's nominated because she isn't tested enough now.'
Democratic National Committee chairwoman Debbie Wasserman Schultz, along with vice chairs Donna Brazile and Baltimore Mayor Stephanie Rawlings-Blake , are part of a female cabal dead set on putting a woman in the White House, according to a DNC committeewoman.
Five of the nine elected leaders of the DNC are women, including chair Debbie Wasserman Schultz – a Florida congresswoman – and a majority of the vice chairs.
Before Wasserman Schultz assumed her post at the DNC, she eagerly campaigned for Clinton during the then-New York senator's 2008 presidential run.
Also mentioned were DNC women like convention chief executive Rev. Leah Daughtry, vice chair Maria Elena Durazo and CEO Amy Dacey.[1]
Busboys and Poets
Julianne Malveaux November 7, 2018:
TONIGHT -- Talk politics with me and the Colored Girls in the wake of yesterday's midterm elections. Come to the Brookland Busboys and Poets to hear Donna Brazile, Yolanda Caraway, Leah Daughtry and Minyon Moore talk about their historic book, their thoughts about the Democratic Party, and the path to 2020!
References