Laura Chick
Jump to navigation
Jump to search
Laura Chick
Presentation to Obama's sister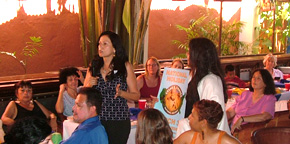 In June 2008, Communist Party USA leader and Executive Director of Cesar E. Chavez National Holiday, Evelina Alarcon presented a poster from the organization to Barack Obama's younger sister Maya Soetoro-Ng at a gathering in East Los Angeles[1].
Addressing a largely Latino audience in East Los Angeles yesterday, Dr. Maya Soetoro-Ng shared stories about her childhood with her older brother, Barack Obama, and the effect he has had on her life. Held in El Sereno's Hecho en Mexico restaurant, the event drew more than a hundred enthusiastic community activists, local elected officials, and regular citizens...
Clearly "designed to draw support to her brother's presidential candidacy" from two key voting blocs—women and Latinos— the event was organized by State Senate Majority Leader Gloria Romero, State Senator Martha Escutia (ret.), State Board of Equalization Chair Judy Chu, Los Angeles City Controller Laura Chick, Los Angeles City Councilmember Ed Reyes, and Los Angeles Unified School District Vice President Yolie Flores-Aguilar[2].
46th Annual ACLU Garden Party
Sunday, September 20, 2009, at the home of Stanley Sheinbaum & Betty Sheinbaum Southern California ACLU held its 46th annual Garden Party.
Paying Tribute To These Champions of Civil Liberties:[3]
Stanley K. Sheinbaum Award - Ed Asner
Legislator of the Year Award - Karen Bass, Speaker of the California Assembly
Activist of the Year Award - Laura Chick, California Inspector General
Chapter Activist of the Year Award David V. DuFault, Desert Chapter
Chapter of the Year Award Pasadena-Foothill Chapter
References