Larry McGurty
From KeyWiki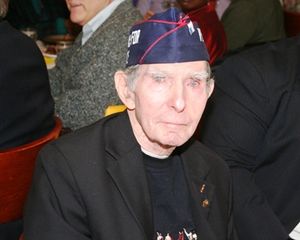 Lawrence (Larry) "Mac" McGurty (1915-2009) was a Chicago teacher and activist.
Early life
Born in 1915 to Estelle Raport McGurty and Edward McGurty in Pittsburgh, Pa., Lawrence's parents were committed to the struggle for workers' rights in the early years of the 20th century.
When his mother died at the age of 28, and his father was in a tuberculosis sanatorium, Lawrence was raised by his grandmother and aunt. He was raised as a Catholic, but later left the faith when he became active in industrial unionism during the Great Depression of the 1930s[1].
War service
Lawrence McGurty joined the U.S. Army in 1940 and fought in the Pacific from 1942-1945, being awarded three Bronze Stars. It was during his years of service that he met and married Mildred Davis of Memphis, Tenn. Mildred was the sister of William "Red" Davis, who was also a "great fighter unionism, civil rights and peace". Mildred shared these same values. Their daughter, Mary, was born in 1943[2].
Southern activism
After the war, the McGurty family settled in Memphis. Larry worked on the Mississippi River, as a member of the National Maritime Union until "red-baiting ended his and his brother-in-law's days there".
In 1951, Lawrence and Mildred were very active in trying to save Willie McGee, an African American man from Mississippi who was to become "a victim of legal lynching for the supposed rape of a white woman"[3].
Tennessee communist
HUAC
In 1957, Lawrence appeared before HUAC (House Committee on Un American Activities) -- for the" second time—hounded for his beliefs and activities". Sen. James Eastland was the head of that particular committee, and the result was that all of Lawrence's employment opportunities in the South came to an end[4].
Teaching/activism
At the age of 42, McGurty moved to Chicago, enrolled in college and became a teacher. He taught for 20 years, retiring in l981.
"All of those years, he continued to work for union rights and representation", forming a teachers' union chapter.
He and Mildred protested actively against the Vietnam War. He was in the l968 Democratic National Convention protest in Chicago, being tear-gassed in Grant Park with his nephew, Sam Davis.
Mildred passed away in 2001 and Lawrence continued "working for the same causes on his own"[5].
Chicago Center for US/USSR Relations and Exchanges
As at May 13, 1988, Larry McGurty, Chairman Chicago Council for US-USSR Friendship served on the Board of Directors of the Chicago Center for US/USSR Relations and Exchanges.[6]
Communist Party reformer
In 1991 Larry M...Illinois, was one of several hundred Communist Party USA members to sign the a paper "An initiative to Unite and Renew the Party" - most signatories left the Party after the December 1991 conference to found Committees of Correspondence.[7]
Communist Party of Illinois
In 1993, Larry McGurty was a member of the Communist Party of Illinois. [8]
Committees of Correspondence Connection
In 1994 Larry McGurty, Hometown, was listed on a "Membership, Subscription and Mailing List" for the Chicago Committees of Correspondence, an offshoot of the Communist Party USA.[9]
Communist Party Labor Day call
The Communist Party USA paper People's Weekly World issued a statement to mark Labor Day 1995, entitled "We honor the dead and fight like hell for the living."
Of the more than 100 endorsers listed, almost all were identified members of the Communist Party USA.
Larry McGurty, AFT (retired) Chicago, was on the list.[10].
Birthday Greetings to William "Red" Davis
In December 1995 the Communist Party USA newspaper Peoples Weekly World published a page of 75th birthday greetings to William (Red) Davis - "Lifelong working class fighter and Communist"
In the fight for the unity and integrity of the Party in St. Louis, Missouri, in the post-war years, "Red" has been a rock of confidence and commitment to building the Communist Party.
Greetings were sent from Larry McGurty of Illinois[11].
Communist Party MLK tribute
On January 19, 2002, the Communist Party USA newspaper, Peoples Weekly World published a signed tribute to Martin Luther King, Jr..
We salute Dr. King's courage and vision. He saw and struggled for an America and world that can be. We pledge in his memory to work to reorder our nation's priorities "so that the pursuit of peace will take precedence over the pursuit of war."
Signatories included, Larry McGurty . Almost all signatories were confirmed members of the Communist Party USA[12].
Endorsed Communist Party Call
On March 30 2002 the Communist Party USA paper People's Weekly World called for a national holiday in honor of late Farm Workers Union leader Cesar Chavez. The article was followed by a long list of endorsers[13]including Larry McGurty, Almost all endorsers were confirmed members of the Communist Party USA.
References