Larry Frank
Jump to navigation
Jump to search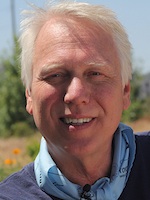 Template:TOCnestleft Laurence B. "Larry" Frank is currently the Deputy Chief of Staff in the Office of the Mayor of Los Angeles, Antonio Villaraigosa. In that capacity, Frank is responsible for several city departments including community development, contract administration, and the City's workforce development program. [1]
Until 2012 He served as Deputy Mayor of Neighborhood and Community Services in the Office of Mayor Antonio Villaraigosa. As a senior staff member, Frank is responsible for several city departments (the Department of Neighborhood Empowerment Community Development Department and the Bureau of Contract Administration) the Mayor's field operations, constituent services, volunteer services, external Labor issues, workforce development and the city anti-poverty programs. Before coming to City Hall, Frank was a faculty member at UCLA, where he worked as both the Staff Director and Research Director for the UCLA Center for Labor Research and Education.[2]
Background
Laurence graduated Phi Beta Kappa and Magna Cum Laude from St. Lawrence University with a B.A in Religious Studies. After graduation, while on leave from Princeton Seminary, he took a full-time position with the United Farm Workers Union. He worked for two other unions until 1982, when he formed a non-profit organization in Los Angeles that focused on voter participation and conducted two local initiative campaigns. In 1990, he obtained his J.D. from the UCLA School of Law and developed a sentencing practice while specializing in juvenile law.[3]
Student anti-fees protest
April 12, 1983 400 students gathered in Los Angeles to protest tuition hikes.
The protest was organised by the UCLA chapter of Federation For Progress and Californians Acting for Sound Education.
MCs were Marshall Wong from UCLA Federation For Progress , and Frank Cardenas from East LA College Californians Acting for Sound Education.
Other speakers included Rudy Acuna, Cal State Northridge, Marguerite Archie, Community College Board of Trustees, Judy Chu, of UCLA, and Larry Frank from Jobs With Peace.[4]
Liberty Hill Funding board
The Liberty Hill Foundation Los Angeles Community Funding Board in 1989 consisted of Members of Liberty Hill's Community Funding Board in 1989, Barbara Metzenbaum, Sharon Delugach, Sylvia Castillo, Fred Mautner, Victor Griego, .Karen Bass, Paula Crisostomo, Enrique Delacruz, Larry Frank, Khader Hamide, Sarah Jacobus, Barbara Becker, Mirta Ocana, Torie Osborn, Sherry Winters, Evelyn Yoshimura and Lori Zimmerman.[5]
Liberty Hill Commissions Training Program
Liberty Hill Commissions Training Program Sponsorship Committee members: Sheila Kuehl (Chair), Director, Public Policy Institute at Santa Monica College and former State Senator; Dean Hansell President, Board of Fire & Police Pension Commissioners; Lara Bergthold, Principal, Griffin Schein; Aileen Adams, Deputy Mayor of Strategic Partnerships Office of Mayor Antonio Villaraigosa; Stewart Kwoh, President, Asian Pacific American Legal Center; Kathay Feng, Executive Director, Common Cause; Tom Saenz, President and General Counsel, Mexican American Legal Defense and Educational Fund (MALDEF); Torie Osborn, Deputy Mayor of Neighborhood and Community Services Office of Mayor Antonio Villaraigosa; Larry Frank, Deputy Chief of Staff, Office of Mayor Antonio Villaraigosa; Pascual Romel, Deputy Mayor for the Environment, Office of Mayor Antonio Villaraigosa; Nolan Rollins, President & CEO Los Angeles Urban League; Helen Torres, Executive Director Hispanas Organized for Political Equality (HOPE); Regina Freer, Professor, Occidental College, Vice President, Planning Commission; Sharon Delugach, Community Engagement Coordinator, American Federation of Teachers; Roxana Tynan, Executive Director Los Angeles for a New Economy (LAANE). Honorary Co-Chairs: Supervisor Mark Ridley-Thomas, Assemblymember Jimmy Gomez, Assemblymember Holly Mitchell, Assemblymember Bob Blumenfield.[6]
"Westside Friends of Jackie Goldberg"
Signatories to a letter from Westside Friends of Jackie Goldberg, dated January 15, 1993 were;
Socialists organize to "challenge for power" in Los Angeles
On March 11, 1998, Los Angeles Democratic Socialists of America leader Steve Tarzynski wrote an email to another Los Angeles DSA leader Harold Meyerson.
Tarzynski listed 25 people he thought should be on an "A-list" of "25 or so leaders/activists/intellectuals and/or "eminent persons" who would gather periodically to theorize/strategize about how to rebuild a progressive movement in our metropolitan area that could challenge for power."
Tarzynski listed himself, Harold Meyerson, Karen Bass, Sylvia Castillo, Gary Phillips, Joe Hicks, Richard Rothstein, Steve Cancian, Larry Frank, Torie Osborn, Rudy Acuna, Aris Anagnos, Abby Arnold, Carl Boggs, Blase Bonpane, Rick Brown, Stanley Sheinbaum, Alice Callahan, Jim Conn, Peter Dreier, Maria Elena Durazo, Miguel Contreras, Mike Davis, Bill Gallegos, Bob Gottlieb, Kent Wong, Russell Jacoby, Bong Hwan Kim, Paula Litt (and Barry Litt, with a question mark), Peter Olney, Derek Shearer, Clancy Sigal and Anthony Thigpenn.
Included in a suggested elected officials sub-group were Mark Ridley-Thomas, Gloria Romero, Jackie Goldberg, Gil Cedillo, Tom Hayden, Antonio Villaraigosa, Paul Rosenstein and Congressmen Xavier Becerra, Henry Waxman and Maxine Waters.
Tarzynski went on to write "I think we should limit the group to 25 max, otherwise group dynamics begins to break down....As i said, I would like this to take place in a nice place with good food and drink...it should properly be an all day event."
Progressive Los Angeles Network
Circa 2002, Larry Frank, National Lawyers Guild , served on the Advisory board of the Democratic Socialists of America dominated Progressive Los Angeles Network.[7]
Villaraigosa "talent pool"
According to Harold Meyerson of the LA Weekly, newly elected Mayor Antonio Villaraigosa can call on a "locally based progressive talent pool" that includes such policy activists as Occidental government professor Peter Dreier and nonprofit housing advocate Jan Breidenbach (in housing), Roxana Tynan of the Los Angeles Alliance for a New Economy (in development), Larry Frank of UCLA's Labor Center (in work-related issues), and the Liberty Hill Foundation's Torie Osborn (for general administrative genius).[8]
LATTC
The Los Angeles Community College District Board of Trustees today approved the new contract, which names City of Los Angeles Deputy Mayor Larry Frank as the new president of Los Angeles Trade-Technical College. He would start his new job in July, 2013.[9]
References