Lani Guinier
Jump to navigation
Jump to search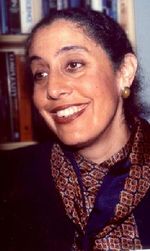 Lani Guinier is the daughter of the late Ewart Guinier. Born April 19, 1950), Guinier is an American lawyer, scholar and civil rights activist. The first African-American woman tenured professor at Harvard Law School, Guinier's work includes professional responsibilities of public lawyers, the relationship between democracy and the law, the role of race and gender in the political process, equity in college admissions, and affirmative action.[1]
Background
Born in New York City, Guinier is the daughter of a Jewish mother, Eugenia Paprin, and the Jamaican-born scholar Ewart Guinier, who also served as Harvard professor (and chair) of the Afro-American Studies Department in 1969. Guinier has said that she wanted to be a civil rights lawyer since she was twelve years old. After graduating from Radcliffe College in 1971 and Yale Law School in 1974, she clerked for Judge Damon Keith then served as special assistant to then Assistant Attorney General Drew S. Days in the Civil Rights Division in the Carter Administration. In 1981, after Ronald Reagan took office, she joined the NAACP Legal Defense and Educational Fund as an assistant counsel, eventually becoming head of its Voting Rights project.[2]
Controversy
Guinier is probably most well-known as President Bill Clinton's nominee for Assistant Attorney General for Civil Rights in April 1993. A combination of political factors led to her nomination being withdrawn in June 1993. Guinier was attacked by Clint Bolick of the Wall Street Journal Op-Ed page as one of "Clinton's Quota Queens".[3]
In April 1993, President Clinton nominated legal scholar and civil rights attorney Lani Guinier to the position of Assistant Attorney General for the Civil Rights Division of the United States Department of Justice. Professor Guinier was also a personal and long-time friend of the Clinton's. Their friendship dated back to law school at Yale University. The Clintons even attended Guinier's wedding in the 1980s.
By June 1993, President Clinton withdrew Guinier's nomination after a Republican-led attack successfully shattered her credibility enough to quash her appointment to the critical justice and civil rights post.[4]
Pro Democracy Convention
The Pro Democracy Convention was held June 29th To July 1, 2001. It started with a National Town Hall Meeting, Annenberg Center, University of Pennsylvania.
Come to a National Town Hall Meeting! Hear speakers representing a wide range of communities, including academics, labor leaders,
lawyers, organizers, and elected officials, speak out about Election 2000, recommendations for electoral reform, and how we all can build the movement to expand democracy in the U.S. Partial List of Invited Speakers and Presenters:
The Nation
In 2009, the Editorial board of The Nation[6] included Lani Guinier, Richard Falk, Deepak Bhargava, Norman Birnbaum, Barbara Ehrenreich, Frances FitzGerald, Eric Foner, Philip Green, Tom Hayden, Tony Kushner, Elinor Langer, Deborah Meier, Toni Morrison, Walter Mosley, Victor Navasky, Pedro Antonio Noguera, Richard Parker, Michael Pertschuk, Elizabeth Pochoda, Marcus Raskin, Kristina Rizga, Andrea Batista Schlesinger, David Weir and Roger Wilkins.
References