La Casa de Amistad
From KeyWiki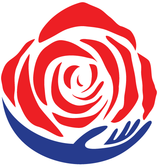 La Casa de Amistad is based in South Bend Indiana.
Board of Directors
La Casa de Amistad Board of Directors, as of June 2019:[1]
Team Members
La Casa de Amistad staff, as f June 2019:[2]
Administrative Staff
Juan Ramos Financial Manager
Program Staff
Contract Staff
Kent Staters meet Buttigieg
La Casa de Amistad March 28 2019·
This week Kent State University students dedicated their Spring Break to doing service at La Casa de Amistad and on the West Side of South Bend. From a neighborhood cleanup, to working in our pantry, and even doing work at the 2910 West Side SB office, we can't thank them enough for their time.
Visit from Mayor Pete
"No human being is illegal"
La Casa de Amistad August 14, 2017 ·
With Juan Constantino, Allison Smith, Jurek Winston Shultz and Sam Centellas.
South Bend Community Resident Card
On January 3rd, 2017 La Casa de Amistad began taking appointments to provide the new South Bend Community Resident Card (SB ID).
La Casa de Amistad partnered with SF Global, LLC to create the verification system for the ID Cards. SF Global is managing municipal IDs for several cities around the country, including Oakland, CA, Richmond, CA and Detroit, MI.
We are working with South Bend Mayor Pete Buttigieg, South Bend Common Council, and local businesses as partners in providing support to vulnerable populations that have difficulty obtaining photo identification. We are still looking for local businesses who will accept the SB ID as photo identification.[3]
Defending DACA
FIVE MYTHS ABOUT IMMIGRATION AND WHY WE NEED DEFERRED ACTION FOR THE PARENTS OF AMERICANS (DAPA)
Preview of the acclaimed film, The Hand that Feeds.
Panel discussion featuring
Question and answer period moderated by
WHEN: Thursday, April 30, 2015 5:30 p.m.
WHERE: St. Joseph County Public Library Humphreys Room 304 South Main Street, South Bend
References