LaDawn Stuben
From KeyWiki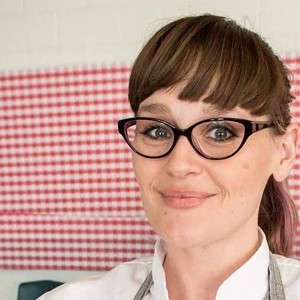 LaDawn Stuben is a Phoenix Democratic Socialists of America member and pastry chef who unsuccessfully ran for the State House in Legislative District 18.
Arizona DSA Facebook group
Members of the Democratic Socialists of America - Arizona, Closed Facebook Group, as of September 24, 2017 included LaDawn Stuben.[1]
YDSA for Bernie Kickoff Town Hall
Young Democratic Socialists of America - ASU September 10 2019.
YDSA for Bernie Kickoff Town Hall Public · Hosted by Young Democratic Socialists of America - ASU, Arizona for Bernie Sanders - 2020, AZ Students for Bernie.
Monday, September 9, 2019 at 7 PM – 9 PM
ASU Memorial Union, Ventana Ballroom A
In a crowded Democratic primary field, why should students support Sen. Bernie Sanders? Join the Young Democratic Socialists of America - ASU and AZ for Bernie - 2020 to hear from local politicians, organizers, and activists about why Bernie is the only candidate that will help us achieve what we are fighting for: College for All, a Green New Deal, Medicare for All, and a socialist future.
Featuring as Speakers:
.
Remembering Todd Wiandt
PDA Arizona May 30 2018;
The community came to remember Todd today. Activists from the Arizona Dream Act Coalition, Democratic Socialists of America, Progressive Democrats of America and so much more. We all learned a lesson from Todd .......Show up, bring your smile and get to work. He taught us to always have each others back. What an amazing human being. We love you Todd Wiandt ! Forever with us in the fight and in our hearts! La lucha sigue compañero. — with Dan O'Neal, Franki Garza, Jessica Mendoza, Natacha Chavez, Cesar Aguilar, Isa ONeal, Camaron Stevenson, LaDawn Stuben, Osiel Ibarra, Patrick Morales, Lupe Conchas, Chula Robertson, Belen Sisa, Patti Serrano, Casey Boyd, Stephanie Marie Adames, William Nelson, Redeem Robinson II and Len Clark.
District 18 Democrats
Arizona Democrats of Legislative District 18. April 20 2018.
With CJ Briggle, LaDawn Stuben, Becky Scotney, Karyn Lathan, Patrick Morales, Ruth E. Levin, David Huff, Patrick Schiffer, Janie Hydrick, Kevin Patterson, David Boyles, Jeffrey Tucker, Rebecca Hinton and Joseph Seelye in Tempe, Arizona.
Election candidate
On a Saturday in October 2017, several dozen people filed into a dimly lit Phoenix union hall with a scuffed floor. A few wore red shirts decorated with a rose emblem and a slogan: "Solidarity in the Southwest." Most were in their 20s and 30s. They picked up clipboards on their way to a folding chair.
Phoenix's DSA chapter was officially recognized in July. The group has a core group of 40-50 members who attend weekly meetings.
One of the DSA members at the canvass training was LaDawn Stuben, a 39-year-old professional pastry chef running as a Democrat for the Arizona House of Representatives. She's running in the 18th district, which encompasses west Chandler and parts of Tempe and Mesa.
"It's a solidly purple, if not leaning-blue district, I believe," she told Phoenix New Times.
Stuben is the legislative action director for the Phoenix DSA. She's also a pastry chef at Liberty Market and owns a small business selling pastries at the Chandler farmers market.
Stuben has never run for office before, but got inspired this summer after hearing Sanders speak at the People's Summit, a progressive political convention held in Chicago. During his speech, the country's most prominent democratic socialist asked everyone who was willing to run for local office to stand up. People rose to their feet in response, and Stuben, surprising herself, stood up, too.[2]
Risking arrest for a clean DREAM Act
LaDawn Stuben December 4, 2017 near Phoenix, AZ
Risking arrest for a clean DREAM Act #ourdream — with Dan O'Neal, Patrick Morales, Emily Kirkland, Camaron Stevenson, Johnny Martin and Redeem G. Robinson.
Socialist Feminists (DSA) Facebook page
Members of the Socialist Feminists (DSA), closed Facebook group, as of September 30, 2017 included LaDawn Stuben.[3]
Phoenix DSA endorsements
Phoenix Democratic Socialists of America, June 1, 2018;
Join us at 3 PM, Saturday June 9th for a regular meeting of the Phoenix Democratic Socialists of America. At this meeting we will be voting on chapter endorsements of local candidates for office. The meeting will consist of a candidate forum featuring Marcus Ferrell (for AZ House LD24), Gilbert Romero (for AZ House LD21), LaDawn Stuben (for AZ House LD18), and Camaron Stevenson (for Phoenix City Council District 8), with more potential candidates to be added. We hope to see you there! The meeting is open to all, although only DSA members may vote for endorsements.[4]
Our Revolution
LaDawn Stuben was endorsed by Our Revolution.
Progressive candidates
Patrick Morales July 21 ·
Ready for progressive change! Office opening! #ShutterProofMarketing #SPM (view on Instagram https://ift.tt/2JG1xpR) — with LaDawn Stuben, Stephanie Marie Adames, Matthew Marquez, Martin Quezada and Camaron Stevenson.
National DSA endorsement
In August 2018 National Democratic Socialists of America endorsed LaDawn Stuben,
Arrested
Police have identified the four women arrested October 2018 in a protest outside Sen. Jeff Flake's Phoenix office.
Police say they are Julie Golding, 47, Natacha Chavez, 33, LaDawn Stuben, 40, and Brianna Westbrook, 33.
All four were booked on one count of criminal trespassing, a Class 3 misdemeanor.[5]
Comrades
Max McCullough, LaDawn Stuben, Brianna Westbrook DSA National Convention Atlanta.
References