Khalil Muhammad
Jump to navigation
Jump to search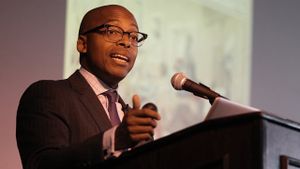 Template:TOCnestleft Khalil Gibran Muhammad is a Professor of History, Race, and Public Policy at Harvard University.
Background
Khalil Muhammad is the former Director of the Schomburg Center for Research in Black Culture, a division of the New York Public Library and the world's leading library and archive of global black history. Before leading the Schomburg Center, Khalil was an associate professor at Indiana University.
Khalil's scholarship and teaching examines the broad intersections of race, democracy, inequality and criminal justice in modern U.S. History. He is a contributor to a 2014 National Research Council study, The Growth of Incarceration in the United States: Exploring Causes and Consequences, and is the author of The Condemnation of Blackness: Race, Crime, and the Making of Modern Urban America (Harvard), which won the 2011 John Hope Franklin Best Book award in American Studies.
Much of his work has been featured in a number of national print and broadcast media outlets, including the New York Times, New Yorker, Washington Post, National Public Radio, Moyers and Company, MSNBC and C-Span. He has appeared in a number of feature-length documentaries, including Slavery by Another Name (2012) and the Oscar-nominated 13th (2016). Khalil was an associate editor of The Journal of American History and prior Andrew W. Mellon fellow at the Vera Institute of Justice. He holds two honorary doctorates and is on the boards of the Vera Institute of Justice, The Museum of Modern Art, The Barnes Foundation, The Nation magazine, and the advisory boards of Cure Violence and The HistoryMakers.
A native of Chicago's South Side, Khalil graduated from the University of Pennsylvania with a B.A. in Economics in 1993, and then joined Deloitte & Touche, LLP, as a staff accountant until entering graduate school. He earned his Ph.D. in U.S. History from Rutgers University.[1]
White Fear Being Weaponized
National Public Radio published an interview[2] with Khalil Muhammad where he claimed that because America has "a long history...of using the police as the foot soldiers of controlling African-Americans, [and] limiting their freedom..." and police must take that history into consideration before determining policy.
Khalil Muhammad continued:
""We've got to come up with some policies that raise the costs of bad behavior — of treating people differently than you would want to be treated. And that is a problem of white fear being weaponized, and that is a problem of police officers being a little too prickly when people are upset about having been judged harshly or inappropriately."
Poor People's Campaign
On May 30 2018, Khalil Muhammad tweeted his support for the Poor People's Campaign.[3]
References