Kenyon Farrow
From KeyWiki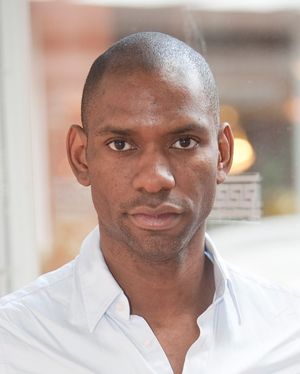 Kenyon Farrow is the co-editor of "Letters From Young Activists:Today's Rebels Speak Out" (Nation Books 2005) and his work has appeared in publications such as Utne Reader, Black Commentator, Left Turn, POZ, AIDSMeds.com, City Limits, and in the anthology, Spirited:Affriming the Soul of Black Lesbian and Gay Identity (Red Bone Press 2006). He also blogs at www.kenyonfarrow.wordpress.com.
Kenyon has worked with Critical Resistance, FIERCE, New York State Black Gay Network, and is the board co-chair of Queers for Economic Justice. Kenyon continues to write, lecture, organize, and is co-editing two anthologies expected to be published in 2008.[1]
Farrow was a member and staff organizer with Critical Resistance for several years, all the while also volunteering as an adult ally when FIERCE! was in it's early years organizing against the gentrification and criminalization of queer youth in NYC. In addition, Kenyon helped to launch a national network, Project UNSHACKLE in 2008–one of the first of its kind to bridge the gap of AIDS activists and prison activists, which helped build much of the relationships upon which much of the national work around HIV criminalization now stands. Continuing his commitment to this work, he currently serves on the board of Streetwise and Safe in NYC.
Kenyon is probably best known for his work organizing for racial and economic justice issues in the LGBT community, often underfunded and unpopular work in the midst of the various national and state campaigns for marriage equality. As the former executive director of Queers for Economic Justice, Kenyon worked on a movement-building project to strengthen the connections of grassroots LGBTQ organizations to national racial and economic justice policy issues. But his relationships with QEJ spanned six years, from first being a volunteer shelter project facilitator, helping to draft the Beyond Marriage statement, and also serving on the board. In addition to his work at QEJ, Kenyon worked on several projects that organized Black LGBT communities in NYC including an anti-homophobia social marketing campaign that's been re-produced in several cities, working for community accountability around a string of homicides and assaults on Black gay men in the mid 2000s, and also organized a faith-based project to bring together Black LGBT faith leaders and organizers in NYC, called the Revival Initiative, which still exists in the LGBT Faith Leader of African Descent Project.
But until there is a a cure and vaccine that's affordable and accessible to all, much of Kenyon's work has turned specifically to working both domestically and internationally to seeing the end of the AIDS epidemic. While HIV/AIDS has been a thread connecting all of his work, he's worked with Housing Works, NYS Black Gay Network, National Gay & Lesbian Taskforce Policy Institute, and is currently the US & Global Health Policy Director for Treatment Action Group.
Kenyon Farrow's writing has always been a parallel outlet for his activism. He is the co-editor of Letters from Young Activists: Today's Rebels Speak Out. His work has appeared in the anthologies Spirited: Affirming the Soul of Black Lesbian and Gay Identity, Against Equality: Queer Critiques of Same-Sex Marriage, For Colored Boys Who Have Considered Suicide When The Rainbow Is Still Not Enough, We Have Not Been Moved: Resisting Racism and Militarism in 21st Century America, and the forthcoming Black Gay Genius: Answering Joseph Beam's Call. His work has also appeared in publications such as the Atlantic, the Huffington Post, TheGrio, Colorlines, POZ, the American Prospect, and AlterNet.
Kenyon was named one of Out magazine's Out 100 for 2008, the Advocate magazine's "40 Under 40" LGBT Leaders in the United States for 2010, and one of Black Entertainment Television's "Modern Black History Heroes" for 2011.[2]
"The State of Black-Asian relations"
"The State of Black-Asian relations:Interrogating Black-Asian Coalition 50 Years After Bandung"
Tuesday, August 2 2005, AFSC Friends Center, 1515 Cherry Street/Philadelphia. Sponsored by the Third World Coalition of the American Friends Service Committee.
In April of 1955, 29 African and Asian nations came together in Bandung, Indonesia for the Asian-African Conference to promote economic and cultural cooperation and oppose colonialism. More popularly referred to as "Bandung," this gathering was historic because it brought together newly independent colored nations and posed a challenge to western and white dominance. It is believed that the notion of the "third world" emerged from Bandung to demonstrate a rejection of both the west and ideologies associated with it. Bandung has been celebrated and referenced by many activists and intellectuals including W.E.B. DuBois, Paul Robeson, Richard Wright, Malcolm X, Yuri Kochiyama, Vijay Prashad, Robin D. G. Kelley, and Makani Themba-Nixon.
Thus, fifty years later, we seek to explore the possibilities and reality of Black-Asian relations in the US. Join us in Philly as Black and Asian American activists come together to discuss tensions between Blacks and Asians, what we see as the roots of conflicts, how this informs our activist projects, and whether coalition is viable between our communities. Panelists will draw from their activist experiences, which includes international solidarity work, educational justice, immigrant rights organizing, non-profit funding analysis, anti-gentrification projects, queer justice, and anti-police violence work.
Panelists will include: Rodney Camarce, Nijmie Dzurinko, Kenyon Farrow, Helen Gym, Tiffany King, Tamara K. Nopper, Ewuare Osayande.
Moderated by Darryl Jordan, Director of the Third World Coalition of AFSC.[3]
Brecht Forum Baldwin event
JAMES BALDWIN: LIFE AND LEGACIES An Activist-Artist Round table , Brecht forum, 08/02/2007.
Join us for an activist round-table on the life and legacies of Black gay author/human rights activists James Baldwin, on the anniversary of his 81st birthday.
Panellists; Ajamu Sankofa Kenyon Farrow, Anika Lani Haynes, Reggie Gossett, Hank Williams.[4]
McCoy connection
Sheltreese McCoy is the inaugural Crossroads Coordinator at the University of Wisconsin. In this role, she has produced the first and most comprehensive Queer People of Color Resource Guide, presented annually at The LGBTQ Task Force's national Creating Change Conference, and has facilitated numerous workshops and trainings about intersectionality, race and racism, homophobia, and erasure. The Crossroads Initiative also hosts discussion groups, a welcome week barbecue, launched the Reel to Real film series featuring queer and trans* people of color, and has brought renowned national speakers to campus including Janet Mock, Kenyon Farrow, Rinku Sen, and Marc Lamont Hill.[5]
"Support Bill Ayers"
In October 2008, several thousand college professors, students and academic staff signed a statement Support Bill Ayers in solidarity with former Weather Underground Organization terrorist Bill Ayers.
In the run up to the U.S. presidential elections, Ayers had come under considerable media scrutiny, sparked by his relationship to presidential candidate Barack Obama.
We write to support our colleague Professor William Ayers, Distinguished Professor of Education and Senior University Scholar at the University of Illinois at Chicago, who is currently under determined and sustained political attack...
We, the undersigned, stand on the side of education as an enterprise devoted to human inquiry, enlightenment, and liberation. We oppose the demonization of Professor William Ayers.
Kenyon Farrow signed the statement[6].
Left Forum 2011
Then and Now: Is the Gay Rights Movement Radical?
David Gilbert Forum
Brecht Forum held a book launching March 19, 2012 for David Gilbert's - "Love and Struggle: My Life in SDS, the Weather Underground, and Beyond" with Lumumba Bandele, Dan Berger, Terry Bisson, Kenyon Farrow, Matt Meyer, Dequi Sadiki, Meg Starr, Challenging Male Supremacy Group & Laura Whitehorn. Moderated by Kazembe Balagun.
However Lumumba Bandele, Dan Berger, Dequi Sadiki, and Meg Starr did not show, but Monifa Bandele, and Azam Oteri did.[7]
The Movement for Black Lives
The Black Lives Matter "Movement for Black Lives" conference was held in Cleveland Ohio, July 24-26, 2015.
Black Side of the Red Ribbon: HIV/AIDS Activism for Black Lives Past, Present and Future Maxx Boykin: HIV Prevention Justice Alliance & Black Youth Project 100, Kenyon Farrow: Treatment Action Group, Waheedah Shabazz-el: ACT-UP Philly & US Positive Women's Network, Deon Haywood: Women With a Vision.[8]
References