Ken Heard
From KeyWiki
Ken Heard ...
WEB DuBois Clubs of America
In 2014, Ken Heard, was listed a a friend on the DuBois Clubs Facebook page.[1]
Happy 95th Birthday Sarah Milgram
Charter Member Communist Party USA.
Ken Heard was part of a list of names published in People's Weekly World celebrating Milgram's 95th Birthday in 1996.[2]
Birthday greetings to Gus Hall
The following contributors to the World 1996 Fund Drive sent birthday greetings to Gus Hall, national chair, Communist Party USA. People's Weekly World, 21 December, 1996 - Ken Heard.
Communist Party USA
In September 2006 the Peoples Weekly World listed several members, or supporters of the Pennsylvania Communist Party:[3]
Asad Ali, Billie Penn Johnson, Denise Winebrenner Edwards, Donna Puleio Spadaro Dr A S Mahdi Ibn-Ziyad, Gary Puleio (In Memoriam), George Edwards, Joe Kopnitsky, Ken Heard, Ben Sears, Dave Bell, Debbie Bell, Diane Mohney & John Vago, Evie Horwitz & Larry Horwitz , Frances Gabow, The Incognito Family, James Bradford, Jimmie Wayne Moore, June Krebs, Leonard Pepper, Rookie Perna, Rosita Johnson, Sharon Hurley.
What's race got to do with it?
"What's race got to do with it? Class, ethnicity and conflict in an evolving U.S. nation"
Sunday 15 February 2015, 20:00, Organized by : Communist Party USA
Join us for a Sunday evening discussion of Lenin's analysis of nations and national oppression and their applicability to 21st century America. Joe Sims will facilitate.
Those indicating they would attend on Wherevent include Dee Myles, Casey Doyle, Michelle Kern, Keri Rautenkranz Barbara Russum, Christian L. Wade, Athena Matyear, Emily Nashoba Dykes, Abby Liz, Betty Smith, Kelly Sinclair, Kathleen Casey, Chris Reynolds, Charles Brown, Josh Leclair, Roberto J. Mercado, Emile Schepers, Christopher D. Sims, Abdol H. Banaei, Zachary Clereigh, David Bender, Earchiel Johnson, Dan Power, Ahmad Budi, Adam R. Raven, Kyle Ritzinger, John Milam, Estevan Nembhard, Adrian Felty Ken Heard, Jordan Stepleton, Badreldin Elfaisal, Daniel Sankey, Hasan İncedere, Armando Ramirez, Chris Elliott, Larry Burks II . [4]
Cutting military spending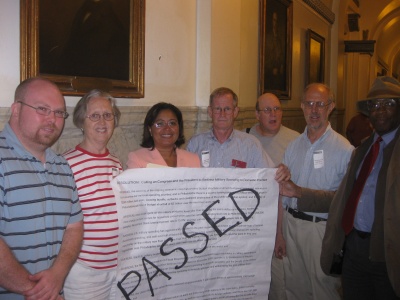 Philadelphia City Council, by a vote of 15-2, passed April 2015, a resolution "calling on the U.S. Congress to bring all U.S. troops home from Afghanistan, to take the funds saved by that action and by significantly cutting the Pentagon budget, and to use that money to fund education, public and private sector family-sustaining job creation, special protections for military sector workers, environmental and infrastructure restoration, care for veterans and their fammilies, and human services that our cities and states so desperately need."
Introduced by Councilmember Maria Quinones-Sanchez on April 12 with six other co-sponsors , the resolution was drafted by the Delaware Valley New Priorities Network, comprised of dozens of labor, neighborhood, faith, and peace organizations.
Councilmember Maria Quinones-Sanchez, who successfully introduced the resolution to Redirect Military Spending to Fund Our Communities, posed outside Philadelphia City Council Chambers with some of the members of the Delaware Valley New Priorities Network, which drafted the resolution, passed by Philadelphia City Council June 21 by 15-2. From left, Andrew Deffley, philadelphiacommunities.com; Jane Dugdale, Main Line Peace Action; Councilmember Quinones-Sanchez; Ben Sears, Philadelphia Federation of Teachers, retirees; Bob Smith, Brandywine Peace Community; John Braxton, Faculty and Staff Federation of Community College of Philadelphia; Ken Heard, National Writers Union.[5]
African American Equality Commission
In July 2015, Members of African American Equality Commission Communist Party USA FaceBook group included Ken Heard.
Closed working group for the African American Equality Commission of the CP USA. This is a space for members of the commission to brainstorm, communicate, and work through ideas between official meetings.[6].
CPUSA Environmental Action
CPUSA Environmental Action is a Facebook closed group. It is "a meeting place for members and friends of the Communist Party USA to discuss environmental issues (especially climate change), share information, and coordinate activities".
As of June 21, 2017 members included Ken Heard;[7]
References