Katrina Plotz
Jump to navigation
Jump to search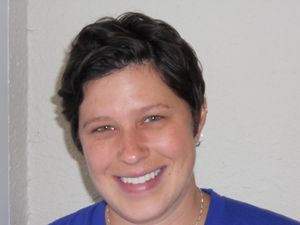 Template:TOCnestleft Katrina Plotz was a teacher for six years in the Anoka-Hennepin school district and a leader on the Anoka-Hennepin Gay Equity Team, a grassroots group of educators, students, and community members who successfully changed district policies that were hostile toward LGBT students, staff, and families. That experience motivated her to advocate for queer youth and get involved with safe schools advocacy statewide.
In 2012, Katrina started volunteering with OutFront Minnesota and Minnesotans United. She joined the OutFront staff in January of 2013 as the lead organizer for the Minnesota Safe Schools for All Coalition – a group of over 90 organizations who support the passage of comprehensive anti-bullying legislation in Minnesota. In September 2013, she transitioned into the role of Safe Schools & Youth Organizer. She's currently focusing on building relationships with Gay Straight Alliance and other student groups who are working to improve school climate in Minnesota schools.
Katrina grew up in St. Paul and graduated from University of Wisconsin-La Crosse with a degree in secondary education and English. Her previous organizing experience includes leadership in anti-war, international solidarity, and student organizing groups. She lives Northeast Minneapolis with her partner Jon, and 1-year-old son Anthony. [1]
Israel problem
In February 2009 Israeli security forces refused entry to three U.S. activists attempting to visit the Palestinian Territories. One of them, Karen Sullivan, "is being sent home on a flight tonight, and two others, Sarah Martin and Katrina Plotz have refused to leave, and are being taken into custody. They are being treated as criminals, while their only goal was to learn about the reality of life for the Palestinian people".[2]
September 24, 2010 FBI Raids
On September 24 the F.B.I. raided the homes of twelve leftist activists across the U.S.A. looking for links to foreign terrorist organizations. Katrina Plotz was one of those whose home was raided and who is being investigated by the FBI.[3]
References