Kathleen Cleaver
Jump to navigation
Jump to search
Template:TOCnestleft Kathleen Cleaver used to be a member of the Black Panther Party.
Black Radical Congress
At the June 1998 Black Radical Congress in Chicago, militants of an older generation were assigned to work with younger comrades.
On Friday evening there was an inter-generational dialogue which was an attempt to blend an historical and contemporary review of the Black liberation struggle by means of older and younger activists interviewing one another.
Veteran activists Kathleen Cleaver, General Baker, Barbara Smith, Ahmed Rahman, Angela Davis and Nelson Peery were "paired up with younger activists" Van Jones, Kim Diehl, Kim Springer, Fanon Che Wilkins, Kashim Funny, and Quraysh Ali Lansana, respectively[1].
War Times
In January 2002, a group of San Francisco leftists, mainly involved with STORM or Committees of Correspondence, founded a national anti-Iraq War newspaper[2] War Times.
Endorsers of the project included Kathleen Cleaver, co-director, Human Rights Research Fund.
Oakland panel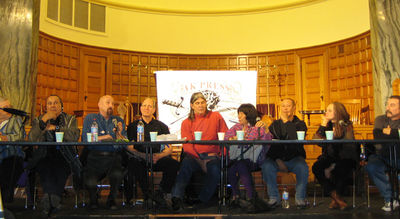 On December 4, 2005 Brooke Anderson arrived at the First Unitarian Church of Oakland, just a few blocks away from her new home in Oakland, California, to see Barry Romo on a panel convened by AK Press and KPFA. Having recently moved from Champaign, Illinois and missing my friends, I reveled in the idea of Barry and VVAW coming to Oakland, even if only for the evening.
The panel was called "The Future of Struggle: Movement Veterans Discuss Yesterday's Lessons for Today." The idea was to have key figures from various radical movements discuss lessons learned over the last four decades of organizing, how these lessons could be applied to work being done today, and how to move forward.
In addition to Barry Romo, the panel featured Kathleen Cleaver (Black Panther Party), Russell Means (American Indian Movement), Mike James (Students for a Democratic Society and Rising Up Angry), Elizabeth Martinez (Chicana activist and author), Ward Churchill (American Indian Movement), Bo Brown (George Jackson Brigade) and a former member of I Wor Kuen. [3]
Free Mumia Abu-Jamal
In 2008 Kathleen Cleaver, Senior Lecturer, Research Fellow, Emory Law School, Atlanta, GA signed a statement circulated by the Partisan Defense Committee calling for the release of convicted "cop-killer" Mumia Abu-Jamal.[4]
References
Template:Reflist Template:War Times endorsers