Kathie Boudin
Jump to navigation
Jump to search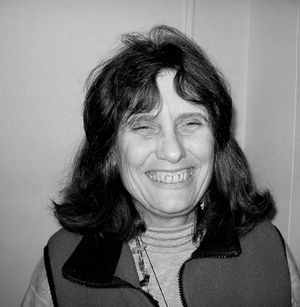 Template:TOCnestleft Kathie Boudin was (born May 19, 1943) in New York, New York. She was arrested during the Weather Underground Organization "Days of Rage" riots in Chicago during October, 1969, worked in the WUO-dominated SDS National Office in Chicago during much of 1969, and attended the WUO "Flint, Michigan War Council" during December, 1969. She submerged into the WUO underground in early 1970 and was observed fleeing the explosion of a WUO "bomb factory" in New York in March, 1970, during which time three WUO members perished. She is the daughter of communist attorney, Leonard Boudin and the wife of David Gilbert.[1]
Study in the USSR
When completing an employment application in 1966, Boudin indicated she had spent her senior year of college at the University of Moscow, Moscow, USSR.[1]
Weather Underground Organization
On August 19, 1969, WUO members who had returned from a trip to Cuba held a press conference in New York to discuss their trip and to promote the planned "Days of Rage" or "National Action" scheduled to take place in Chicago October 8-11, 1969. Although there is no information to indicate that Boudin traveled to Cuba with fellow WUO members, she joined with Bernadine Dohrn, Dionne Donghi, Ted Gold, Eleanor Raskin and Howard Jefferson Melish in the press conference.[1]
Brinks robbery
On Oct. 20, 1981, Sgt. Edward O'Grady, Patrolman Waverly Brown and Brinks guard Peter Paige were gunned down in Rockland County, N.Y. by heavily armed terrorists. The half dozen gunmen — all Americans — were members of the Weather Underground, a faction of the Students for a Democratic Society and the Black Liberation Army, formed from members of the Black Panther Party and the Republic of New Afrika.[2]
In 1983 Boudin was imprisoned for her role in a botched armed robbery in 1981 in which three men were killed. Boudin said she was terrified during the gun battle and aid there was no way,
"to pay the debt for my being involved or participating in the crime that destroyed families and destroyed men."
She was released on parole on August 20, 2003. During the time of her imprisonment, her then 14-month old son, Chesa Boudin was raised by Bill Ayers and Bernadine Dohrn.[3]
References