Katherine Clark
From KeyWiki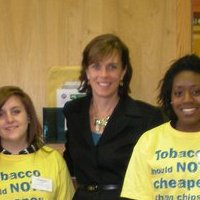 Katherine Clark was sworn in as a Massachusetts State Senator, in January 2011 representing Lynnfield, Malden, Melrose, Reading, Stoneham and Wakefield. She was first elected in March 2008 to represent Melrose and Wakefield in the Massachusetts House of Representatives.
Senator Clark serves as the Chair of the Joint Committee on Public Service and the Vice Chair of the Joint Committee on Community Development and Small Business. She also serves on the Joint Committees on Education, Public Safety and Homeland Security, Veterans and Federal Affairs, and Senate Committee on Post Audit and Oversight. Senator Clark is a member of the Advisory Council for the Department of Early Education and Care. In early 2011, Senator Clark was appointed to the Center for Women in Politics and Public Policy Advisory Board at the University of Massachusetts Boston.[1]
Clark's husband, Rodney Dowell, is an attorney and executive director of the Lawyers Concerned for Lawyers program.
Congressional primary
In October 2013, State Sen. Katherine Clark won the Democratic primary in the special election for Massachusetts' 5th Congressional District.
Clark took 31.6 percent of the vote in the seven-way Democratic race to fill now-Sen. Ed Markey's Boston-area House seat. Her closest competitor was Middlesex County Sheriff Peter Koutoujian, who won 22 percent.
State Rep. Carl Sciortino, an openly gay candidate who got Internet and media attention for a TV ad that featured him "coming out" to his tea party father as a liberal, came in third with 16.1 percent of the vote. State Sen. William Brownsberger came in fourth with 14.6 percent, followed by state Senate Majority Whip Karen Spilka with 13 percent.
The Democratic state senator was heavily favored to win the general election in the solidly blue 5th District, where President Barack Obama received 65 percent of the vote in 2012.
Clark, who was backed by the pro-Democratic women's group EMILY's List, led in most of the little polling that was done in the race.
Democratic Congressional Campaign Committee Chairman Steve Israel said in a statement that he's confident Clark will win in the blue district.
"Katherine will be a voice for the middle class, and I am confident that the people of Massachusetts' 5th district will agree, and in December will elect her to this Democratic seat, which President Obama won with two-thirds of the vote in both 2008 and 2012," he said.[2]
Education/ career
Katherine Clark's professional career includes service as a prosecutor, school committee member, General Counsel for the Massachusetts Office of Child Care Services, and Chief of the Policy Division for the Massachusetts Attorney General. She has been an advocate for seniors, the environment and social justice as a top policy maker.
Katherine Clark is a graduate of St. Lawrence University, Cornell University School of Law, and the Kennedy School of Government at Harvard University.[3]
In her early career she worked as an attorney in Chicago, then moved to Colorado where she worked as a clerk for a federal judge and later as a staff attorney for the Colorado District Attorneys Council.She moved to Massachusetts in 1995 and became general counsel for the state Office of Child Care Services.[4].
Support for the Council on American Islamic Relations
Katherine Clark wrote a letter of support to the Council on American-Islamic Relations (CAIR) on the occasion of their 24th anniversary in September 2018.[5]
Brian Corr connection
Kathleen Kelly, Katherine Clark, Brian Corr.
DSA support in 2004
According to to the Boston Democratic Socialists of America newsletter, The Yankee Radical, September 2004, page 8, Boston DSA endorsed several State Senate candidates in 2004. These included Katherine Clark, challenger, Democrat (Melrose).[6]
Mass Alliance endorsement
In 2008, Mass Alliance endorsed Katherine Clark for the vacant State Rep. seat in the 32nd Middlesex Dis-trict (Melrose, parts of Wakefield). Clark has been Chair of the Melrose School Committee, and was endorsed by former Rep. Mike Festa and Attorney General Martha Coakley, for whom she was then working. "She also aced the Alliance questionairre".[7]
DSA endorsement
In 2010, Katherine Clark, running for Massachusetts State Senate ,Middlesex and Essex, was included in a list of the mainly Massachusetts candidates endorsed by the Boston Democratic Socialists of America, published in the The Yankee Radical:[8][9]
Rep. Katherine Clark is running for the open seat in being vacated by Richard Tisei. Elected to the House in 2008, she has made her colleagues focus on making the funding formula for public schools fair to all communities. Katherine has been named Legislator of the Year by Citizens for Public Schools.
Progressive "vetting"
On September 12 2013, eight progressive organizations including Democratic Socialists of America hosted a forum with five Democratic Party candidates, including Katherine Clark, to fill new Senator, Ed Markey's seat in Congress.
Our goal is to give Massachusetts' voters a better understanding of the differences between the five candidates and their positions on important issues to these groups.
Forum Part 1 The questions in this first segment are on the environment and climate change, the Citizens United decision and fair elections, and the Congressional Progressive Caucus's "Back to Work" budget. Forum Part 2 The questions in this second segment are on income inequality, military spending, the Syria crisis and Iran, and the Israeli settlements in Palestine. Forum Part 3 The questions in this third and final segment are on women's rights and reproductive rights, and how to be an effective progressive in Congress.
The forum was sponsored by: 350 Massachusetts, Better Future Project, Democratic Socialists of America, Massachusetts Peace Action, Greater Boston Move to Amend, National Organization for Women, Progressive Democrats of America, Progressive Democrats of Massachusetts. The forum moderator was Jordan Berg Powers of Mass Alliance.[10]
CPC
By July 2014 Clark had joined the Congressional Progressive Caucus.
JStreet endorsement
The socialist infiltrated, anti-Israel "two state solution" JStreet PAC endorsed Katherine Clark in her 2014 Congressional race. [11]
JStreet endorsed her again 2016.
In her short time in Congress, Clark has already spoken out firmly in support of Israel and US leadership to resolve the Israeli-Palestinian conflict..[12]
Peace Action lobbying
Six Massachusetts Peace Action leaders visited 9 Congressional offices in Washington June 23-24 2014, to advocate for a nuclear deal with Iran, and for no U.S. miltary action in Iraq. They were John Ratliff, Alina Michelowicz, Shelagh Foreman, Rep. William Keating, Mike Pattberg, Cole Harrison, and Jeff Klein.
Delegations also visited Rep. Katherine Clark's and Rep. John Tierney's district offices.[13]
Peace Action friends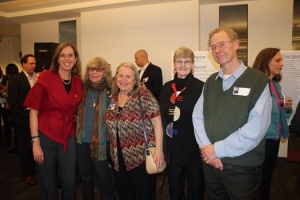 Four from Massachusetts Peace Action's legislative/ political team posed with Congresswoman Katherine Clark November 22, 2014 at Mass Alliance fundraiser. L to R: Clark, Shelagh Foreman, Carol Coakley, Bonnie Gorman, Cole Harrison.[14]
Campaigning for Cain
Brian Corr November 6, 2016:
What a great group of canvassers! We're heading out to hit more doors for Emily Cain in Maine's 2nd Congressional District after Katherine Clark got us all fired up! — with Kathleen Kelly and Katherine Clark in Lewiston, Maine.
Tax Day forum
Saturday, April 12 2014, a Tax Day Forum was held in Boston's Emmanuel Church, 15 Newbury St., with speakers: Mel King,Congresswoman Katherine Clark, Congressman Jim McGovern, Harris Gruman SEIU, Carolyn Federoff AFGE, Local 3258, Lew Finfer Raise Up Mass., Rep. Jay Livingstone, Grace Ross, Tilly Teixeira MA Senior Action, Joe Kebartas Veterans For Peace, Joann Thomas & Alan Booth MAHT, Amy Tighe 350MA, Andrew Fish Mass PIRG, Nathan Proctor Mass Fair Share, Ed Woll, Jr. MA Sierra Club, M.K. Merelice Green Rainbow, Dr. Richard Fine Medical Researcher, Robert Folan-Johnson ACT UP, Phyllis Evans NEU4J, Michael Kane National Alliance of HUD Tenants, Don Berwick, candidate for Governor, Molly Hannon, Massachusetts Alliance of HUD Tenants, Warren Pepicelli, UNITE-HERE New England Joint Board, Mike Prokosch, Dorchester People for Peace, Rev. Vernon Walker.
A framework for action included a diverse set of initiatives, including immediate measures like collecting signatures for the Raise Up Massachusetts minimum wage and earned sick time ballot initiatives, as championed by Harris Gruman of the SEIU State Council, to medium-term measures like lobbying the six Massachusetts congressmen who voted NO to the Congressional Progressive Caucus' Better Off Budget last week, as championed by Michael Kane, to more long-term initiatives like proposals to wipe out childhood poverty in Massachusetts, as championed by gubernatorial candidate Don Berwick.[15][16]
"A Celebration of Progressive Champions"
Mass Alliance's "A Celebration of Progressive Champions:From New Recruits to Veteran Activists, Honoring Progressives Past, Present, and Future" was held Thursday, November 20th, 2014 CIC Boston 50 Milk Street, Boston.
Mark your calendars and join Mass Alliance for the biggest annual party for progressive activists and legislators in Massachusetts!
Join guest speaker Congresswoman Katherine Clark in Space with a Soul's new downtown location as we celebrate our victories with like‐minded leaders, activists, and elected officials from across the Commonwealth.[17]
PDA contact 2014
In 2014 Progressive Democrats of America assigned activists to deliver their material to almost every US Congressman and Senator, Richard McElroy, was assigned as the contact for Rep. Clark.[18]
PDA primary endorsement
Progressive Democrats of America endorsed Clark in her 2014 Democratic primary.
PDA endorsement
Progressive Democrats of America 2014 endorsements were;[19]
WAND meeting
Massachusetts, May 11, 2015, It's Time Network President Jan Morgan and It's Time Network Director of Partnerships Eleanor LeCain attended an event with Women's Action for New Directions in Boston. Also attending were Senator Nan Orrock, President of Women Legislators Lobby and Congresswoman Katherine Clark of Massachusetts.
Condemning Criticism of Islam legislation
On December 17, 2015, Rep. Don Beyer, Jr. introduced legislation condemning "violence, bigotry, and hateful rhetoric towards Muslims in the United States." The legislation is based on unsourced claims that there is a "rise of hateful and anti-Muslim speech, violence, and cultural ignorance," and a "disproportionate targeting" of "Muslim women who wear hijabs, headscarves, or other religious articles of clothing...because of their religious clothing, articles, or observances." The resolution, H.Res.569 - Condemning violence, bigotry, and hateful rhetoric towards Muslims in the United States [20]
The legislation was cosponsored by Rep. Michael Honda, Rep. Keith Ellison, Rep. Joseph Crowley, Rep. Andre Carson, Rep. Eleanor Holmes Norton, Rep. Betty McCollum, Rep. Marcy Kaptur, Rep. Carolyn Maloney, Rep. Dan Kildee, Rep. Loretta Sanchez, Rep. Charles Rangel, Rep. Scott Peters, Rep. Brad Ashford, Rep. Alan Grayson, Rep. Mark Takai, Rep. Brian Higgins, Rep. William Keating, Rep. Raul Grijalva, Rep. Debbie Wasserman Schultz, Rep. G.K. Butterfield, Rep. Gerry Connolly, Rep. Ruben Gallego, Rep. Cheri Bustos, Rep. John Delaney, Rep. Kathy Castor, Rep. Luis Gutierrez, Rep. Michael Quigley, Rep. Elizabeth Esty, Rep. Joseph Kennedy III, Rep. Robin Kelly, Rep. Eddie Bernice Johnson, Rep. Gregory Meeks, Rep. Grace Meng, Rep. Al Green, Rep. Katherine Clark, Rep. Adam Schiff, Rep. Alcee Hastings, Rep. Sam Farr, Rep. Frank Pallone, Rep. Jim McDermott, Rep. Barbara Lee, Rep. Donna Edwards, Rep. Robert Brady, Rep. Frederica Wilson, Rep. Michael Doyle, Rep. Albio Sires, Rep. Suzan DelBene, Rep. Judy Chu, Rep. Jared Polis, Rep. David Loebsack, Rep. Bill Pascrell, Rep. Debbie Dingell, Rep. Jan Schakowsky, Rep. Steve Cohen, Rep. Ruben Hinojosa, Rep. John Yarmuth, Rep. Niki Tsongas, Rep. Jim Langevin, Rep. Mark Pocan, Rep. John Conyers, Jr., Rep. Mark Takano, Rep. Tim Ryan, Rep. Jose Serrano, Rep. Hank Johnson, Rep. Paul Tonko, Rep. Zoe Lofgren, Rep. Chris Van Hollen, Rep. Lois Capps, Rep. David Price, Rep. Doris Matsui, Rep. Gwen Moore, Rep. Denny Heck, Rep. Sheila Jackson Lee, Rep. John Carney, Rep. Xavier Becerra, Rep. Eric Swalwell, Rep. John B. Larson, Rep. Dina Titus, Rep. Peter Welch, Rep. Lloyd Doggett, Rep. Jim Himes, Rep. Matt Cartwright.
On CAIR
"I am proud to work closely with this community to advance our shared values, and CAIR's role in ensuring that American Muslims have a voice in the public square is invaluable to that effort.
Rep. Katherine M. Clark (D-Mass.) (October 2017).[21]
Ride to Revive Section 5
A group of sixty community activists from Alabama went to Washington, D. C. in six vans from Sunday to Tuesday (June 24-27, 2017) to support the Voting Rights Advancement Act (VRAA), HR 2948, introduced last week by Alabama Congresswoman Terri Sewell.
The bill was introduced on the eve of the fourth anniversary of the Supreme Court's Shelby vs, Holder decision, which gutted Sections 4 and 5 of the 1965 Voting Rights Act.
The bill also carefully defines what constitutes a voting rights violation and which election changes must be submitted for pre-clearance. Congresswoman Terri Sewell said, "The VRAA is an advancement bill, it advances voting rights throughout the country. Under this bill, all eleven states that were part of the Confederacy, including Alabama, as well as other political subdivisions around the nation and on tribal lands would be covered and subject to the pre-clearance provisions."
The VRAA would classify voting changes such as strict voter photo identification requirements, and voter registration requirements to be reviewed and possibly overturned if they were deemed to be more stringent than the requirements in Section 303b of the Help America Vote Act (HAVA) of 2002.The VRAA, HR 2948, has 182 co-sponsors in the House of Representatives. They are all Democrats. And the companion legislation S.1490 in the Senate has 46 co-sponsors, also all Democrats, so far.
On Tuesday morning, the Alabama group joined by other activists in Washington from the Rural Coalition, Food and Water Watch, National Family Farm Coalition and other groups had a rally and press conference on the Capitol grounds facing the Cannon House Office Building on Independence Avenue and First Street NE.
The rally had many chants supporting the revival of Section 5 of the Voting Rights Act along with civil rights freedom songs. Several Congresspersons, including Terri Sewell, G.K. Butterfield of North Carolina, Marc Veasey of Dallas, Texas and Katherine Clark of Massachusetts addressed the rally. Congressman John Lewis drove by the rally on Independence Avenue and saluted the crowd. On Monday night, the group had a meeting at Howard University Law School, which was addressed by several civil rights veterans, including former D. C. Congressman Walter Fauntroy, Viola Bradford, who wrote for the Southern Courier newspaper in Montgomery, Antonio Harrison, a former Alabama State Senator, who lives and works in D. C. Professor Ardua of the Law School spoke on the need for reparations to address the continuing impact of slavery on Black people.
The Ride to Revive Section 5 was sponsored by the SOS Coalition for Justice and Democracy, Alabama New South Coalition and other local groups in Alabama.[22]
Palestine delegation
Rep. Jimmy Panetta March 30 2018:
Our delegation held a roundtable with Palestinian youth in Jerusalem.
March 30, 2018 Congressman Jimmy Panetta (CA-20) returned today from a Congressional delegation visit to Afghanistan, Jordan, and Israel. The focus of the trip was on global and regional security and cooperation issues.
In Afghanistan, Congressman Panetta and the delegation traveled to Forward Operating Base (FOB) Lighting which is the temporary home to the Southeast Advisory Security Task Force under the command of Brigadier General David M. Hamilton. The visit to the FOB in the Paktia Provence allowed Congressman Panetta to talk to and thank the service members on the front line who are training and advising Afghan security forces. The delegation then traveled to Kabul and met with General John W. Nicholson, Jr., Commander, Resolute Support Mission and U.S. Forces Afghanistan, who briefed them on the current military strategy and security situation in Afghanistan. The delegation also met with Afghan President Ashraf Ghani and Chief Executive Abdullah Abdullah at the Presidential Palace.
In Jordan, the delegation met with His Royal Highness King Abdullah II Ibn Al Hussein, as well as other senior defense and foreign affairs leadership who shared their insight into the challenges facing Jordan and the region.
In Israel, the delegation discussed U.S.-Israel relations, the prospects for an Israeli-Palestinian peace process, and regional security issues with Israeli President Reuven Rivlin and Prime Minister Benjamin Netanyahu in Jerusalem. The delegation also met with Opposition Leader Isaac Herzog in Tel Aviv. Congressman Panetta and the delegation reiterated American support for a two-state solution and for peace in the region.
In addition to Congressman Panetta, the Members of the delegation included:
"No Muslim Ban ever"
Muslim Public Affairs Council - MPAC January 28 2019·
We're proud to host a congressional reception tonight with our friends at ACLU, Oxfam & National Immigration Law Center recognizing Members of Congress working to rescind and defund the #MuslimBan. Stay tuned to your feeds tonight for live updates.
Attendees included Reps, Judy Chu, David Trone, Katherine Clark, Ilhan Omar, Rashida Tlaib, Andre Carson, Pramila Jayapal, Zoe Lofgren and Senator Chris Murphy.[24]
"Green New Deal"
From the Sunrise Movement:[25]
Alexandria Ocasio-Cortez has released a proposal for a Select Committee on a Green New Deal, a plan that would transform our economy and society at the scale needed to stop the climate crisis.
We have the momentum to make a Green New Deal real, but we need a critical mass of Congresspeople to support the proposal.
Take action on Dec. 10 to show Congress the Green New Deal is a top priority.
Congressional supporters by December 20 2018 included Katherine Clark.
DSA thanks Katherine Clark
MetroWest DSA December 10, 2018 ·
MetroWest members of Boston DSA, Jeff Perrott, Martha Guevara, and Amanda Shepard bring bread, roses, and a letter of thanks to House Representative Katherine Clark's office in Framingham, in gratitude of her co-sponsorship of the proposal to create a Select Committee for a Green New Deal.
Thank you, Congresswoman Katherine Clark! Your leadership on the Green New Deal is crucial to realizing a sustainable and just future for all.
HR 109 endorser
By February 20 2019 endorsers of Alexandria Ocasio-Cortez's HR 109 (Green New Deal) included Katherine Clark.
Medicare For All Congressional Caucus founders
In August 2018 Medicare For All Congressional Caucus founding members included Representative Katherine Clark.
Medicare for All Act
In February 2019 Rep. Pramila Jayapal introduced H.R.1384 - Medicare for All Act of 2019. By May 29 she had 110 co-sponsors including Rep. Katherine Clark.
#BeHEARD Act
National Domestic Workers Alliance April 9 2019·
Today, Senator Patty Murray and Rep. Katherine Clark introduced the #BeHEARD Act, a bill that responds to the needs of working people and lays out a vision to end harassment and sexual assault in the workplace. Here's why it's a huge step towards safety and dignity for workers.
It would: ✔️ expand basic civil rights protections to ALL workers ✔️ empower workers who come forward with reports of harassment ✔️ strengthen understanding of workplace harassment and help businesses prevent it ✔️ help ensure transparency
April 9 2019, U.S. Senator Patty Murray (D-WA), top Democrat on the Senate Health, Education, Labor, and Pensions (HELP) Committee, was joined by Congresswoman Katherine Clark (D-MA-5), Vice Chair of the House Democratic Caucus, and Congresswoman Ayanna Pressley (D-MA-7), to introduce the Bringing an End to Harassment by Enhancing Accountability and Rejecting Discrimination (Be HEARD) in the Workplace Act, legislation which takes critical steps to ensure businesses have more resources to prevent harassment and workers have more support when they seek accountability and justice, and sends a clear message to those who think they can get away with assault or harassment on the job: time is up.
Senator Murray announced the introduction at a news conference with survivors and advocates who shared their personal stories about workplace assault and harassment, including Adriana Cazorla, a Washington state domestic worker and advocate with National Domestic Workers Alliance, and Maria del Carmen Ruelas, farm worker with Justice for Migrant Women Advocates who also resides in Washington state. Additionally, leaders from the National Women's Law Center (NWLC), The Leadership Conference on Civil and Human Rights, and the American Civil Liberties Union (ACLU) participated and highlighted the urgent need to pass the legislation.
"No matter who you are or where you work—whether you are the only woman on the board, or a janitor, or farm worker, you should be treated fairly, respectfully, and with dignity. This should be true no matter your gender or race, your religion or sexual orientation or age—and regardless of whether you have a disability or are a veteran." said Senator Murray. "For far too long and for far too many people in our country this hasn't been true. So today, I'm proud to be standing up to fight for change and make clear that time is up."
In addition to Senator Murray, the Senate bill is co-sponsored by U.S. Senators Kamala Harris (D-CA), Jeff Merkley (D-OR), Elizabeth Warren (D-MA), Kirsten Gillibrand (D-NY), Richard Blumenthal (D-CT), Tammy Baldwin (D-WI), Bob Casey (D-PA), Bernie Sanders (I-VT), Tim Kaine (D-VA), Sherrod Brown (D-OH), Ed Markey (D-MA), Jacky Rosen (D-NV), Amy Klobuchar (D-MN), Ben Cardin (D-MD), Chris Van Hollen (D-MD), Cory Booker (D-NJ), Dick Durbin (D-IL), and Tammy Duckworth (D-IL). The House bill is being introduced by Congresswoman Katherine Clark (D-MA-5), Congresswoman Ayanna Pressley (D-MA-7), Congresswoman Elissa Slotkin (D-MI-8), and Congresswoman Debbie Mucarsel-Powell (D-FL-26).[26]
References