Kate Bronfenbrenner
Jump to navigation
Jump to search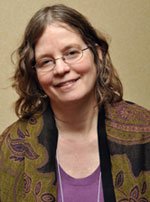 Template:TOCnestleft Kate Bronfenbrenner
Supporting EFCA
On April 7, 2009, at Ithaca, NY — The Tompkins County Workers Center held a rally in support of the Employee Free Choice Act on the steps of the Tompkins Court House just prior to a meeting of the legislature.
Dave Marsh, President of the Building Trades Council, introduced Kate Bronfenbrenner, director of Labor Education Research at Cornell's School of Industrial & Labor Relations, followed by Pete Meiers representing the Tompkins County Workers Center and Marty Luster representing Ithaca Democratic Socialists of America . Legislators Pamela Mackesey, Carol Chock, Martha Robertson, Kathy Luz Herrera, Nathan Shinagawa, and Will Burbank spoke in turn giving context to their support of the Employee Free Choice Act and the pending resolution in support of the legislation to be taken up by the Tompkins County Legislature. That concludes the video, which is unedited raw footage of the rally.
The resolution in support of the Employee Free Choice Act passed handily by a vote of 12-3.[1]
Left Forum 2011
International Labor Solidarity:
Sponsored by: Working USA: The Journal of Labor and Society
New Labor Forum
New Labor Forum is published by Center for Labor, Community, and Policy Studies, Joseph S. Murphy Institute for Worker Education & Labor Studies.
Editorial Board members listed, as of March 2013; were;[2] Elaine Bernard, Ron Blackwell, Barbara Bowen, Kate Bronfenbrenner, Arthur Cheliotes, Mike Davis, Amy Dean, Steve Early, Hector Figueroa, Janice Fine, Bill Fletcher, Jr., Juan Gonzalez, Marie Gottschalk, Gerald Hudson, Lisa Jordan, Tom Juravich, Robin D G Kelley, Jose LaLuz, Nelson Lichtenstein, Manning Marable, Ruth Needleman, Ai-jen Poo, Katie Quan, Adolph Reed, Daisy Rooks, Andrew Ross, Kent Wong.
References
↑ [1] Employee Free Choice Act rally in Ithaca, NY 8 April 2009 Tompkins County Against War and Occupation website, accessed June 14, 2010