Karin Aguilar-San Juan
From KeyWiki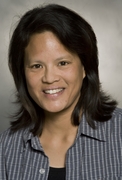 Karin Aguilar-San Juan...
Peace delegation to Vietnam
According to Alex Hing:
In 2019, four years after the publication of The People Make the Peace—Lessons from the Vietnam Antiwar Movement (Just World Books 2015), our book was translated into Vietnamese by Gioi Publishers. As authors, we decided to organize a book launch in Hanoi with our Vietnamese publisher, the Vietnam-USA Society, and the Vietnam Union of Friendship Organizations. Five of us were able to attend which allowed me to return to Vietnam for a third time in a continuing process of observing first hand changes in this important nation.
Frank Joyce, Judith Albert, Alex Hing, Karin Aguilar-San Juan, and Mary Anne Barnett.[1]
War Times
In January 2002, a group of San Francisco leftists, mainly involved with STORM or Committees of Correspondence, founded a national anti-Iraq War newspaper[2] War Times.
Endorsers of the project included Karin Aguilar-San Juan - an author and professor at Macalester College.
References