Karen Vitale
From KeyWiki

Karen Vitale (formerly Gibson) and Lyle Rubin are Rochester Democratic Socialists of America co-chairs. [1]
DSA 1997-1999 leadership
DSA National Political Committee elected at the Columbus, Ohio, 1997 National Convention.[2]
Theresa Alt, Ithaca, NY
Ron Aronson, Huntington Woods, Mi
Marsha Borenstein, Brooklyn, NY
Lynn Chancer, New York, NY
Rachel Dewey, Princeton, NJ
Bill Dixon, Chicago, IL
Barb Ferrill, Denver, CO
Julia Fitzgerald, Brooklyn, NY
Virginia Franco, San Diego, CA
Karen Gibson, Rochester, NY
Jeff Gold , New York, NY
Michael Heffron, Chicago, IL
David Knuttunen, Belmont, MA
Daraka Larimore-Hall, Chicago, IL
Michael Lighty, San Francisco, CA
Frank Llewellyn, Brooklyn, NY
Bill McIver, Boulder, CO
Tim Parks, Los Angeles, CA
Katie Romich, Chicago, IL
Joseph Schwartz, Ithaca, NY & Philadelphia, PA
Raybblin Vargas, Chicago, New York, NY
Eric Vega, Sacramento, CA
Juanita Webster, New York, NY
Youth Section Representatives:
DSA 1997 conference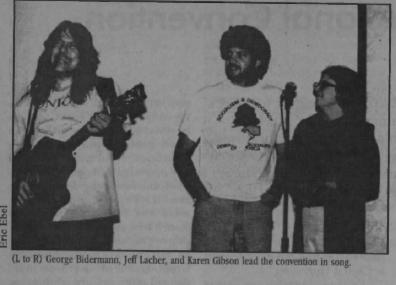 George Bidermann, Jeff Lacher and Karen Gibson entertained at DSA's 1997 conference.
POWER
Karen Gibson got involved[3]with POWER through an internship in a Grassroots Organizing class at San Francisco State University in March of 2007. After earning a BA in Sociology, Karen continued her work with POWER and joined the staff in May 2008.
Working with POWER allows Karen to actively pursue her passion for social justice.
POWER Leaders
From Steve Williams: Over the years hundreds of people who have served on POWER's staff, membership, leadership bodies, and Board of Directors. They are too many to mention by name, but I do want to extend special appreciations to Alicia Garza, Jaron Browne, Jason Negron-Gonzales, Marisa Franco, Aspen Dominguez, Cindy Wiesner, Ilana Berger, Nora Calderon, Larry Lattimore, Emma Harris, Gloria Esteva, Manuela Esteva, Donaji Lona, Juana Tello, Ernest Stokes, Beatriz Herrera, Karen Gibson, Lorren Dangerfield, Jesse Tello, Regina Douglas, Garth Ferguson, Brian Russell, Patty Snitzler, Thabiti Hayes, Khalil Abdul Samad, Jane Martin.[4]
Endorsing Fetonte
Democratic Socialists of America members who endorsed Danny Fetonte when he ran for DSA NPC in 2017 included Karen Vitale, Rochester.[5]
Public Facebook group
Rochester Democratic Socialists of America public Facebook group, as of March 18, 2017;[6]
Admins
References