Justin Fairfax
From KeyWiki
Justin Fairfax was elected Lt .Governor of Virginia in 2017.
MoveOn endorsement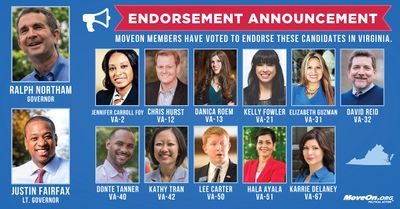 VNM and Team Virginia
Tram Nguyen June 7, 2018 ·
Some of Team New Virginia Majority and Team VA - BLOC with Governor of Virginia (Ralph Northam), and Lt Gov Justin Fairfax #MedicaidExpansionVA #VAGov #HealthyVA — with Alex Bratton, Jasmine Marie Leeward, Tyrone S. Williams II and Justin Fairfax in Richmond, Virginia.
Collective PAC
Launched in August of 2016, the Collective PAC has helped 18 candidates win primary and/or general elections at the local, state and federal level thus far, including U.S. Senator Kamala Harris, U.S. Representatives Val Demings, Lisa Blunt Rochester and Donald McEachin, Mayor Chokwe Antar Lumumba of Jackson, Vi Lyles of Charlotte, Yvette Simpson of Cincinnati and Justin Fairfax for Lt. Governor in Virginia.[1]
Socialist union support
Virginia Diamond November 4, 2017 ·
Lucky I'm so tall! Excited to be canvassing with my Carpenters brothers and sisters for Ralph Northam, Justin Fairfax, Mark Herring, and all our labor-endorsed candidates! — with Jose Frias, Ralph Northam, Gilbert Rosales, Nelson Aguilar and Kunta Bedney. Virginia Diamond November 4, 2017 ·
With some great leaders: Doris Crouse-Mays, Ralph Northam, Randi Weingarten, Ken Rigmaiden, and Justin Fairfax.
Alfonso Lopez October 31, 2017 ·
With Louis J. Cernak, Jr., Virginia Diamond, Kaye Kory, Roxana Mejia and Barry Weinstein.
Muslim support
Yasmine Taeb November 5, 2017:
What an amazing turnout today at a phonebank hosted at the home of Mirza Baig & Mona Malik and joined by Gov. McAuliffe, DPVA Chair Susan Swecker, and Del. Kathleen Murphy.
200+ Muslim-American volunteers making more than 5,000 calls to elect Ralph Northam, Justin Fairfax, and Mark Herring because our ticket will ensure Virginia remains an inclusive state where the civil and human rights of all are respected. #GameOnVA — with Salim Alchurbaji.
References