Jung Bin Cho
From KeyWiki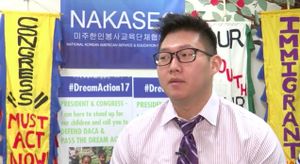 Jung Bin Cho is a long-time illegal immigration activist with NAKASEC.
2018 State of the Union Address
Several Democrats, including Jung Bin Cho, brought illegal immigrants[1] to the 2018 State of the Union address:
Organizing for Illegal Aliens Access to In-State Tuition
Jung Bin Cho was referenced in 2014 as working with NAKASEC at the Washington Post.[3]
"In announcing his finding that "dreamers" are eligible for in-state tuition, Virginia Attorney General Mark Herring (D) alluded to the enormous contribution young immigrants can make to Virginia's economy and culture.
""This is the final piece of the puzzle for DACA recipients," said Simon Sandoval Moshenberg, a lawyer with a nonprofit agency in Falls Church that sued the state of Virginia seeking in-state tuition benefits for them. "They already had the right to work and drive. This was the piece that was missing for them — to feel that the commonwealth embraced them with all the rights and privileges of Virginians."
"Cho's involvement in immigration issues grew partly out of his work with the National Korean American Service and Education Consortium (NAKASEC), an advocacy group with an office in Annandale. Formed to encourage Korean immigrants to become more involved in political and civic life, the group recently branched into advocacy for "dreamers" of all ethnic backgrounds."
Asian Americans Demand a Clean DREAM Act
According to communications contacts Michelle Boykins, Marian Manapsal, Sam Yu;
Asian American Immigrant Youth and Allies Convene at the U.S. Capitol to Demand the Passage of a Clean DREAM Act Washington, D.C. – Wednesday, November 15, marks over 2 months since the Trump administration killed the Deferred Action for Childhood Arrivals (DACA) program, putting the lives of immigrant youth immediately at risk for detention and deportation.
On November 15, over 120 Asian American and Pacific Islander (AAPI) immigrant youth and leaders from across the country will convene to demand that the passing of a clean DREAM Act become Congress's top priority before the end of the year.
Following the press conference, AAPI leaders will engage in a march and a rally as well as legislative visits urging key congressional targets to pass a clean DREAM Act by December 8th.
When: 11:00 AM ET | Wednesday, November 15, 2017
Where: House Triangle, United States Capitol, Washington, DC 20016
Who:
Congressional Asian Pacific American Caucus Press Conference on Illegal Immigration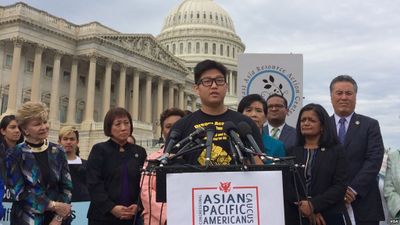 The Congressional Asian Pacific American Caucus hosted a press conference for illegal immigration in September 2017.[5] The speakers included Jung Bin Cho, Judy Chu, Chirayu Patel (founder of DACA network), Nancy Pelosi, and Pramila Jayapal.
Guest of Judy Chu, SOTU
Judy Chu, January 30, 2018.
I'm proud to stand with my guest for tonight's #SOTU, Jung Bin Cho - a Dreamer and, thanks to DACA, a college graduate. Jung Bin has lived his whole life here and just asks that he not be deported to a home he never knew. Here, he has roots and a future and, like so many others, he deserves his shot at the American Dream. We have invited the largest group of Dreamers to ever attend the State of the Union so [Donald Trump] can see their faces. They are our future, and they should not be used as leverage to end our family immigration system. That just trades one family's pain for another. — with House Democratic Leader Nancy Pelosi.
References