Juliet Schor
From KeyWiki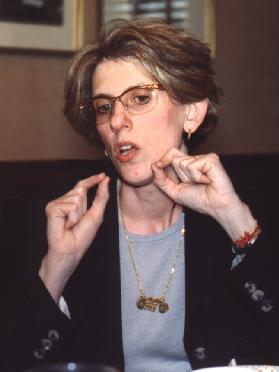 Juliet Schor is an economist, writer and scholar. She was senior lecturer at Harvard University, where she was also Head Tutor in Women Studies there. In addition, Dr. Schor is professor of the economics of leisure at Tilburg University.
While at Harvard, Schor served on a presidential task force that assessed how employees balance work-life and family commitments. She also was an advisory board member to the Gender Studies Program with Harvard's School of Education, women's representative to the Radcliffe Graduate Consortium and a participant in the Radcliffe Institute for Advanced Studies and the Provost's Inter-faculty Seminars on welfare and feminism.
Schor has spoken frequently to a wide range of audiences and serves as an editorial board member of the Journal of Applied Economics and the Journal of Consumer Culture.
She lives in Newton, MA, with her husband Prasannan Parthasarathi, and two children.[1]
Education/career
A recipient of bachelor's and doctoral degrees in economics from Wesleyan University and the University of Massachusetts at Amherst, respectively, Schor served on the economics faculties of Williams College and Barnard College at Columbia University before joining Harvard's economics department in 1986.
Schor's research on consumer spending earned a Guggenheim Fellowship in 1995. She is a founding member of the Center for a New American Dream, an organization devoted to making American lifestyles more sustainable, and has made key organizational contributions to the World Institute in Development Economics Research.
Schor is a member of the International Advisory Board for the "Project on Social-Economic Security" of the International Labour Organization. She also has served as consultant to the United Nations on matters pertaining to human development, and as a member of The Parenting Task Force of the National Parenting Association and the Research Advisory Council of the Economic Policy Institute.[2]
Boston College
Schor now works at Boston College as a professor of sociology.
"I am thrilled to be coming to Boston College," said Schor. "I'm especially looking forward to teaching students who combine intellectual passion and rigor with social conscience."
At Boston College, Schor teaches courses on consumer society, political economy, and gender. She will continue her analyses of trends in consumer society, and is planning to begin work on a study of alternative social initiatives aimed at a sustainable global economy.
"Juliet Schor is an internationally recognized scholar and enormously influential public intellectual, whose interdisciplinary social research is held in the highest esteem by top scholars in her field," said Sociology Chairman Prof. Stephen Pfohl. "Her voluminous scholarship is routinely cited by leading sociologists as among the most important contributions to contemporary understandings of both time spent at work and income spent on consumer goods and services.
"It is rare today to read discussions of policy pertaining to time at work - whether in scholarly journals or in the pages of the New York Times - that do not reference Juliet's writings," Pfohl added.[3]
Writing
A member of the economics faculty and later the committee on degrees in women's studies during her more than 15 years at Harvard, Schor is the author or editor of many articles and books, among them The Overworked American: The Unexpected Decline of Leisure and The Overspent American: Upscaling, Downshifting and the New Consumer. Other works include The Golden Age of Capitalism: Reinterpreting the Postwar Experience, and her most recent books: Do Americans Shop Too Much? and The Consumer Society Reader, both published in 2000.[4]
Cantor collaboration
In 1987, Dan Cantor and Juliet Schor, a member of Democratic Socialists of America, co-wrote "Tunnel Vision:Labor and the World Economy, and Central America (South End Press). [5]
New Party builder
New Party News Fall 1994 listed over 100 New Party activists-"some of the community leaders, organizers, retirees,, scholars, artists, parents, students, doctors, writers and other activists who are building the NP" the list included Juliet Schor, Harvard University, and co-founder Center for Popular Economics.
DSA member
In 1987, Juliet Schor, was a member of Democratic Socialists of America. [6]
The Boston DSA local held a dinner June 15, 1993 honoring two local SEIU organizers. The dinner's keynote speaker was Harvard professor Juliet Schor, author of The Overworked American. [7]
At the Democratic Socialists of America National Political Committee Meeting of September 26-27, 2009, members "brainstormed" on who could replace the late Ruth Spitz and one other opening for a woman among the DSA vice chairs. Suggestions were: Teresa Ghilarducci "at times a member", Katha Pollitt, Christine Kelly "joined at conference", Judith Deutsch, Theda Skocpol "if Joe approaches her to ask her to rejoin", Juliet Schor "a member on and off", "less likely": Holly Sklar, Peg Strobel. All names were referred to the Steering Committee.[8]
Global Justice Conference
On February 2-3, 2001 the Boston Research Center for the 21st Century held a conference on "Building Post-Seattle Alliances for Economic Justice" at 396 Harvard St., Cambridge.
Speakers included Walden Bello, Charles Derber, Naomi Klein and Mike Prokosch. A Spring follow-up conference "will hear" Juliet Schor, Riane Eisler and Amartya Sen.[9]
Progressive propaganda event
According to Boston activist Jason Pramas, a couple of months after September 11th "shattered politics-as-usual for the American left", a number of local Boston activists in the labor-welfare coalition Working Massachusetts, in Jobs with Justice, and "in my group, the Campaign on Contingent Work", thought that the economic downturn accelerated by the terrorist attacks was actually creating an excellent climate for "progressives to take the political high ground in Massachusetts".
So in November of 2001, two ideas — Jobs with Justice's plan to hold a Faneuil Hall speakout similar to the epic Democratic Socialists of America -led "Hearing on Economic Insecurity" in 1996, and a CCW/Working Massachusetts plan to hold a conference to help further unify the work of area progressives (and not-coincidentally) relaunch Working Massachusetts.
The major difference between "our event and the 1996 event" was that the worker panels testified to the local Jobs with Justice Workers Rights Board consisting of "eminent personages like Boston City Councilor Chuck Turner and Boston College Professor Juliet Schor" (both DSA members) — rather than testifying to a panel of Congresspeople. A few politicians showed up, most notably Congressman Bill Delahunt, State Treasurer Shannon O'Brien and State Senator Warren Tolman, but the overall focus of the day was that the "area progressive movement should express public shock and outrage at the local state of economic affairs in the light of the mass media. And propose that a freshly-emboldened popular movement could change the current political equation in favor of working people."[10]
National Jobs For All Coalition
In 2010, Juliet Schor, was listed as serving on the advisory board of the Democratic Socialists of America dominated National Jobs For All Coalition.[11]
References