Julia Wrigley
From KeyWiki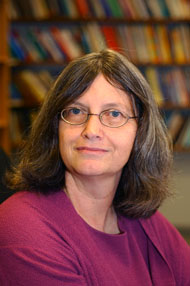 Julia C. Wrigley is a Professor of Sociology at the CUNY Graduate Center. She is the author of Class Politics and Public Schools and Other People's Children, as well as articles on domestic workers, class inequalities, and the political economy of education. She recently published (with Joanna Dreby) a study of fatalities and safety in childcare in American Sociological Review. She is currently working on a study of relationships between children, mothers, and children's caregivers and issues related to class dynamics in caregiving relationships[1].
Socialist Community School
In 1978 Julia Wrigley was a non-committee teacher at the Los Angeles Socialist Community School[2].
In 1980 Julia Wrigley from Venice, California, was a New American Movement network coordinator during the negotiation phase leading up to the merger with the Democratic Socialist Organizing Committee[3]
Against the Current
In 2009 Julia Wrigley was listed as an advisory editor of Against the Current, bi-monthly analytical journal of U.S. Trotskyite organization Solidarity .[4]
Left Forum board
In 2009, the Left Forum board included Stanley Aronowitz, Roderick Bush, Eric Canepa, Vivek Chibber, Nancy Holmstrom, Jamie McCallum, Lorraine Minnite, Frances Fox Piven, Hobart Spalding, Bill Tabb, Richard D. Wolf and Julia Wrigley[5].
New Politics
As of 2009 Julia Wrigley served on the Editorial Board of New Politics, magazine almost completely staffed and run by members of Democratic Socialists of America[6].
Campaign for Peace and Democracy
Wrigley is listed as an endorser of the Campaign for Peace and Democracy, as of March 15, 2010.[7]
External links
References