Julia Shearson
From KeyWiki

Julia A. Shearson is a Cleveland Ohio activist.
After helping open the Cleveland office of the Council on American Islamic Relations in 2003, Shearson "joined local interfaith efforts, serving on dialogue teams with ministers and rabbis." Before joining CAIR, Shearson taught for 10 years, and has traveled extensively in Europe, East Asia, and the Middle East. She received her BA in East Asian Languages and Cultures from Columbia, a Master's in Linguistics from Ohio University, and a Master's in Middle East Studies from Harvard University.[1]
Raised Catholic in Geneva-on-the Lake, Julia Shearson converted to Islam after her postgraduate work at Harvard.
Her daughter's father, Ahmed Muhammad Alaai, lives in Saudi Arabia.
Support of Alleged Would-Be Terrorist Demetrius Pitts
Julia Shearson was quoted at Cleveland.com on July 19 2018 as saying that alleged would-be terrorist Demetrius Pitts, who was charged by the FBI with plotting a terror attack for July 4 2018 in Cleveland, had "limited means" to carry out an attack, alluding that the Pitts may be a victim of entrapment.[2] She said:
""This case strains credulity. We don't have all the information yet, but on the face of the complaint, it looks like [Pitts] had very limited means to carry this out."
The Investigative Project on Terrorism posted the FBI affidavit, [3] showing that "FBI officials saw Pitts as a 'dangerous' person who needed to be taken off the streets, and the affidavit introduced in Pitts' case clearly shows his enthusiasm for wanting to kill people."[4]
Terrorist Watch List
Julia Shearson learned that her name appeared on the "Terrorist Watch List" or "no-fly list" after an incident at the Peace Bridge in Buffalo, New York, where Shearson claims to have been stopped for no apparent reason. Jihad Smaili, lawyer and board member of KindHearts, a Muslim charity, has represented her in her effort to find out why she was stopped.[5]
"This is happening a lot in our community," said Isam Zaiem, a Westlake medical technologist and a founder of the Cleveland office of the Council on American-Islamic Relations. "Often, no one discusses it, because they feel ashamed. Julia, by doing this, she's really fighting for all of our rights."
CAIR RNC Challenging Islamophobia Press Conference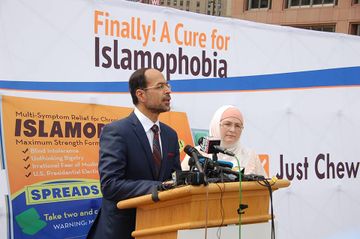 Julia Shearson speaks at the CAIR Republican National Convention Challenging Islamophobia Press Conference alongside
Nihad Awad
.
In July 2016,
Julia Shearson
spoke at the CAIR RNC Challenging Islamophobia Press Conference alongside
Nihad Awad
and Imam
AbdusSemih Tadese
.
Tamir Rice petition
60,000-signature petition for County Prosecutor Tim McGinty for criminal charges and arrests warrants against Cleveland police that killed Tamir Rice to be delivered at 2 pm at Justice Center on July 23 2015 with 1 pm City Hall rally,
The groups called themselves the Tamir Rice Justice Committee and als also hold a 2 pm press conference on the steps of the Justice Center. Contacts were ontact Dick Peery, Rick Nagin and LaTonya Goldsby.
Dick Peery, a community activist, labor affiliate, and retired Cleveland Plain Dealer Newspaper reporter and former writer's guild union president said that Rick Nagin, a Cleveland west side community activist, would lead the rally, and so ould Rice's cousin, LaTonya Goldsby.
Congresswoman Marcia Fudge (D-11), a Warrensville Heights Democrat whose majority Black 11th congressional district includes the city of Cleveland, is the honorary chair of a Tamir Rice Justice Committee petition, a petition signed also by some Cleveland city council members, members of Cuyahoga County Council, state senators, other elected officials, residents, community activists, and members of the faith-based and labor communities of greater Cleveland.
Nick Martin, the executive director of the Cuyahoga County Democratic Party, was also among the notables supporting the initiative.
Members of the 17-member Cleveland City Council to sign the petition to date for McGinty to push for criminal charges against police relative to the killing of Rice include Jeff Johnson, Brian Cummins, and Kevin Conwell, vice chair of city council's safety committee.
Members of the 11- member Cuyahoga County Council that signed on include Anthony Hairston, Dale Miller, and Yvonne Conwell, Kevin Conwell's wife.
State Sen. Sandra Williams (D-21), a Cleveland Democrat, and state Sen. Michael Skindell (D-23), a Lakewood Democrat, also signed the petition, as did at least three suburban council persons, including those representing Woodmere, Fairvew Park and the city of Maple Heights.
Dozens of clergy of greater Cleveland have signed on, most of whom are Black, and include the Rev. Tony Minor, Rev. Lorenzo Norris, Rev. Sara Ross, Rev. Waltrina Middleton, and the Rev. Charles See, who leads Lutheran Metropolitan Ministries' Community Re-Entry Program for people returning from prison.
Labor leaders supporting the petition include Democratic operative Lane Dunbar, Workers United Local 178 President Wanda Navarro, Mark Davis, who is the Cleveland regional director of the American Federation of State, County and Municipal Employees (AFSCME), and David Sheagley, the legislative and political organizer for the American Federation of Government Employees, District 6.
Community activists supporting the endeavor include Dr. Stewart Robinson and Valerie Robinson of Stop Targeting Ohio's Poor, William Clarence Marshall of the Carl Stokes Brigade, Cleveland Renaissance Movement Leader Basheer Jones, Carol Steiner of Puncture the Silence, Bill Swain of Revolution Books, Don Bryant of the Greater Cleveland Immigrant Support Network, Al Porter of Black on Black Crime, Art McKoy of the Black Man's Army, and Julia Shearson, executive director of the Cleveland and northern Ohio chapter of the Council on American-Islamic Relations(CAIR).
Among others that signed the petition are Cleveland NAACP Executive Board Member Meryl Tolbert Johnson, Lillian Sharpley and Karolyn Isnhart of the Cuyahoga County Democratic Party, and Rick Nagin and Janet Garcia, both of whom have made failed bids for a seat on Cleveland City Council.[6]
2006 CAIR banquet
More than 1,000 people turned out November 2006 at the Council on American-Islamic Relations (CAIR) banquet in Arlington, Va., to hear addresses by several elected officials, including Keith Ellison, the first Muslim in Congress.
The event raised more than $620,000 to support CAIR's civil rights and advocacy work on behalf of the American Muslim community.
Elected officials who spoke at the sold-out event included Representative-elect Ellison (D-MN), as well as Reps. Mike Honda (D-CA), Sheila Jackson Lee (D-TX) and Albert Wynn (D-MD). Ellison and Jackson Lee offered their addresses by video. Saqib Ali, who was elected to the Maryland House of Delegates (District 39) on November 7, was also in attendance.
Other speakers included Special Agent in Charge Joseph Persichini, Jr. of the FBI's Washington Field Office, Fairfax County Police Chief Col. David M. Rohrer and Amy Goodman of Democracy Now. Most members of CAIR's national board also took part in the banquet, which was emceed by Julia Shearson of CAIR-Ohio's Cleveland office.
Several Muslim community members received CAIR Islamic Community Service Awards during the dinner. The annual CAIR Rosa Parks Civil Liberties Scholarship went to Raashida Muhammad of Stillman College.[7]
Also speaking were Reps. Elijah Cummings, CAIR National Board chairman Parvez Ahmed, and executive director Nihad Awad. All praised CAIR for its dozen years of working to endorse, lobby and educate the American public and the country's leaders on the positive aspects of Islam and Muslims in America.[8]
CAIR panel
Representatives from the Michigan chapter of the Council on American-Islamic Relations (CAIR - Michigan) July 2010 gave oral testimony at a special town hall meeting on racial profiling with government officials and civil rights attorneys at the Wayne State University Damon J. Keith Center for Civil Rights in Detroit.
The town hall meeting, which was organized by the Rights Working Group and co-sponsored by CAIR-MI, had panelists taking testimony on racial and religious profiling from civil rights activists and community organizers. Panelists hearing testimony included U.S. Attorney for the Eastern District of Michigan Barbara McQuade, Michigan State Representative Rashida Tlaib, Michigan Civil Rights Commissioner Nabih Ayad, and Center for Constitutional Rights (CCR) Executive Director Vincent Warren.
CAIR - Michigan Executive Director Dawud Walid and CAIR-MI Staff Attorney Lena Masri testified about growing constituent concerns regarding surveillance and misuse of confidential informants in mosques and religious profiling during re-entry into the United States. Walid elaborated on the chilling effect on Michigan Muslims to freely exercise their First Amendment rights to Freedom of Religion and Freedom of Assembly in light of last year's fatal shooting of Imam Luqman Ameen Abdullah in Dearborn by FBI agents based on a raid provoked by the use of confidential informants.
CAIR - Cleveland Executive Director Julia Shearson was also in attendance and monitored testimony offered.
Other organizations who participated in the town hall included the American Civil Liberties Union - Michigan (ACLU-MI), Arab Community Center for Economic and Social Services (ACCESS), Detroit Coalition Against Police Brutality, and Mexican American Legal Defense Educational Fund (MALDEF). [9]
References