Judith Pasternak
From KeyWiki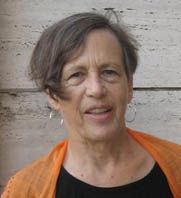 Judith Mahoney Pasternak is a New York activist and the author of several books on travel and popular culture, she now writes about movies for The Indypendent, New York's Indymedia newspaper, and about traveling in the political dimension on her blog, "The Political Landscape".
Communist Party reformer
In 1991 Judith Pasternak, New York was one of several hundred Communist Party USA members to sign the a paper "An initiative to Unite and Renew the Party"-most signatories left the Party after the December 1991 conference to found Committees of Correspondence.[1]
CoC National Conference endorser
In 1992 Judith Pasternak, managing editor, the Guardian, New York, endorsed the Committees of Correspondence national conference Conference on Perspectives for Democracy and Socialism in the 90s held at Berkeley California July 17-19.[2]
NCC candidate
At the Committees of Correspondence Conference, July 19,1992, Pasternak was a candidate for the CoC NCC.[3]
Conference on Perspectives for Democracy and Socialism in the 90s
The Conference on Perspectives for Democracy and Socialism in the 90s was the Committees of Correspondence's first national conference held in Berkeley, California July 17-19, 1992.[4]
Workshops that were held at the conference on Saturday, July 18 included:[5]
Left Unity Getting it together: How should broad left unity be built? Speaking freely of differences and defining the basis for united action
Socialist Scholars Conference
David McReynolds, Socialist Dialogue, Max Elbaum, CrossRoads, Carl Bloice and Judith Pasternak, Committees of Correspondence and Annette Rubinstein, New York Marxist School were speakers on the Crisis and New Directions of the Organized Left panel sponsored by CrossRoads and Socialist Dialogue at the Tenth Annual Socialist Scholars Conference. The conference was held April 24-26, 1992 at the Borough of Manhattan Community College, New York City.[6]
Radical writing
Judith Pasternak has written for "progressive" publications such as New Directions for Women and On Our Backs, she had been head of women's programming at WBAI and managing editor of The Guardian radical newsweekly[7].
Activism
Judith Pasternak was a veteran organizer, particularly in the anti-Vietnam War, women's, and lesbian and gay movements. This experience informed her judgment in the sometimes delicate negotiations involved in representing the War Resister's League in coalitions and in organizing actions such as A Day Without the Pentagon in Washington, DC, in October 1998[8].
War Resister's League
In 2005 Judith's announcement of her retirement as editor of the War Resisters League publication Nonviolent Activist, after 10 years of service.
Judith was a tremendous asset when it came to the WRL's internal organizational development. She was always an active participant in National Committee meetings, for example, writing and organizing support for a proposal reaffirming and strengthening WRL's commitment to antiracism. She even stepped in for six months to work full-time as coordinator of the national office.
Palestine
Judith Pasternak has traveled to the West Bank on a delegation with the California-based Middle East Children's Alliance[9].
References